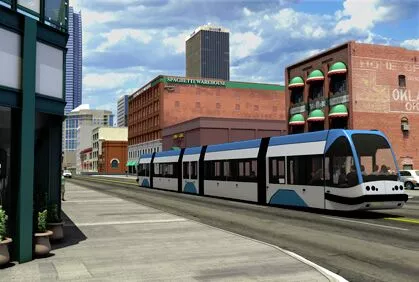 File
Oklahoma City is planning to build a $130 million streetcar system in downtown.
Oklahoma City will solicit bids from streetcar manufacturers as the city moves forward on building a $130 million system in downtown.
The council voted Tuesday to open the bidding process to purchase at least five modern streetcars that will primarily operate on an overhead wire system, but will have the ability to run wirelessly at times.
The downtown streetcar system is one of the signature projects of MAPS 3 and is viewed by many transit advocates as the first step in creating a regional rail-based transit system.
The request for proposal (RFP) that was approved by the council gives manufacturers options when it comes to length and width, but there are strict height requirements due to the height of some bridges the cars will have to travel under.
The bidding process will end Nov. 13. Engineers believer there are around 10 streetcar manufacturers around the world that could respond to the city's RFP.
Get caught up
City looked at wireless technology, but that's not a great option for OKC: http://okgazette.com/2014/07/08/streetcar-still-on-track/
Streetcar line will impact parking on Broadway: http://okgazette.com/2014/04/24/streetcar-route-could-impact-street-parking/