We are 40 days until the November election for governor in Oklahoma and as both campaigns hit the homestretch, here are four things you should know about the race between Gov. Mary Fallin and Democratic challenger Joe Dorman.
No. 1 Close races becomes wider as time goes by
Dorman shocked the Oklahoma political world in July when a Rasmussen poll showed Fallin leading by just five points. Other polls showed a wider lead for the governor, but still closer than many expected would be the case. However, a 17-point lead for Fallin, which is what a recent New York Times/CBS News poll shows (see below), indicates a somewhat close race considering the political bent of Oklahoma. However, carrying that margin into October as Election Day grows closer makes it a steeper hill for Dorman to climb.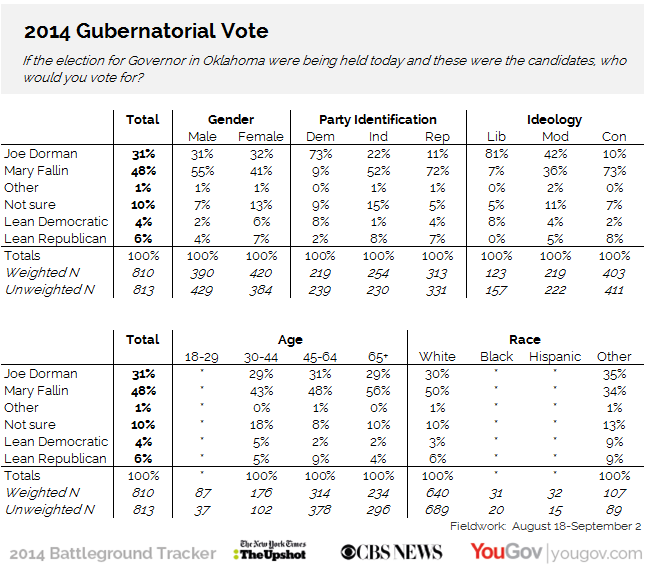 No. 2 Commercial wars have begun
[youtube http://www.youtube.com/watch?v=fNTq2HD-6xQ]
[youtube http://www.youtube.com/watch?v=KU1K1U35Rog]
The ad wars have started as both Fallin and Dorman have released commercials, some of which attack the other. Dorman is running a commercial that seems right out of the Oklahoma political playbook. It features him talking with a hunter near a line of rifles and ends with him standing in front of a church. A pro-Fallin ad by the Republican Governor's Association mentions President Barack Obama's name five times and Dorman's just three. It features footage from a Droman ad of him driving a pickup truck and tells "liberal Joe" to "drive right on out of Oklahoma."
No. 3 The Great Debate
Next Thursday will feature the only debate between Dorman and Fallin. Who knows how much it could sway the needle, but both sides say it's an opportunity to rise in the polls. Dorman has asked for more debates, but Fallin has agreed to just one, which will be Oct. 2 in Stillwater at the OSU campus.
Dorman's supporters say the debate will give the challenger a much needed spotlight and give him a chance to confront the governor on some of the controversies her office has endured over the past year. Alex Weintz, spokesperson for Fallin, said he viewed the debate as a chance for Fallin to highlight her true conservative values against Dorman's left-of-center policies.
"Dorman's record is not just liberal, but is unaccomplished," Weintz said. "I think that will stand in pretty stark contrast."
No. 4 Conservative and more conservative
Ben Felder
Joe Dorman
Dorman's campaign has him looking like a Republican on some issues, including gun rights and education. Fallin has tried to paint him as a liberal candidate, but that's a hard label to stick, at least not when using the traditional definition of "liberal."
"I think the voters recognize this is how I truly am," Dorman said about some of his conservative stances in which he actually tries to paint Fallin as the more "liberal" candidate. "I don't always follow the party lines and I try to follow what's in the best interest of Oklahomans."
When asked about Dorman's right-of-center leanings on some issues like guns and education, Weintz said it could not compare with Fallin.
"Here is the bottom line, Gov. Fallin has a conservative record and everybody knows that," Weintz said. "Joe Dorman, quite frankly, does not. When you are running on a platform to expanding Obamacare you can't come across [as conservative]."