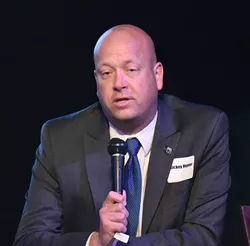 Mickey Hepner answers a question during the Budget Summit held at the Will Rogers Theater, 1-29-12. mh
Thursday the Oklahoma Policy Institute held its annual State Budget Summit, a day-long conference featuring presentations on the current state of Oklahoma finances and other policy issues.
This year's summit explored the low tax rate Oklahoma enjoys while also dealing with budget shortfalls and rising costs to provide services. While Oklahoma has enjoyed steady economic growth in recent years and continues to see unemployment rates below the national average, the state continues to perform below average in many quality of life statistics, including wage growth, education and health care.
"We need to make sure as a state that we focus much less on [lowering] taxes and focus more on improving on the quality of life factors," said Mickey Hepner, dean of the College of Business at the University of Central Oklahoma.
A few hundred people were in attendance, but if that didn't include you, here are nine things to know from the State Budget Summit.
1) From 2008 to 2010, Oklahoma's general revenue dropped 25 percent and collections have been flat for past few years. The state is still 6 percent away from where it was prior to 2008.
2) State support for public education has decreased by $175 million dollars since 2008, yet the total student population has increased by 45,000.
3) Oklahoma is a low-tax state - Oklahomans pay 27 percent less in state and local taxes than the national average and the state ranks 44th in the nation based on a person's tax share of their personal income.
4) The six largest taxes accounted for 85.7 percent of Oklahoma's tax revenues in 2013 and include: Personal income (32.8%), general sales (28.3%), motor vehicle tax (7.3%), corporate income tax (6.6%), gross production tax (5.8%) and motor fuels tax (4.9%).
5) Oklahoma has the second lowest property tax rate in the nation.
6) Oil and gas (production) taxes rank as the third largest revenue source for Oklahoma but has been extremely volatile in recent years. Collections were below $400 million in 2002, nearly $1.2 billion in 2008 and are were less than half of that in 2013.
7) The state will have fewer dollars to work with next year but many agencies are looking for funding increases. Department of Education is seeking a $297 million increased, Medicaid has requested an additional $160 million and an increase of $85 million is being sought by the Department of Corrections.
"That is not a full list," said David Blatt, Oklahoma Policy Institute director. "Even if we did have revenue growth [next year] ... there would be fierce competition for those demands. It's certainly going to be a huge, huge challenge. Tax collections are not keeping pace with the increase in costs to provide services."
8) With declining oil prices, budget shortfalls and poor quality of life outcomes, what will our future look like? It's hard to tell, but Hepner said he is worried because of the direction of the state government and it's spending priorities.
"I know that history tells us that economies adjust ... and whenever we lose jobs in one area we gain in other areas," Hepner said during a panel discussion. "What does scare me is that in Oklahoma we are not preparing for whatever that future will be. We know that investing in infrastructure will help us prepare for whatever that future will be. We know that investing in our children's future will help us prepare for the future. But I cannot look at my children and honestly say we are preparing a better life for them with the policies that are coming out of the state."
9) Washington Post columnist E.J. Dionne was the keynote speaker during the budget summit and discussed the continued political division in America and areas where he thought agreement could be found, including prison reform and maybe some versions of healthcare expansion.
However, Dionne admitted there continues to be division on issues that should find agreement between political parties.
"We can't even pass a transportation bill anymore," Dionne said. "That use to be easy."
Dionne remarked that voter trends are likely to continue to create some for of deeply partisan political system, at least for the nest several years.
"We seem to be creating a split level political system," Dionne said referring to turnout for presidential elections being very different from other elections.
"If you simply project current demographics … you are more likely to see ongoing Democratic majorities in president than not," he added. "At the same time you see radically different turnouts in the midterm elections," dominated by a much more conservative voting base.
Dionne also told the mostly left-leaning crowd that liberals have a greater responsibility to fix government than conservatives.
"If we're going to go out there and time after time say we believe government can do good we should want government to do better," Dionne said.