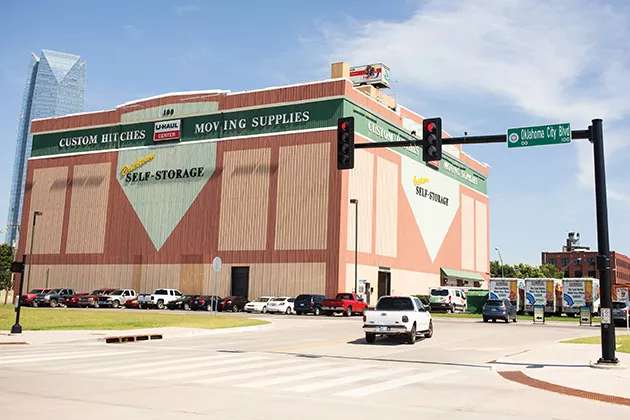 Alexa Ace
The current Oklahoma City Boulevard intersection in Bricktown is being moved to the west of U-Haul.
The Oklahoma City Boulevard intersection in lower Bricktown is being moved. City officials are also weighing various options to make it more efficient for drivers, which could include relocating Oklahoma Avenue. Both reconfigurations would cost the city up to $1.4 million.
Originally, officials planned to extend Oklahoma Avenue straight through the U-Haul Moving & Storage of Bricktown parking lot to connect with the original boulevard intersection. The city was to acquire the parking lot property but did not do so before the intersection was constructed. Currently, drivers must detour around the U-Haul facility, 100 SE Second St., to reach Oklahoma Avenue.
"When [Oklahoma Department of Transportation] was in plan development, they moved that intersection to there. They had to construct it; they couldn't wait on it to get the right-of-way," said Debbie Miller, assistant Public Works director. "It was on their schedule. We wanted to extend Oklahoma from the boulevard all the way up to Reno, and a portion of Oklahoma Avenue is constructed there at Second Street, which is north of U-Haul. We had gone through negotiations to purchase their parking lot, and things fell through. So since it fell through, we're trying to find a different route that will still work."
U-Haul representatives previously told media they were negotiating with the city for two years but hit a roadblock when it came to discussing money.
"Construction costs for what the city is asking of our store will approach $5 million," wrote a U-Haul representative in a 2017 letter to Public Works. "In response, the city offered us just over $1 million. Essentially asking a business to spend its own money — let alone almost $4 million — to accommodate a city-requested project that would hurt business and inconvenience U-Haul customers is mindboggling. And wrong."
The city then filed eminent domain proceedings but withdrew them before fair market value was determined.
New plans
Now, the city plans to move the Oklahoma City Boulevard intersection west of the U-Haul facility and find a way to connect it to Reno Avenue. Miller said one of the options is to rebuild Oklahoma Avenue directly north to a new intersection on Reno Avenue.
"We have two or three different options, and there have been no decisions made on that," she said. "[Another option] is we can connect it to Second Street and take out a couple of the turns — but you'd still have to turn on Second — and leave Oklahoma Avenue where it's at. ... The other is possibly extending Oklahoma [Avenue] all the way up and leaving that portion of Oklahoma [Avenue] in place for the condo owners. There are a lot of options; we just don't have anything definite yet."
The city signed a contract in May with engineering firm Smith Roberts Baldischwiler for planning and construction up to $1.4 million to move the intersection and relocate Oklahoma Avenue.
Smith Roberts Baldischwiler / provided
The current Oklahoma Avenue will be replaced by parking lots, and the new Oklahoma Avenue will connect Reno Avenue with the boulevard on the west side of U-Haul.
"Oklahoma Avenue south from Reno Avenue to Oklahoma City Boulevard is impaired by the location of private property," reads the resolution passed by Oklahoma City Council in May. "This project will provide for the relocation of Oklahoma Avenue through the exchange of property and easements, closing and construction of public streets, and the relocation of drives and access to Reno Avenue and Oklahoma City Boulevard."
Conceptual renderings by Smith Roberts Baldischwiler show the current Oklahoma Avenue replaced by parking lots. The new Oklahoma Avenue would connect Reno Avenue with the boulevard on the east side of U-Haul.
However, The Centennial Lofts Owners Association expressed opposition to the proposal and hired attorney Eric Groves to send a letter to the city with their concerns. The letter states the street reconfiguration would force residents to enter their property through Reno Avenue, which gets congested during events.
"The taking away of S. Oklahoma Avenue would be unsafe in their minds and inconvenient to say the least. They were never consulted about this by anybody," Groves told Oklahoma Gazette. "The conceptual plan was done without consultation with the association or its representatives, so they're not happy about that. … I'm retained to investigate the manner, make recommendations to the association, and we have that underway right now."
At least one meeting with Centennial homeowners association members and Public Works officials has taken place since the city's plans were released. Groves was not there but said the association "did not come away from that meeting with a totally comprehensive and clear understanding of what's going on." Miller also said they have been in conversations with them but have not made any concrete decisions.
"We haven't really gotten to that point yet," she said. "We have recently found out that they were involved in this, and so we've kind of put the brakes on until we get them pulled in and take care of their issues. … We really haven't decided on which direction to go because we do like to work with all the property owners and take their concerns into account."
Miller said they have no definite schedule on the project but want to focus on moving the intersection to finish the ongoing landscaping project in that area.
The project is funded by a 2007 general obligation bond for street reconstruction with an authorized amount of $2.5 million.
"We have to use 85 percent or use a portion of it and have the project declared complete," Miller said. "We would use the amount that we could, and if the project is complete, we can declare it complete and the remaining money would be surplus."
Surplus money would go to another bond project of the same type. Miller said they could technically consider the project complete once the intersection is moved, but they feel the need to put more work and make the connection to Reno Avenue more efficient.