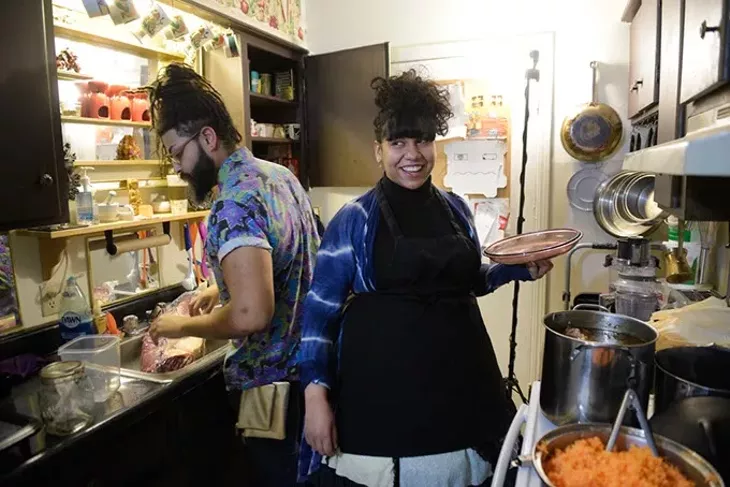 Garett Fisbeck
Cidward St Cler and her husband Shraz Mercier cook tamales in their kitchen, Tuesday, March 21, 2017.
If you want Cid's tamales, you have to find her first.
"Meet me, find me, call me, catch me at a show," said Bowlsey band member Clarissa "Cid" Castillo. "Or go out and start drinking at bars more. You're bound to find me."
In the kitchen with husband Taylor "Shraz" Mercier, another member of the band, Cid is hard at work on that tamale hustle with a giant grin on her face.
Making tamales, burritos and salsa is still work, but it's the best job Castillo has ever had because she's working for herself.
She noticed that no matter how many jobs she had or how many hours she worked, she was always falling behind. Working for others meant she did all the work and reaped few of the rewards. Making tamales to sell at shows was a nice sideline business, but it wasn't until Mercier crunched the numbers that her business path became clear.
"Quit working for other people," he told her. "You're losing money."
Service culture
Being in a band means the pair spend a lot of time with bartenders and other friends who have the kind of jobs where taking a lunch break is not an option. Pizza delivery has been around for ages, and getting Chinese food delivered isn't hard. But Mexican food is a different story. And even if places do deliver, they often close down before last call.
So Cid and Shraz decided to start feeding their friends who are up at odd hours. She has even taken to serving breakfast burritos all day, because "morning means different things to different people."
You can often find her with a picnic basket, selling burritos with salsa or a half-dozen tamales for $5.
In a four-hour span, the pair will make several dozen tamales filled with beef, pork or chicken and even a vegan variety that caters to a growing clientele.
"We might be able to make 13 dozen in four hours, but only with the power of teamwork!" she said, smiling at her husband. "Behind every great woman is a Shraz."
Embracing heritage
Cid is half-Hispanic and half-Austrailian aboriginal, but she didn't have much connection to the Mexican side of her roots until her grandfather took her on a trip to Monterrey, capital of northeastern Mexican state Nuevo León.
There, she spent a week with a woman who lived without electricity in a house of mud and straw.
"She was this ancient woman who was still working every day for a living," Castillo said. "It was different than anything I'd ever experienced."
Cid considers herself a mix of city and farm girl. Growing up in Houston, she saw a part of many different worlds, but the primitive lifestyle in Monterrey was eye-opening.
"She taught me to make cornmeal. She taught me how to roast pigs. It's really important stuff, being able to harness the world around her and just create with her hands," she said. "When people say 'farm-to-table,' that's not the same thing as living completely off such a small property."
Her tamale-making lessons stuck with her, and her tamales are so good that when Shraz tasted them, he said, "You should go out and sell those."
So she did. And it worked.
"We decided maybe we can spend a day doing this to raise extra money," she said.
Now, it has progressed to a full-time job.
Shraz said one thing they've learned is that he should make himself scarce. While both of them are unfailingly friendly, people are a little intimidated by his presence. It's easier to make sales when it's only Cid.
For her part, Castillo is trying to get into a revenue-sharing deal with other bands. She can sell tamales and other bands' merchandise while they worry about playing a show. That said, she's more confident that people will buy the food than anything else.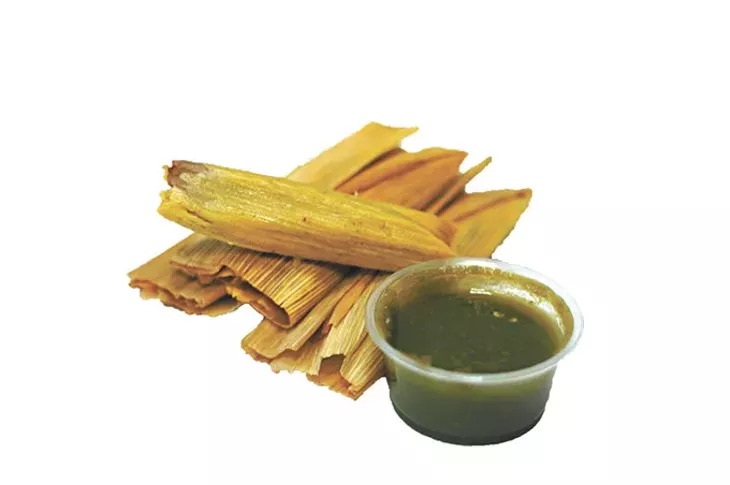 Greg Elwell
Clarissa "Cid" Castillo's fresh-made tamales
Band business
People only need so many T-shirts, Castillo said.
When Bowlsey was looking to travel outside the state for shows, the band members were struck by how expensive it was to play in new cities.
"We needed to branch out, but those tolls are expensive," she said.
So they started telling fans that they could contribute by buying tamales, with a portion of the sales going to touring.
People might not have a use for more band merchandise, but they still want to help, she said.
Mercier said he considers himself an artist first and a musician second, but what are you supposed to do when no one wants to pay you for those things?
"People don't always need creativity, but they do need food," he said. "Every day, three times a day."
The addition of burritos was recent, regrettably, Cid said.
"I can't believe I didn't think to do burritos first," she said. "They're so much easier to make."
Now they're working on getting word out about their venture. They recently launched a Facebook page for the business called RastaMolly's (facebook.com/rastamollys) and they're looking into buying a food truck.
Not that they need more demand, Castillo said. As it is, they always run out before the night is through. And she has become just as known for being "tamale girl" as she is as Cid from Bowlsey.
"It's funny. Now that I'm doing this full-time, people keep offering me jobs," she said.
Mercier said it's a largely untapped market and one that's growing as Oklahoma City gets younger.
"Houston stays open," he said. "People stay up, so businesses stay up."
That's why his plan is to eventually begin serving tamales until 3 or 4 a.m.
"It's still very underground, but we've been successful," Cid said. "If you're having a house party or a show and you want tamales, invite me."
Cid recommends anybody with a hunger for her fare to find her out late at night. She might even serve up one of her rare pecan sandie tamales. But the food goes to those willing to work at it.
"You got to want it in order to get it," she said.
Print headline: Miss tamale; Bowlsey bandmates Cid and Shraz fund a musical life with Mexican flavor.