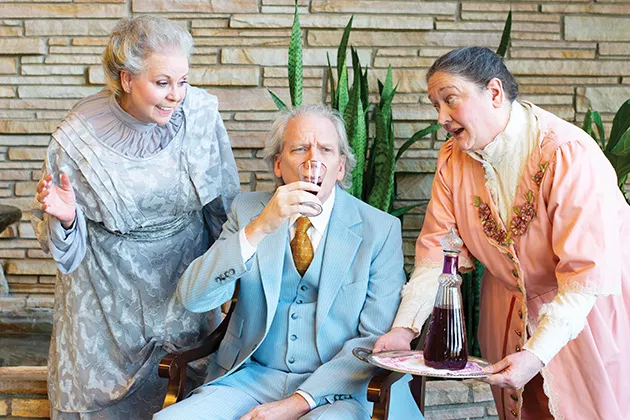 Heather DeShazer / provided
Aunt Abby (Carol McDonald-Walley) and Aunt Martha (Chris Harris) serve Mr. Witherspoon (Barry Thurman) poisoned wine in Arsenic and Old Lace Aug. 22-Sept. 15 at Jewel Box Theatre.
When she first saw the film version of Arsenic and Old Lace, Denise Hughes did not expect a movie about insanity and murder to be funny — mostly because it was released in 1944.
"As a general rule, I tend to not like old movies," Hughes said. "I think they can be really corny and not believable. One night, during the summer, the Cary Grant movie came on, and my friend forced me to watch it. I couldn't stop laughing. I just thought it was really brilliantly done and just funny and twisted."
Hughes directs a stage production of Arsenic and Old Lace Aug. 22-Sept. 15 at Jewel Box Theatre, 3700 N. Walker Ave. Playwright Joseph Kesselring's dark comedy, written in 1939, will be the second play Hughes has directed for Jewel Box, but she said it was always her first choice for the theater.
"It's such a fun little comedy, and it's such a great comedy for the audience, particularly at Jewel Box," Hughes said. "They love the good, old-fashioned slapstick comedies or melodrama. They just tend to really appreciate those types of shows."
The play stars Joe Burleigh as Mortimer Brewster, the role made famous by Grant. Shortly after proposing to his girlfriend, Mortimer discovers his beloved aunts have been poisoning lonely old men and burying them in their cellar.
"Mortimer loves his aunts so much that he's going to do everything he can to protect them," Hughes said. "He's a very normal guy. … That's where I think a lot of the comedy comes in. He doesn't know what to do. He's not ready to handle this."
Hughes said she considered several factors when casting Burleigh as Mortimer.
"He has to be strong actor," Hughes said. "He's got to be able to pull off strong physical comedy, and I wanted someone who was good-looking. I hate to say that, but I think there has to be that that movie-star quality about Mortimer, and Joe certainly, I think, has that. And he's someone who can play every single emotion believably. Mortimer goes through the wringer. He's got love. He's got fear. He's got anger. He's got anxiety. He has to portray all of these very, very strong emotions very, very quickly, sometimes on the on the turn of a dime. When Joe came and read for us, there was really no question in my mind that he was the one that we needed to play Mortimer."
Chris Harris plays Mortimer's Aunt Martha and Carol McDonald-Walley plays Aunt Abby.
"The two of them have a lovely connection as believable sisters," Hughes said. "If it wasn't for the fact that you knew that they were murdering men, you would just love them to pieces. They're quirky, and they're cute and they're sincere. The thing is there's not a mean bone in their body."
Hughes, who played Martha in a college production, said the aunts' likeability is crucial to the play's success.
"The two actresses have to portray that what they were doing is not malicious," Hughes said. "Everything about them is very, very sweet and loving and kind. There's actually a line where Mortimer is accusing one of the aunts of killing another person while he was gone … and she told him that she didn't do it. He goes, 'How can I believe you? … You've got 12 bodies in your cellar.' She goes, 'I do, but you don't think I'd stoop to telling a fib.' When he's scolding them and trying to make them understand what they're doing is wrong, they don't get it. They don't see it, and they come across almost like a petulant child being scolded because they just don't know. … They think they're doing a service to these men, putting them out of their misery."
Mortimer's difficulties are compounded when he makes another unpleasant discovery — his brother Jonathan is a serial killer.
"He finds out that his brother was not only sadistic as a child; that carried into adulthood," Hughes said.
Mortimer's other brother Teddy thinks he is Teddy Roosevelt, but his non-homicidal delusions seem tame by comparison. Hughes said Mortimer's difficulties in dealing with his relatives make him a relatable character.
"Whether or not we want to admit it, we all have a little bit of crazy in our family," Hughes said. "This just obviously made that a lot bigger."
While the play's handling of mental illness might seem callous to modern audiences, Hughes said the consideration the characters have for Teddy's condition reveals genuine heart.
"The characters in this play treat Teddy with love, every single one of them," Hughes said. "The cops that come in, they salute him and they call him 'Mr. President.' There's a conversation with the aunts about whether they've ever tried to convince him that he wasn't Teddy Roosevelt, and Martha says, 'Oh, no. We did that one time, and he stayed under his bed for days and just wouldn't be anybody.'"
Still, the discussions about sending him to a sanitarium become unintentionally sinister in retrospect.
"Now, knowing history, we know those were not good places to go to," Hughes said. "They were horrible places to go to. Because it's in the context of that play and that situation, I'm hoping it's not a trigger for anybody. But currently, he would not have to be sent away. There would be counseling for him, and there would be some sort of a therapy for him. Now the aunts, I'm not entirely sure they should be allowed to run free in society."
When Kesselring wrote the play, the United States was on the verge of entering World War II, and a couple of references to Asians have been removed because the language is unacceptable to modern audiences.
"There were a couple of things that we knew we needed to change because it was just completely insensitive," Hughes said, "but we couldn't do a fix on the sanitarium thing because that had to be there."
Ultimately, Hughes said Arsenic and Old Lace is a dark comedy that audiences should take lightly.
"This is not a serious play where we're trying to solve the world's problems," Hughes said.
Tickets are $20-$30 and also include admission to productions of A Raisin in the Sun (Oct. 3-27) and Little Old Ladies in Tennis Shoes (Nov. 14-Dec. 8). Visit fccokc.org/jewel-box-theatre.