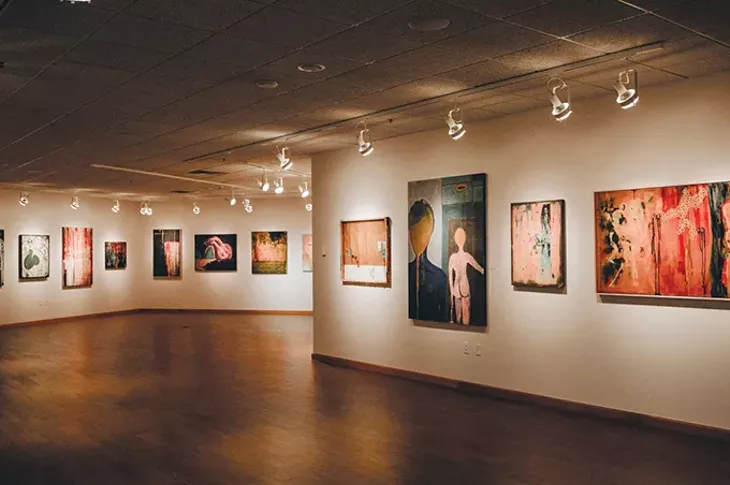 Alexa Ace
Alexis Austin's Welcome to the Traffic Jam is on display at Oklahoma City Community College through Oct. 31.
Alexis Austin stood in a gallery filled with her paintings, looking at them.
"It's just me doing all this," she said.
Welcome to the Traffic Jam, an exhibition of Austin's recent mixed-media works, is on display at the Inasmuch Foundation Gallery inside Oklahoma City Community College's Visual and Performing Arts Center, 7777 S. May Ave., through Oct. 31. Many of the paintings were created using similar materials and methods — fabric dye and paint on tulle, silk and other nontraditional textiles, in some cases discolored with bleach — but stylistically, they differ so dramatically a viewer might not realize they were all made by the same artist.
"I'm always changing," Austin said. "If you go and look at everything, you'll see that nothing stays the same for too long. ...That can be a negative for people. You usually go to a show, and if it's one person, you're going to see all the same, cohesive, but I don't really care about that. That's boring to me. When I started this, it was one thing, then basically I would learn something from it and take that to the next piece and so on and so forth."
Austin, who also has two works on display in Take a Seat: A Group Exhibition of Feminist Art at the Oklahoma City University School of Visual Arts and has another show scheduled for November at IAO Gallery, said she painted all of Traffic Jam in the past couple years after taking a decadelong break from art.
"I hadn't done anything in, like, 10 years," Austin said. "It was a major break in my brain. … My husband built me a canvas, and I painted one and was like, 'That was good.' And I wanted another one, so I did another one, and then I just didn't stop. I was pretty obsessive for six months or so. I work, I have a job, but I would come home and just do this. I would stay up until 4 in the morning doing this, and it was all I wanted to do. I was an art major in college, and it's always what I wanted to do. I just didn't have any direction."
However, she quickly decided she didn't want to keep painting on canvas.
"The one that I did that was canvas got all fucked up, so I definitely didn't want to do canvas anymore; none of these are canvas," Austin said, motioning toward several paintings on the wall. "I was always really experimental, and that's how I am still. I use a lot of bleach and different fabrics. Those are all tulle, like what tutus are made of, so that's kind of different."
Changing her mind about methods mid-painting inspired her to use the caustic cleaning product on some of her work.
"In my first painting, I was using fabric dye instead of paint," Austin said, "and I was like, 'I don't like that,' so I thought I could use bleach to erase it, and I did and that had a lasting impact on me, But it's a learning process because you can't use bleach on everything. It does different things to different fabrics, and I just love it."
Several of the works created through intentional discoloration were inspired by drawings made by Austin's daughter, who is very excited to be involved in the art-making process.
"She loves it," Austin said. "She's really sensitive to everything I do; if I sell something, she cries. They're all her favorite. She's just a magical person. My son is amazing, too."
Austin said her son is disappointed that he hasn't so far inspired a painting of his own, but he is busy working on his own stop-motion film. Before Austin returned to painting in October of 2016, she and her husband, an artist and musician, didn't think of art as a family affair.
"For years, we didn't promote it with the kids," Austin said. "It's really hard to live and be people and then to be pushing this shit on your kids; it takes so much energy. Now that I've been getting more into it, they are too."
Complete art
Alexa Ace
"From spindled to spindling, a spindle" by Alexis Austin
The exhibit's title comes from the jumble of ideas and varying styles on display.
"I was having all of my shit up from the last couple of years, and it is such a mix of stuff, I thought it was kind of fitting since you're in the traffic jam of my mind," Austin said.
Titles are important to Austin, even if their meaning is sometimes hard to explain.
"I don't have patience for poorly thought-out names," Austin said. "There's so much going on in your mind when you're doing this type of thing. There's a lot of words that don't have words, that's why you're painting,"
The title for the painting "Cry Water" was also inspired by her daughter.
"That's what she called tears one time," Austin said. "I thought that was really amazing."
In every art form, Austin, who also has a background in fashion design and photography and works as a personal chef, is concerned about delivering a completed picture.
"I love composition," Austin said. "My photos and my food, the way I put it out there, that's everything to me. … Color is so important to me. If I cook a dish for someone that doesn't have all the right colors in it, if it doesn't have green or red or all the right colors, I'll go home thinking, 'I didn't put all the colors; I didn't do it.'"
While some of the colorful objects in Austin's paintings appear at first to be abstract figures, she said most of her subjects are everyday objects and scenes from her home.
"To me, that's a pile of laundry on the bed," Austin said. "This is domestic life. Some of those are dishes in an overflowing sink."
Austin later elaborated in a follow- up email.
"Most of my stuff is kind of a social commentary," she wrote. "On my own society on my own bubble. About my own anxieties and insecurities. It is darkness and lightness and negative and positive too. That's my life. Trying to operate or navigate through the world with my own thoughts and feelings. And a lot of the time, my thoughts are negative and my feelings are hesitant or scared or nervous. … it all comes out of anxiety. … I think. Don't quote me. Hah. Jk. Quote whatever. Or don't. I'll change my mind later tonight I'm sure."
Visit occc.edu.