Jacob Threadgill
A Third Wheel order at Neighborhood JA.M. with Looney Cakes, lemon poppy and Prom Cakes and an order of hash browns.
Neighborhood JA.M.
15124 Lleytons Court
thatsmyjamok.com
405-242-4161

What works: The hash browns are soft on the inside and crispy on the outside.
What needs work: Be prepared to wait on the weekend.
Tip: Check out the weekly pancake specials.
Lines out the door on a weekend can be a common sight, especially at some of the metro's most popular brunch concepts like Cafe Kacao Latin Cuisine, Hatch Early Mood Food and Sunnyside Diner, and having to put your name on the waitlist at Neighborhood JA.M. is becoming a near-certainty, even during the week.
Since opening the initial concept in 2017, Neighborhood JA.M. has become a breakout success for Hal Smith Restaurant Group with a second location in Norman, a Tulsa location opening in April and a Midtown Oklahoma City spot tentatively slated for early 2020.
"This past Sunday, we had 203 names on the wait list," said Michael Kraft, general manager at the original 15124 Lleytons Court location and the son of Hal Smith COO Hank Kraft. "We seat about 30 names per hour, so that's about a five-and-a-half-hour wait. It's kind of ridiculous, honestly."
The restaurant doesn't take reservations, but Yelp users are able to virtually stand in line through its mobile app.
"You can be at home, at church, and by the time you get out, your table will be close to ready," Kraft said, who noted that the restaurant has used its waitlist every day since opening.
The inspiration for the popular everyday breakfast concept came from Kraft while he was a student at University of Mississippi. He left for school before Oklahoma City had dedicated breakfast restaurants like Hatch and Sunnyside, and fell in love with Big, Bad, Breakfast (BBB) in Oxford, Mississippi.
"I told [my dad] that we haven't done breakfast and I think we should do a breakfast place," Kraft said. "BBB has a diner feel, but everything is made from scratch; they make their own meats and locally source everything. [Oklahoma City] didn't have anything like that Monday through Friday. BBB was a massive influence foodwise, but we like to travel to places like Denver, Los Angeles or Asheville and see brunch places like BBB. The food wasn't as good, but they were big and vibrant. We needed to put the two together."
It just so happens that both Kraft and I are both Ole Miss graduates. BBB holds a special place in my heart, and I was recently sitting at Neighborhood JA.M. thinking that it reminded me a lot of BBB, but brighter and with a more balanced menu that includes both healthy and indulgent options.
Kraft said JA.M.'s most popular items include the hot jam biscuit ($9.75), which puts jalapeño peach jam, fried chicken, bacon and cheese on a housemade biscuit. They have a dedicated kitchen spot to turn out biscuits for 10 hours each day just to keep up with demand. Another popular item is The Heap ($10.75), two orders of hash browns covered in cheese and your choice of meat, eggs, pico de gallo, cotija cheese, cilantro and biscuits or toast.
"I think that's one of the best values on the menu because you're getting a lot for what you're paying," Kraft said.
JA.M.'s hash browns are perfect. It can be easy to burn them or turn them into mush, but they have a soft, almost mashed potato-like interior and are crisped in clarified butter on each side and well-seasoned with garlic and other spices. I understand why The Heap is one of its most popular items.
The menu also includes six types of eggs Benedict, eight types of sandwiches, steak and eggs, breakfast tacos and burritos, omelets, pancakes and a section that includes six health-conscious items.
BBB is one my favorite restaurants in Oxford, a town with a lot of good restaurants, but outside granola and oatmeal, it doesn't offer many items packed with nutrients. It makes it hard to go very often.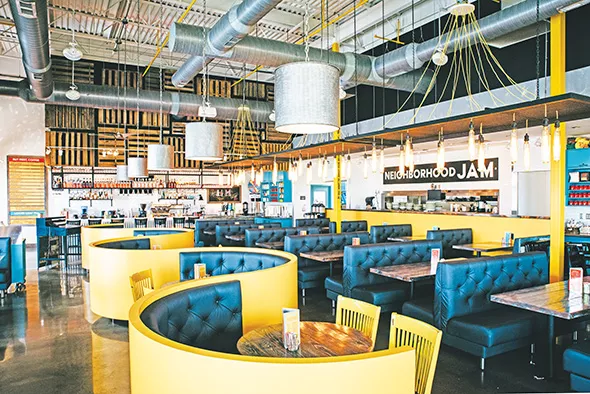 Josh McCullock / provided
Neighborhood JA.M. opened its first location in October 2017.
I think JA.M.'s well-executed Neighborhood Watch portion of the menu is key to its popularity.
"We see people habitually; we see some people three or four times per week," Kraft said. "They might be coming in on business meetings and then bring family on the weekend. You're likely only going to go to Redrock [Canyon Grill, another Hal Smith property] once per week if you a big fan, and that's a lot. You can get granola and orange juice and be on your way."
On a recent visit to Neighborhood JA.M. on a Monday around 10:30 a.m., hoping to avoid a huge crowd between peak breakfast and lunch hours, I still arrived to find a near-capacity restaurant. I started my meal with a chai latte, which delivered the cardamom, allspice and cinnamon notes for which I was looking. Kraft takes pride in the fact that every JA.M. employee goes through extensive coffee training and said he recently returned from El Salvador to check out the restaurant's upcoming coffee crop for the season.
I ordered the Third Wheel ($12), which allows you to mix and match three of its varieties of pancakes. I got the Looney Cakes, which are a version of carrot cake topped with candied pecans, cream cheese frosting and powdered sugar. I rounded it out with lemon poppy cakes and Prom Cakes, which are granola and oatmeal pancakes topped with bananas, more granola and nuts. My favorite of the bunch were the Looney Cakes because I felt it had the most to offer from texture and flavor profile standpoint, but the lemon poppy cakes were refreshing and the Prom Cakes had a nice crunch. JA.M. also offers a special pancake feature each week.
After an indulgent breakfast, I ordered the quinoa power bowl ($12.50) to-go to balance out the day. I thought it was a very nice salad packed with a ton of nutritious items like roasted sweet potatoes, black beans, corn, green apples, roasted Campari tomatoes, red bell pepper, kale and avocado. Fresh mint really brought the dish together when paired with the honey yogurt vinaigrette.
I was skeptical of anyone waiting for hours to eat at Neighborhood JA.M., but after finally getting a chance to check it out, I'll be checking in from Yelp just to secure a table on the weekend.

Visit thatsmyjamok.com.