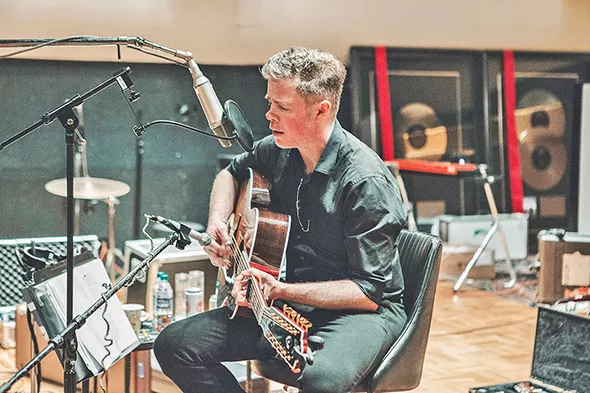 David McClister / provided
Singer/songwriter Josh Ritter plays Sunday at Tower Theatre.
Maybe Josh Ritter's latest album, Fever Breaks, is different from the nine that came before it, but the singer-songwriter cannot say how, exactly.
"It's hard for me to compare records," Ritter said. "It's kind of like how you look in the mirror from day to day; you don't see the changes in your face. It's almost too close. For me, my job is to always be looking for the next thing that excites me, and that may mark some kind of artistic progression, but I can never tell, myself. It's hard to see yourself from the outside."
Ritter, who said he will be making his first Oklahoma stop in "about 17 years," plays Sunday at Tower Theatre, 425 NW 23rd St. Fever Breaks was released in April, and one obvious difference from previous releases is the presence of producer Jason Isbell, whose 400 Unit serves as Ritter's backing band on the album, creating what Rolling Stone's Brittney McKenna called "classic Ritter on Muscle Shoals-bred steroids." Even if he has trouble comparing the new album to past releases, Ritter said his intention in working with Isbell and The 400 Unit fiddle player Amanda Shires on the album was to add a different element to his music.
"I just knew that I needed to make a change for myself, change the situation that I worked in," Ritter said. "I didn't know if that was going to create a new sound or not, but as it turned out, it really did. They brought their amazing musicianship to the thing. Amanda helped translate some of these ideas and Jason had such a sure grasp of what he heard the song sounding like, and working with them was a real beautiful thing."
Ritter is confident, however, that the result is unlike Isbell's own albums with The 400 Unit.
"There's times when I might be afraid that the message would become mixed or whatever, but with Jason, he was always very clear that what we were working on was a chance for us both to extend our artistic visions in different directions," Ritter said. "That was really cool, that we were both getting a chance to do something new."
In recent years, Ritter had the chance to approach music from different perspectives, writing songs for folk singer Joan Baez and Dead & Company frontman Bob Weir.
"When Joan asked me to work on some songs for her, she said, 'Turn on the tap,' and she really got it," Ritter said. "One of the great, exciting things about writing is that you're really going fishing, and you have no idea what you're going to catch. So you start off writing something, and it ends up as something else, and you have five or six different ideas that are just there. You have all these exotic new ideas and new things to work on. So when you start writing for somebody, inevitably, you start writing also for yourself or for all sorts of situations, and it's really fun that way. So working with both Bob and Joan was kind of mentally fruitful for myself. … It really did change how I thought about, initially, working with somebody else on this record, in the sense that finding more fulfillment in collaboration was relatively new to me."
Discussing his previous album, 2017's Gathering, Ritter told Independent music reporter Roisin O'Connor that protest songs are "just not [his] medium," but on Fever Breaks' haunting dystopian centerpiece "The Torch Committee" and "All Some Kind of Dream," which describes "children in the holding pens" and "justice with a tattered hem" in "darker days than any others that we've seen," he seems to have changed his tune somewhat.
"It's just very difficult to write protest songs, for me, that feel like they pass the bar," Ritter told Oklahoma Gazette, "because I feel like so often songs can come off sounding preachy or dated so quickly because they deal with current events, and those things don't interest me. The last thing I want to do is tell anybody what to think. … There's just stuff in the world that is so flagrant that to not write about it when it's right there, this ugly thing, it's sort of like, What are you spending your time writing about? The time to talk about this stuff is now, and if that's what protest is, I guess that's what it is. I have, I feel like, a responsibility to address this stuff."
provided
Fever Breaks, Ritter's 10th album, was released in April.
Here, too, Ritter said, Baez has served as an inspiration.
"She's the leading light of carrying forward a social message," Ritter said. "That's not just in her music but in her life. I think we all in music have so much to learn from someone who's done that. She's been a remarkable influence, and not just an influence, but an example to try and live up to. She's just a remarkable person to be around, her essence of dignity, and she treats people just with such empathy and respect on a daily basis. I was lucky enough to get to travel all over the place with her when I was first getting started. … To see somebody acting with such natural nobility was really something."
Novel ideas
Ritter's songwriting also takes inspiration from other art forms. His magical-realist World War I novel Bright's Passage was published in 2011, and one of his impressionist landscape paintings served as the cover for Gathering. Nurturing one creative pursuit with another is something he learned from his childhood in Moscow, Idaho.
"I think it's all related," Ritter said. "Where I grew up is mostly wheat fields, and the crop rotation and letting stuff lie fallow, there seems to be such an important lesson there. … We're all creative. We all have to find some outlet, and it's important to have that, but it's also important to let the land lie fallow until you get new ideas. Sometimes novel writing or painting has offered me a real good reason to let the songs sit for a while. … I think anything you take up with love will bear fruit in some way in your main passion in life."
Similarly, Ritter said, the Americana genre could benefit from expanding its boundaries beyond folk and country music to include the other forms of music sprouted from American soil such as jazz, blues and hip-hop.
"We have to define the term of Americana and make it as hugely wide as we possibly can, and I'm a big believer in that," Ritter said. "It's important that we look at music as a real, profound indicator of where we are in culture and where our battles are at and where our hearts lie. I think I've always felt that. The important thing that we have to remember is that all forms of American music are equally the product of American culture, and it's important to approach them all with great respect. … Everything that makes it into our ears got there somehow, and it's amazing to think that it all came out of this rich mulch."
Tickets are $25-$34. Shires opens. Visit towertheatreokc.com.