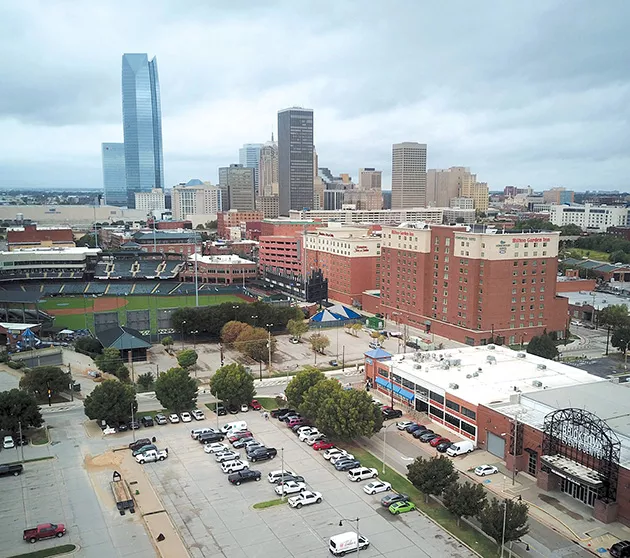 Peter J. Brzycki
Bricktown Comedy Club, 409 E. California Ave., has its first show Dec. 27.
A Washington-based entertainment company will open a comedy club and arcade bar downtown by the end of the year.
BARK Entertainment, which opened its first comedy club almost a decade ago, expands its portfolio with Bricktown Comedy Club. Located at 409 E. California Ave., the club will have its first show Dec. 27 and continue with a slew of shows every Thursday-Saturday.
"We're going to have national-touring headliners every single weekend," BARK CEO Adam Norwest said. "We're a family business, and we have three other comedy clubs — two in Washington State and one in Wisconsin. It's my wife and I and my parents. My dad's retired Air Force, so the Air Force community is one of those things that drew us to Oklahoma City initially. And also the fact that you guys took our [Super]Sonics."
Because of the group's experience running other comedy clubs, Norwest said they have developed good connections with well-known comedians.
"A lot of times, a new club won't be able to attract that talent, but if you're like, 'Hey, it's us from Tacoma,' they're like, 'OK, we like you guys,'" he said. "Our theory is that we have to make three people happy. We have to make the comedians happy and the customers happy and the staff happy, and if everybody's happy, then there's no way we won't succeed."
Bricktown Comedy Club has already booked big names through May 2020. MMA fighter turned comedian Brendan Schaub is the club's first performer Dec. 27. Ryan Niemiller, who placed third on the most recent season of America's Got Talent, performs Dec. 28. The club is also opening just in time to ring in the new year.
"We're also doing our New Year's Eve shows with John Heffron, who won Last Comic Standing," Norwest said, "and we're going to be giving away a pair of tickets at each show that will get you in for free to every single show in 2020."
A couple of Wayans brothers, former SNL cast member Jay Pharaoh, Margaret Cho and Nailed It's Nicole Byer, among many more, are also booked for future shows.
"It's cool to think that we get to bring people to a city they've never been to and to give people a chance, like, 'Hey, you can come see Damon Wayans live.' And not all of the comedians do it, but at least half of them meet people after the show and do pictures," Norwest said. "Just to have access to somebody who's been on Saturday Night Live for six years or someone that was a finalist on America's Got Talent, it's cool to bring those people somewhere new."
Tickets for shows are already for sale online. Norwest said the company's other clubs don't typically start selling tickets until a few weeks out from a particular show. Most comedians also perform multiple times, either on the same night or consecutive nights.
"If there's someone you really want to see and you have a certain date and time that you want to see them, then get your tickets as soon as possible," he said. "But if you're flexible, then you can probably wait until two weeks before. You may not get to choose which showtime or which date you want, but you can still probably see the show."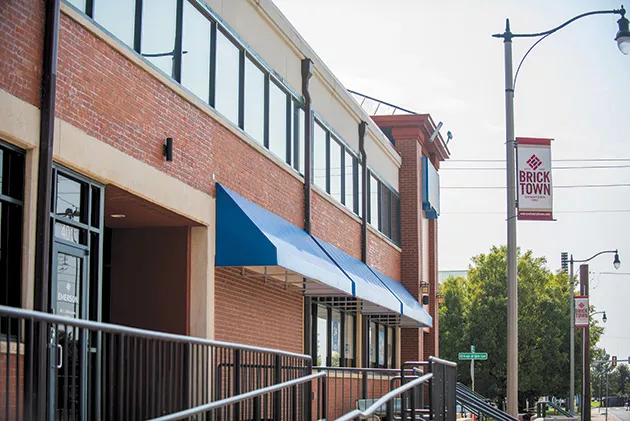 Miguel Rios
BARK Entertainment owns and runs three other comedy clubs — two in Washington and one in Wisconsin.
Loony Bin Comedy Club is the city's most well-known comedy club, but Norwest said their models are different. Additionally, Bricktown Comedy Club will have the benefits of being in downtown Oklahoma City.
"They bring in very funny comedians, but it's half an hour out of downtown and it's not necessarily the nationally recognized acts," he said. "We like downtown and the Bricktown area especially. … We'd been hoping for a Bricktown location and looking on and off for like two or three years, just trying to find the right spot. So I do really believe in the market, and the response has been good so far. I think people seem really excited."
Norwest said the club can also help companies or groups book a comedian for a party or accommodate large groups in the venue.
"A lot of times people will want to book a comedian for their company holiday party, and so we can find a comedian to go to you. Or we have group events at the club, private or public," he said. "It's a great spot if you have like 30 employees or something and you want to take everyone out to do something. We can accommodate groups, smaller groups and larger groups."
The comedy club will feature a full bar and what Norwest calls "really good bar food," with a bulk of it being gourmet sandwiches. The group also plans to open a small arcade bar connected to the club.
"It's called Gamers Arcade Bar. We have one in Spokane, and it's just a small arcade bar next to the comedy club. It'll be a good place to go before or after the show or even if you're not going to a show," Norwest said. "We'll have good happy hours there and everything. That'll be open sometime in the middle of November, so it'll be open a little before the comedy club. It's just a fun little addition."
Norwest said the club and arcade will offer residents something different to experience downtown.
"I would encourage people to come see a comedian, even if it's somebody you haven't heard of," he said. "Even if they're not famous, our goal is to book people who are super funny. If you go to a comedy movie, I think you have a 50-50 chance of it being good. And these people are professionals, even if it's not someone you necessarily know. Their job is to make you laugh for an hour and a half."
Visit bricktowncomedy.com.