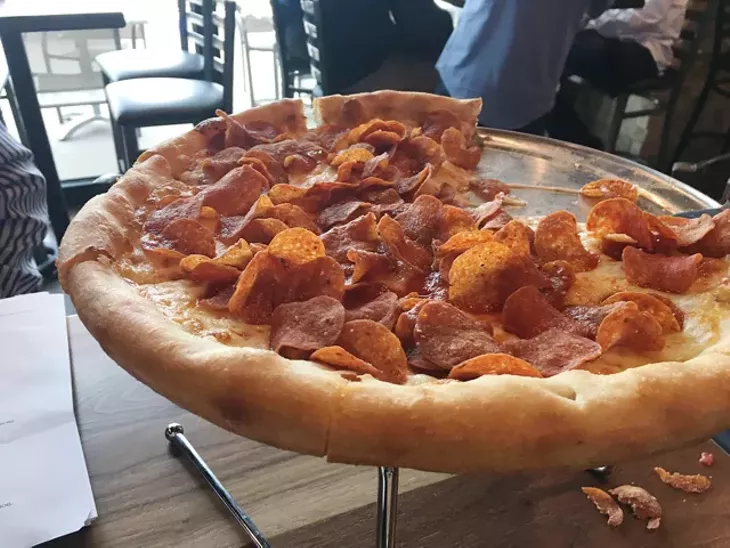 Photo Jacob Threadgill
Deep-fried pepperonis top the signature pizza at Sussy's.
As photographs of Harry S. Truman, Will Rogers Jr. and former Oklahoma Governor George Nigh look down at the restaurant below, they might not recognize the Bricktown location or counter service, but the food is the same as it was when their photos were taken at the Oklahoma City institution.
Jack Sussman moved to Oklahoma City from Chicago, where he joined forces with local entrepreneur Jake Samara to open a slew of nightclubs and restaurants, including Sussy's Italian Restaurant, which used recipes from Samara's Italian wife to become the first Italian restaurant in the city to serve pizza in 1947.
The original Sussy's operated inside The Nomad Club, which hosted celebrities and dignitaries and inspired its sister restaurant, Nomad II, on N. May Avenue, which Sussman opened in 1975 and was transferred to the Bailey family after Sussman's death in 1980. Nomad II closed its doors in 2016, but under owner Rick Bailey, much of its signature food has returned with a new location and updated concept, one that is part fine dining and part fast-casual with Sussman's nickname: Sussy's.
"It's great having a fresh start with a new concept that I think will work; especially having a partner like Brad [Hogan] that is the landlord and wants to help makes a huge difference," Bailey said.
Iconic rebirth
Sussy's, 200 S. Oklahoma Ave., is located on the eastern side of the Centennial Building, which was constructed by Hogan Commercial Property Corp. The real estate firm headed by Brad and Randy Hogan renovated most of lower Bricktown, including Bass Pro Shop and Harkins Theatres Bricktown 16.
Hogan said he was looking for a restaurant to take the space left by the closing of a tapas restaurant, and when the possibility of bringing on Bailey came, he jumped at the chance to make him a tenant, but also to partner with him. It's his first foray in the restaurant business.
"I only did it because I loved [Bailey's] food so much," Hogan said.
Bailey said about 70 percent of Nomad II's menu made the transition to the new location. He added dishes like salmon and chili from another Oklahoma City icon, Crescent Market, which closed in 2011 after more than a century of operation.
"Along with Crescent Market, there have been a few other places that have closed over the years that I missed," Hogan said before Bailey also added Nichols Hills Drug Store and Charcoal Oven.
"We had to keep one of the iconic restaurants of Oklahoma City still going," Bailey said. "We did it with a complete new twist."
Photo Jacob Threadgill
Co-owner Rick Bailey has revived Oklahoma City's oldest pizza tradition with Sussy's in Bricktown.
New concept
The new Sussy's has streamlined its process by adding counter ordering service — customers can order tableside if they'd prefer — but the new system, which includes selling pizza by the slice, is designed to turn tables quickly and get customers to Thunder games or movies at the nearby theater.
The partners have accommodated the change in concept by lowering the prices of a few signature items as the staff, which includes original Nomad II chefs, makes the transition from fine dining.
Bailey said the new location, which opened Nov. 6, has sold five times as many meatballs as at Nomad II, but its signature dishes like the fried pepperoni pizza and chicken livers are as popular as ever.
"As far as I believe, my father and I are the first that have ever done fried pepperoni on a pizza anywhere," Bailey said. "We think we are the inventors. I can't prove it, but I can't find any place that did it before us."
He said they were inspired to deep-fry the thin slices of sausage after eating at Dallas restaurant The Palm, where they had thinly sliced onion rings.
"Fried pepperoni tastes different than regular," Bailey said. "A lot of people eat them by themselves and dip them in ranch. They're addictive."
Bailey said the pizza is coated with cornmeal on the bottom to facilitate its transfer from pizza peel into the oven.
"The cornmeal gives it an extra crunch on the bottom. We're old-school because we don't use conveyor ovens," Bailey said. "We cook on deck ovens on slate."
The Caesar salad is another classic that has made the transition. Bailey noted that many of the city's chefs worked under Sussman at one point or another, and the fresh Caesar salad served as the blueprint for famous Caesar salads at Junior's and The Grill. The dressing is light and flavorful.
"When you go to a restaurant and see a creamy Caesar dressing, you know that it came from U.S. Foods or some other supplier," Bailey said. "Ours is made fresh."
Hogan and Bailey said they went through many names for the new restaurant before deciding to bring back Sussy's. Both Bailey and Hogan said that many Nomad II customers were familiar with the Sussy's brand and they felt it would be the best name with which to expand.
During renovation, large windows were added so guests could enjoy views of the canal waterway and fountain outside Harkins Theatres, which Bailey described as "not exactly Las Vegas, but it has a mini-Bellagio vibe."
"I saw Governor Nigh while eating out a few weeks ago, and I told him, 'You better come see me because you're getting ready to go back up on the wall,'" Bailey said, referring to the historic pictures taken at Club Nomad that overlook the dining room of the new Sussy's.
Visit sussysokc.com.
Print headline: History reborn; Bricktown welcomes Sussy's, which takes Oklahoma City's oldest pizza and brings it to the 21st century.