Erick Perry
Bricktown Beach site before construction, Oklahoma CIty, June 6, 2016.
Downtown Oklahoma City, Inc. staffers Mallory O'Neill and Jill DeLozier waited two long years to realize a dream. They needed the right moment to build a beach in downtown. As of last week, that dream, improbable as it might seem, is reality.
"We went to a national Main Street conference in Detroit, and an organization had received the Southwest Airlines placemaking grant," explained DeLozier, Downtown OKC vice president. "They used it to build a huge beach in the middle of downtown Detroit."
The duo was fascinated by the project and visited it several times a day to see how the public interacted with it.
"We loved the impact a man-made beach had on downtown. It had been built in a plaza, with beach chairs and umbrellas, some green space and a bar," said O'Neill, Downtown OKC district manager. "Depending on the time of day, we'd see men in business suits taking their shoes off and rolling up their pants legs at lunchtime or moms and nannies with children playing during the afternoon, and at happy hour, it was packed."
Added DeLozier, "We didn't want to copy what Detroit did exactly, but we just couldn't get it out of our heads."
Then it happened; the timing was right and the space was perfect.
"We have been looking for ways to activate Bricktown," O'Neill said. "The heart of Bricktown is underused, and we want to change that."
Bricktown-based JE Dunn Construction deposited 15 dump-truck loads of sand weighing 123 tons on Third Base Plaza outside Chickasaw Bricktown Ballpark, 2 S. Mickey Mantle Drive.
"It's important to note that funds for the projects of DOKC don't come from taxes or the state budget," DeLozier said. "We've had people wonder how we can be building a beach when Oklahoma teachers are being laid off, but we are in no way a state agency. The mission of DOKC is to do projects just like this one, to make downtown a more vibrant and interactive place to be."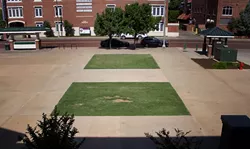 Erick Perry
Bricktown Beach site before construction, Oklahoma City, June 6, 2016.
Bricktown Beach will be open 24 hours a day through late summer. DOKC will maintain and clean the space, and security will be nearby, but aside from a little bit of programming, the community can decide how the space will be utilized.
Bean bag toss, volleyball nets, beach chairs and shade structures will be set up. Although there is no formal schedule and Bricktown Beach is not a food truck court, DeLozier expects food trucks and concessions at the beach sporadically.
There is a free concert 9 p.m. Thursday featuring Brooklyn band The Hollows. The evening's opening act includes students from the Academy of Contemporary Music at the University of Central Oklahoma (ACM@UCO).
July 14 features a free screening of Disney hit Finding Nemo. The movie starts at 9 p.m., and concessions and food trucks will be available in addition to games and activities.
"That's it for the programming done by us, though," O'Neill said. "It's really up to everyone to decide what they will use the beach for."
Print headline: Landlocked shore, Organizers at Downtown Oklahoma City, Inc. brought the joys of a beach to OKC.