Jacob Threadgill
Pitcher Walker Buehler starts the season atop the Oklahoma City Dodgers' rotation and the organization's prospect rankings.
In what has become a trend since the Dodgers became the Oklahoma City affiliate four years ago, the top-rated prospects in Los Angeles' system will begin the season playing their home games at Chickasaw Bricktown Ballpark.
Walker Buehler, the organization's reigning pitcher of the year and top-ranked prospect in the minor league system, according to Baseball America, is at the top of the rotation for his second stint in Oklahoma City.
Outfielder Alex Verdugo also returns to OKC as the No. 2 prospect in the system after leading the team in hits at 21 years old last season. Shortstop Corey Seager (2016) and first baseman Cody Bellinger (2017) each started the season in Oklahoma City before going on to earn National League Rookie of the Year honors.
Verdugo and Buehler are on the Dodgers' 40-man roster, which means they can be called up to the major leagues without a corresponding roster move and can be in the majors in September when rosters expand from 25 to 40, as both got brief looks in the majors at the end of last season.
Also on the 40-man roster are lefty relievers Adam Liberatore and Edward Paredes, starting pitcher Brock Stewart, infielder Tim Locastro, third baseman Rob Segedin, infielder Breyvic Valera and outfielder Andrew Toles, the latter of whom spent the entire 2017 season in Los Angeles and lost a spring training competition with Joc Pederson for the final outfield spot on the major league roster. Toles opens the season as OKC's leadoff hitter.

Jacob Threadgill
Oklahoma City Dodgers manager Bill Haselman discusses his team's outlook during a preseason media day.
Player development
Oklahoma City Dodgers manager Bill Haselman said he will be frank when relaying reports to Los Angeles Dodgers manager Dave Roberts.
"I let [Roberts] know what guys are doing; if they're playing hard and their effort is there fundamentally, that's all I ask. If they do that, I feel like we're good enough to win," Haselman said at preseason media day.
Buehler, 23, got the first start of the season for Oklahoma City and is building off the talent that made him a first-round pick out of Vanderbilt in 2015. After spending most of 2016 recovering from Tommy John surgery, Buehler started the season in Single-A and finished in the majors as a reliever.
He topped out this spring with a 99 mph fastball and sharp-breaking curveball that is ranked the top-breaking ball in the Dodgers' organization by mlb.com scouts.
Command issues marred his time in the majors last season. Buehler walked eight batters in 9.1 innings with a 7.71 earned run average.
"I just want to get back to myself, and starting I'll need some efficient outs and hopefully I'll strike some people out along the way," Buehler said. "[I'm focusing on] trying to create easier outs and moving forward with a lower pitch count. … The elite guys, they command the baseball. It's the biggest thing."
Buehler struck out seven and only walked one batter in four innings with the major league club this spring training.
"[Last season in the majors] was two types of uncomfortable: You're new in the big leagues and you're new to being a reliever," Buehler said. "I'm excited to get to starting and see where we'll go from there."
Haselman said that Buehler and other starters begin the season on a 75-pitch limit.
"It's more to build them up than to protect them," Haselman said. "We want to build them up through six to seven innings if we can and keep their total pitch count around 100 as the year progresses."
A .305 hitter throughout his minor league career (.314 last season), Verdugo has the offensive tools to be an everyday major league outfielder. Verdugo went 11-for-34 (.324) in spring training and hit two home runs after hitting six all of last year.
"I have a little more power this year, and I'm starting to tap into things, figure more stuff out," Verdugo said.
Verdugo got called up to the majors last season with an opportunity to play his way onto the postseason roster but hit only .174 and arrived late for a game in Washington, D.C.
"In spring training, [Verdugo] was phenomenal," Haselman said. "He was an outstanding teammate to the guys, and it looks like he has grown up quite a bit since last year. I was proud of the way he came into spring training and handled himself."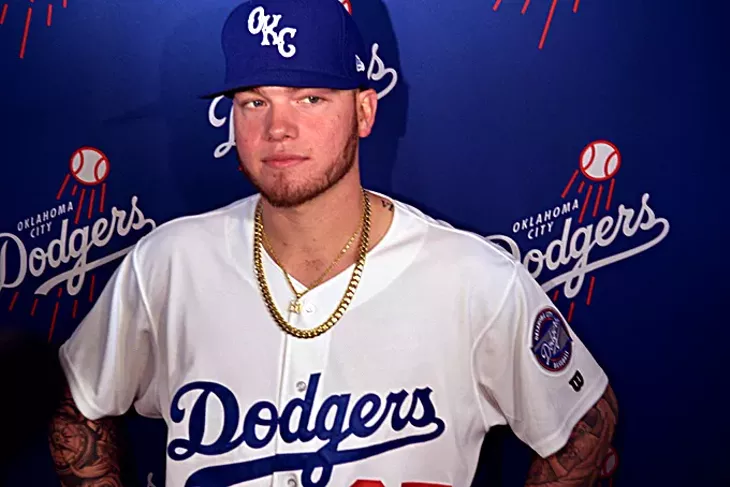 Jacob Threadgill
Outfielder Alex Verdugo is the No. 2 prospect in the Dodgers' system and returns to Oklahoma City after leading the team in hits last season.
Talent pipeline
Jake Peter, who was acquired in an offseason trade with the Chicago White Sox, starts the season at second base for Oklahoma City after tying for second on the Dodgers in spring training with 14 RBI.
Valera was acquired April 1 from the St. Louis Cardinals organization, for whom he made his major league debut last season and hit .320 in Triple-A.
Reliever Pat Venditte comes to the Dodgers organization after being acquired as a free agent. Venditte became major league baseball's first switch pitcher in 2015, which required a rule to be named after him, compelling him to declare which hand he will throw for an entire at-bat.
As Buehler and Verdugo likely make their way back to the major league roster this season, Oklahoma City will have an influx of talent, too. Former top prospect Julio Urias, still just 21, will return to the roster as he continues to rehabilitate from surgery to repair a capsule in his throwing shoulder.
Outfielder DJ Peters (No. 6), pitcher Yadier Alvarez (No. 8), pitcher Mitchell White (No. 4, still in extended spring training), catcher Keibert Ruiz (No. 3), pitcher Caleb Ferguson (No. 16), pitcher Dennis Santana (No. 10), catcher Will Smith (No. 9) and infielder Errol Robinson (No. 20) begin the season on the Double-A Tulsa Drillers team as top-20 organizational prospects.