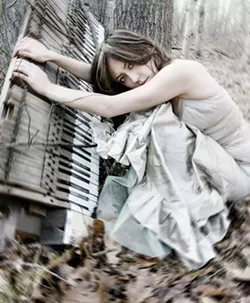 Nationally renowned pianist Tanya Bannister is the featured guest performer in Brightmusic Chamber Ensemble's third season concert, Piano & Friends, 7:30 p.m. Tuesday at St. Paul's Episcopal Cathedral, 127 NW Seventh Street.
Amy Cheng, Brightmusic co-artistic director, said Bannister is a passionate, imaginative and deeply musical artist. In addition to being an accomplished concert pianist and recording artist, Bannister also is cofounder and artistic director of Austria's annual AlpenKammerMusik chamber music festival.
This is her first time appearing with Brightmusic.
"The audience can expect to hear in Tanya's playing earnest expressivity, beautiful lyrical lines and impressive virtuosity," Cheng said in an email to Oklahoma Gazette.
The performance features one of Robert Muczynski's most well-known works, "Fantasy Trio for Clarinet, Violoncello and Piano, op. 26"; "Trio in A minor, op. 114" by Johannes Brahms; Gabriel Fauré's "Piano Quartet No. 1 in C Minor, op. 15"; a work for solo piano by Frédéric Chopin; and other offerings that highlight Bannister's skill.
Cheng said the Chopin and Fauré works in particular offer refined lyricism and exciting tonal scheme and there will be an interesting presentation of many popular musical styles of Brahms' work.
Overall, she said, guests can expect instrumental virtuosity and musical sensitivity from all the performers.
"Chamber music repertoire is vast and deep, but it is intimate in its form and presentation and powerful in its content," Cheng said.
The night's performers include Bannister on piano, Gregory Lee on violin, Mark Neumann on viola, Jonathan Ruck on cello and Chad Burrow on clarinet.
The show also serves as The Jeannette Sias Memorial Concert. Sias supported and contributed to the arts before her death in 2014.
"The Sias name is, and still is, well-known in art circles, so every year, we have an annual memorial concert for her," said Sara Grossman, Brightmusic Chamber Ensemble vice president of publicity.
Grossman said so far, Brightmusic's 13th season has been a popular one.
The season ends April 5 with Quintets, Sextets & Queen, a unique production dedicated to the music of British rock act Queen. Its annual Spring Chamber Music Festival, The Music of Vienna, is mid-June.
Cheng said those who are entertained by Tuesday's concert with Bannister are likely to enjoy other shows in Brightmusic's 2015-2016 season.
"This concert is guaranteed to give our audience a taste of chamber music at its best," she said.
Admission is $20. Students and active-duty military members are admitted free with ID.
Print Headline: Premier pianist, Tanya Bannister makes her Brightmusic Chamber Ensemble debut on Tuesday.