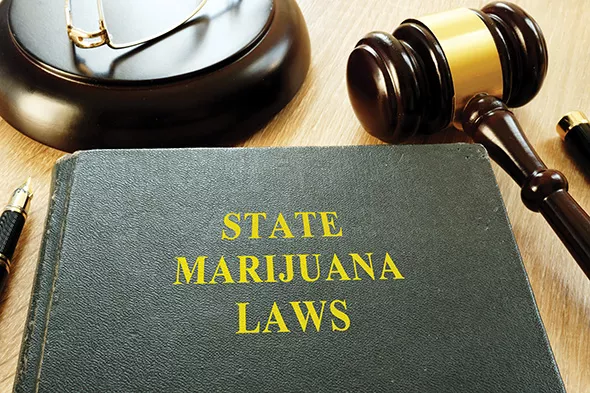 bigstock.com
Oklahoma voters will decide next year if they want to put recreational cannabis on a ballot.
An initiative petition for recreational cannabis was quietly filed with the Oklahoma Secretary of State last week.
State Question 806, filed on Thursday, would add Article 31 to the state constitution. If the petition garners enough signatures within a 90-day window, it will be put to voters on the next general election ballot unless Gov. Kevin Stitt calls for a special election on the matter.
The proposed ballot title reads, "This measure adds a new article to the Constitution, which would generally legalize, regulate, and tax marijuana for persons aged 21+ under state law. Specifically, it protects the personal use of marijuana for those 21+, while establishing quantity limits, safety standards, and other restrictions. It would not affect employers' ability to restrict marijuana use by employees. Property owners generally may restrict marijuana on their property. The Oklahoma Marijuana Authority would license and regulate marijuana-related conduct and administer the article pursuant to specified requirements. It provides for local zoning of businesses and permits municipalities, upon popular vote, to limit or prohibit retail licenses. It imposes a 15% excise tax on sales (not applicable to medical marijuana) to fund the Authority, localities where sales occur, schools (for programs to prevent substance abuse and improve student retention and performance) and drug-addiction treatment programs, while ensuring such funds must add to, and not replace, existing funding. It provides a judicial process for people to seek modification, reversal, redesignation or expungement of certain prior marijuana-related judgments and sentences. Its provisions are severable and would take effect in 90 days."
The article would not limit or affect laws that prohibit or otherwise regulate cannabis purchase or consumption for people under 21 years old, operating any form of motorized transportation while under the influence, consumption by passengers in a moving vehicle, possession on school grounds, smoking in public places that are not already allowed by the Legislature or local government or performing solvent-based cannabis extractions without a license.
It also does not affect the rights of employers, nor does it prevent landlords or the government from restricting cannabis possession or consumption on their properties.
The new article would allow those over the age of 21 to possess, purchase, use, ingest, inhale, process, transport, deliver or distribute less than 1 ounce of cannabis or 8 grams of concentrates or 8 grams of infused products.
It also would allow those of age to possess, plant, cultivate, harvest, dry, process or manufacture six mature plants and six seedlings and possess the cannabis produced from them, provided amounts in excess of an ounce are kept in a private residence under lock and not visible from a public place. Also, no more than 12 plants and 12 seedlings are kept in or on the grounds of a private residence at one time.
The proposed article would state, "a person shall not be denied parental rights, custody of, or visitation with a minor child by the state or local government based solely on conduct that is permitted by this article, unless a person's behavior is such that it creates an unreasonable danger to the minor child that can be clearly articulated and substantiated."
Also, "A person currently under parole, probation, or other state supervision or released awaiting trial or other hearing may not be punished or otherwise penalized based solely on conduct that is permitted by this article."
No one would be denied eligibility for any public assistance programs except where required by federal law.
No license would be required to prove anything beyond age, and businesses would not be able to keep consumer information for longer than 60 days without written permission.
While law enforcement would retain the ability to conduct detentions, searches and arrests for violations of applicable laws, cannabis and its extracts would not be considered contraband or subject to seizure.
However, a person who cultivates cannabis plants "that are visible by normal, unaided vision from a public place" or are not kept in a locked space are subject to a fine not to exceed $250, as is the first offense for possessing up to twice what the law allows. Smoking cannabis in a public place will not constitute the basis for detention, search or arrest, but its use may be fined by up to $25. People under the age of 21 possessing, ingesting, inhaling, transporting and delivering cannabis would be subject to a fine up to $100. These fines may be adjusted for inflation by the Legislature after Jan. 1, 2024.
Oklahoma Medical Marijuana Authority would be renamed Oklahoma Marijuana Authority but would retain the same classes of licenses but also may create more licenses in the future. After 120 days of the effective date, medical cannabis businesses would be allowed to distribute cannabis to consumers.
The Authority would be required, within one year, to develop procedures for issuing, renewing, suspending and revoking licenses as well as the necessary fees and qualifications for licensure, among other things.
Tobacco and alcohol would not be available to purchase on the same premises as cannabis, and the 15 percent excise tax would not be applied to those with a medical cannabis license.
Of that generated revenue, 48 percent would go "to grants to public schools to develop and support programs designed to prevent and reduce substance abuse and improve student retention and performance," and another 48 percent would go "to provide grants to agencies and not-for-profit organizations, whether government or community-based to increase access to evidence-based low-barrier drug addiction treatment." Four percent would go to municipalities or counties were the cannabis was sold.
Notably, the proposed article would retroactively apply to people currently serving a conviction by trial or plea, which means that they can file a petition for resentencing, reversal of conviction and dismissal of their case or modify the judgment and sentence if they have committed an offense that would now be legal by the new article and the article sets up the process and parameters for doing such.
The initiative petition is signed by Vanessa Brandon Avery and Amy Young. The publication date for the notice of the filing with the Secretary of State is yet to be determined.
bigstock.com
State Question 806, which would amend the state constitution to include medical cannabis, has been introduced.