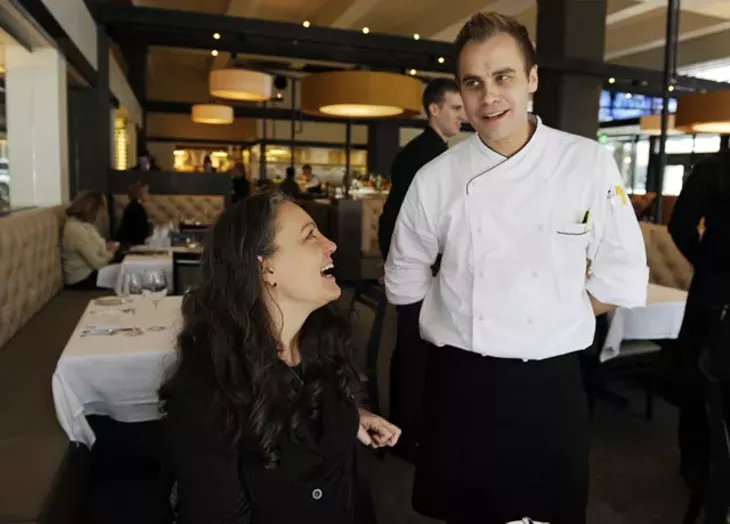 Garett Fisbeck
Jeff Dixon, Broadway 10 Bar & Chophouse co-owner, speaks with Terri Sadler of Fitzsimmons Architects, at the restaurant.
Jeff Dixon and Aaron Soward weren't interested in reinventing the chophouse with Broadway 10 Bar & Chophouse.
They wanted to improve it.
The pair's new restaurant, located at 1101 N. Broadway Ave., recently opened in a breathtakingly redesigned former Buick dealership.
"There was a lot of anticipation, especially since the space was so open and people going by could see the progress," Soward said. "We were more than happy to swing those doors open."
Their challenge was to find the right mixture of intimacy and grandeur in the almost cavernous venue. The two-story restaurant boasts a grand staircase, which was lovingly restored and now nestles the wine cellar in its nooks and crannies.
Vintage chic
The pair was set on using existing architectural details of the space as their guide.
To best utilize the 8,000-square-foot space, they worked with local firm Fitzsimmons Architects to bring it to life. The concept, with its warm colors and lush textures, is open and inviting. When you walk in the front door, the immediate focal point is the central bar. The modern rectangular fixture breaks up the space nicely.
"We call it 'casual fine dining.' We didn't want it to be a stuffy, crown molding-type space.
Aaron described the dining room as an extension of the bar; you walk in and it's an immediate community interaction," Dixon said.
The dining room features plush, embroidered booths and elegant chairs. The restaurant's colors echo the elements the two wanted to incorporate into its simple menu: Oak and hickory blend a creamy palette with hints of gold and white tablecloths.
Terri Sadler of Fitzsimmons Architects said the intentional staggering of booth heights lends a feeling of intimacy among dining parties.
"[Fitzsimmons] was able to get inside of our heads and make that a reality," said Soward.
Fun design details pay homage to the building's history. Modern photos of vintage Buicks grace the walls of the ground floor's private dining rooms, one of which was an oil change bay.
Unintentional but complimentary to Chophouse 10's theme, the round holes of the kitchen's vent hoods mimic the VentiPorts of '40s-'60s Buicks, Sadler said. They are most noticeable from the second floor, which is 1,400 square feet of semi-private dining. It offers a sweeping view of the action, and it's only from that vantage point that you realize what a big, busy place this is.
"We also knew from the beginning we wanted to include private dining with full audio and video capabilities," Dixon said. "A primary focus was to make ourselves available to local businesses."
New attitude
On the opposite side of the bar is the expo kitchen, where staff busily prepares a straightforward menu. Soward and Dixon enjoy the open layout, which they feel includes guests in the dining experience. There is also a chef's table in the kitchen, for those who want an immersive experience.
"We wanted to redefine a steakhouse on our own terms. I don't want to go to my dad's steakhouse," Soward said.
The pair brought chef John Patterson as chef de cuisine and set about building a solid menu.
"When we were kicking names around for who would lead the kitchen, [Patterson's] name came up a lot in different circles," Dixon said.
The result is elegant, echoing the subtle touches of the architecture.
The menu is one page, with appetizers like steak tartare and calamari; soups and salads; and entrées of traditional cuts of steak, lamb and pork.
Then there is the unexpected: a sushi menu including The Buick, with crab salad, asparagus and spicy shrimp sauce. The menu also offers a fish of the day and organic wild-caught salmon. The sides are fresh looks at classic choices, including smoked Gouda mashed potatoes and sweet potatoes gratin.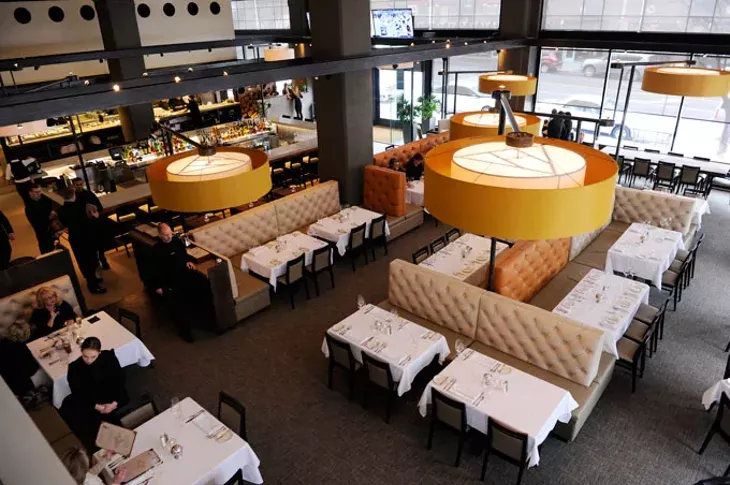 Taking ownership
This isn't Dixon and Soward's first restaurant opening; the two have worked in the Oklahoma City restaurant industry for decades.
"It is a completely different thing when it's all your baby," Dixon said. "Right before you open those doors, you realize what you've taken on. Then it's too late to be terrified."
Soward said he learns something new every day, but for him, "it's more liberating than anything else."
Dixon said that they have received tremendous support from the beginning.
"The community has welcomed us with open arms," he said. "Aaron and I are so grateful for that. When we say thank you, whether in person or on social media, it's from the heart."
Visit broadway10okc.com or call 212-3949 for more information.
Broadway 10 is also a participant in Oklahoma Gazette's Downtown Restaurant Week presented by Downtown OKC, Inc. (DRW), which runs through Saturday and is a great opportunity to sample prix fixe menus at reduced prices. Learn more about DRW on P.24.
Print headline: Homefront, Aaron Soward and Jeff Dixon's Broadway 10 Bar & Chophouse puts a fun and sophisticated twist on the traditional steakhouse.