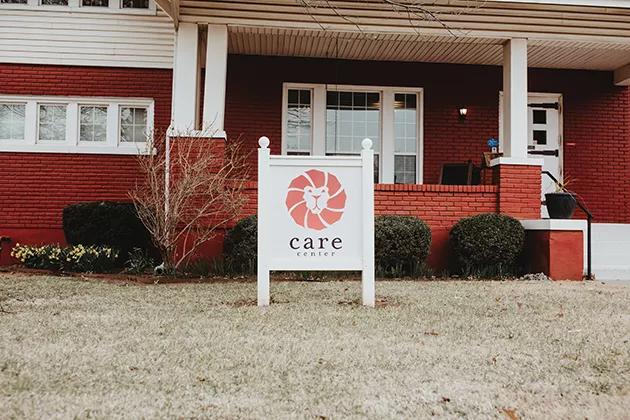 Alexa Ace
CARE Center will demolish Brockway Center but plans to memorialize the house's history and welcome a local member of National Association of Colored Women's Clubs to its board.
City council members brought forth resolutions to acknowledge the historic and cultural significance of two properties. One resolution was approved, bringing two organizations together in compromise, while the other was deferred for a month.
Merging support
After being deferred three times, Ward 7 councilwoman Nikki Nice's resolution on Brockway Center and Child Abuse Response and Evaluation (CARE) Center was passed. Representatives from the Oklahoma state and city chapters of National Association of Colored Women's Club (NACWC) and CARE met last Monday to come up with a plan they could present to the council.
"They put together a new resolution statement for us to review, and they even drafted a memorandum of understanding for us," Stay McNeiland, CARE chief executive officer, told Oklahoma Gazette. "We really did not have that many changes as the CARE Center because our whole intent behind wanting to work with them has always been so they could be honored in the ways they wanted to be honored and remembered."
Jackie Gates, president of the state NACWC chapter, and Sandra Finney, president of the city NACWC chapter, spoke at the city council meeting. They both said the most important thing was that their history did not get erased.
"We still prefer they not demolish it, but that's not up to us. We don't own the property," Finney told Gazette. "But we were able to talk to the CARE Center parties, and we came to this conclusion that they will work with an architect and the historical preservation group to make sure it's not a big old fancy place but something that's commensurate with the whole community and fits in. … We're happy that they were able to compromise and we were able to compromise; I think each side got a little bit of what we really wanted to see."
The memorandum of understanding states that both parties agree to support the goals of each entity while maintaining a "commitment to the historic testament of the merging of the old and the new." It also lists five provisions, which include installing two historic markers, a placard describing the house's history and a memorabilia wall inside one of the boardrooms.
"We're also giving them the ability to use the facility whenever they want. They're going to be having their board meetings there and have the ability to use that as an event space or get together space anytime they want," McNeiland said. "They're also going to send a designee or one of them will join our board as well as our future planning committee."
CARE's next step is to get the property rezoned as a business within a residential area, which McNeiland said CARE is confident will happen smoothly and allow it to move forward with its expansion plans. Construction is scheduled to begin this year.
Historic designation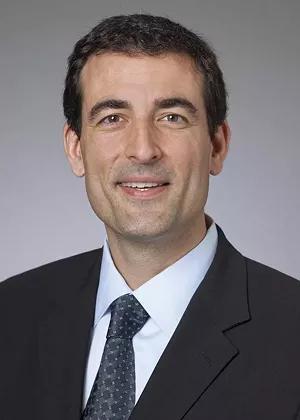 Oklahoma City Council / provided
Ward 2 councilman Ed Shadid presented a resolution to start the process of designating First Christian Church and Jewel Box Theatre historic landmarks.
Ward 2 councilman Ed Shadid presented a resolution intended to start the process of designating First Christian Church and Jewel Box Theatre a historic landmark overlay district, which would require a review process before any demolition could happen. Shadid said taxpayers have essentially subsidized the church for 70 years through funding the maintenance of streets and the park across the street.
"We as taxpayers are subsidizing these religious institutions, and we do so because we believe there's a communal benefit," he said. "So now we're asking for, not necessarily for complete preclusion of the demolition, but just for a time-out — ultimately, that's what's being asked for. What we've learned and what the Donnay Building has proved, and I think what this building is going to prove, is that having a timeout, having a public discussion potentially brings bidders to the process that weren't previously involved."
About 10 community members signed up to speak at the city council meeting, including representatives from Okie Mod Squad, Crown Heights-Edgemere Heights Neighborhood Association and Preservation Oklahoma. Only three speakers were against the resolution: the church's senior minister Rev. John Malget, the church's lawyer David Box and Rev. Pam Holt, a regional minister for the church's denomination.
"We still believe that we are the Church of Tomorrow, but we're not tied to a building. I'm trying to save a community of faith that is doing good work in Oklahoma City right now," Malget said. "We are community of faith trying to survive, and putting this designation on our property will cause some problems even if we sell to someone who wants to keep the building. And please hear me; we want someone to buy the property that wants to keep the building. … We want the building to be saved, but we want to move forward as a community of faith."
Jewel Box Theatre is not ADA-compliant, Malget said, but current owners were grandfathered in. New owners would need to make the venue ADA-compliant. The only way to do that is to knock out walls and expand it out, and Malget said that is only one of many issues.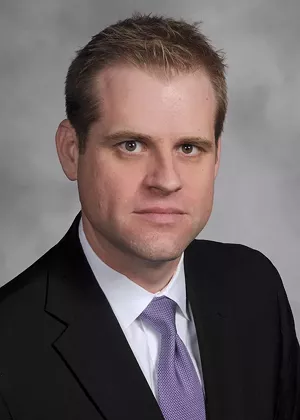 Williams, Box, Forshee & Bullard, P.C. / provided
David Box, attorney for First Christian Church, said the city council should not impose its will against church leaders' wishes.
"This would be an extraordinary measure by the city council to impose their will against the desire and against the rights of the current property owner," Box said. "This is not a fight about whether or not to demolish the building. As you heard the reverend say, they don't want to demolish the building. What this designation would do is reduce the pool of potential buyers; it would limit the ability of the church to continue their mission of faith."
Two council members expressed their desire to preserve the church but wanted to take more time to find a win-win solution. Ward 8's Mark Stonecipher wants to meet with lawyers to see if the council is setting itself up for potential lawsuits. Ward 6's Meg Salyer said she has personally spoken with two individuals interested in buying the church and thinks it would be a good idea to bring the parties involved together to find a compromise.
Ward 5 councilman David Greenwell cited property rights to express his complete opposition to the resolution.
"I know there's a lot of fascination with socialism, which leads to greater government control," he said, "but so far, we're still a republic, and we have private rights to property that we own. But more importantly, for government to come in and interfere with the church, we have no right to do that."
City council members felt they needed more time to assess the situation, so they voted to defer the resolution with a verbal commitment from church leaders to not move forward with potential sales or demolition.
The resolution will be heard again April 9, which is also the first meeting where Ward 2 councilman-elect James Cooper and Ward 6 councilwoman-elect JoBeth Hamon will take their seats. Both Cooper and Hamon have told Gazette they are in favor of making the church a historic landmark.
Historic Preservation Commission meets April 3, and Shadid said it is likely to start the process of designating the church a historic landmark itself. If this is the case, city council could strike the resolution from the agenda. However, the final decision will still be voted on by council members and the mayor. Since church leaders oppose the zoning overlay, seven votes will be needed to approve the designation.