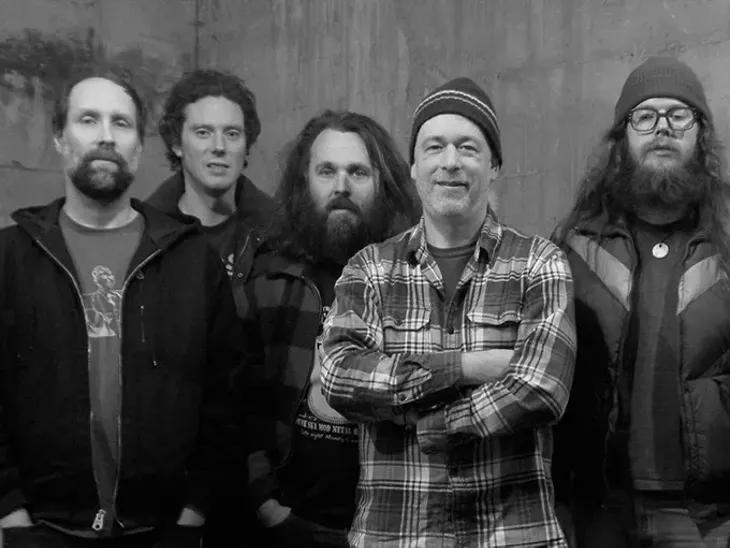 Built to Spill, the current standard-bearer of indie rock, has aged well since its inception in 1992. Creatively, it helps that frontman and pillar Doug Martsch has shuffled the lineup around to include fresh blood, and the band recently released one of the best, most unrestrained albums of 2015.
It might be a bit early to make such a decision, but listen once to Untethered Moon, the first album by Martsch in six years, and you will hear it.
"We've been inspired by some new bands, and we've also been inspired by having a couple of new young guys in the band," Martsch said during a recent telephone interview with Oklahoma Gazette.
"Mostly Slam Dunk," he said of the quirky Canadian alt-rock act. "They're the band that really woke me up."
Technical inspiration
Speaking of rise-and-shine, the drums on Untethered Moon's opening track "All Our Songs" will leave you wide-eyed. Starting with an upbeat tom-dance that consumes the listener (thanks to the superb recording process at Jackpot! studios in Portland, Oregon), the levels break seven when the wall of guitars come in and Martsch's vocals, airy and light, float above it all.
You will notice the nuanced recording, and here's why: Martsch said the album was recorded through a digital workstation onto a 16-track tape and then dumped back into a computer for the overdubbing process. Then, it was put onto two-track tape for the mix-down. The process gives the record a warmth and rawness that is lacking in much of mainstream music today.
"We wanted to make sure we didn't go overdub crazy," Martsch said. "Then we started finding some songs that were too complex or too difficult to fit it all into 16 tracks, so we worked out a system where we could record it onto Pro Tools and then dump it onto tape."
The etherlike effects of old-school analog combined with the efficiency of digital recording helps make this album's sound visceral, warm and sepia-toned.
Songs like "On the Way" also give the listener a slight reprieve from distortion, with a bouncing bass line and clean-toned guitars and those damned airy vocals again. It is a song about going to Mars, with a twisting solo that sounds like rocket ships exploding upon takeoff, a serendipitous effect that was there before the lyrics were even written.
"That whole song has been written a few times," Martsch said. "I'm not a lyricist. That's the last thing I do, and I only do it because I have to. So, it's not my forte at all. I love making music, but the lyrics are the worst part of it."
Martsch has spoken in the past about a feeling of irrelevance in today's music scene, but this album is his eminence screaming back to life.
The band plays Thursday at ACM@UCO Performance Lab, 329 E. Sheridan Ave.
Print headline: Made to last, Built to Spill founding member Doug Martsch gets geeky with Oklahoma Gazette about the recording of the band's latest album, Untethered Moon.