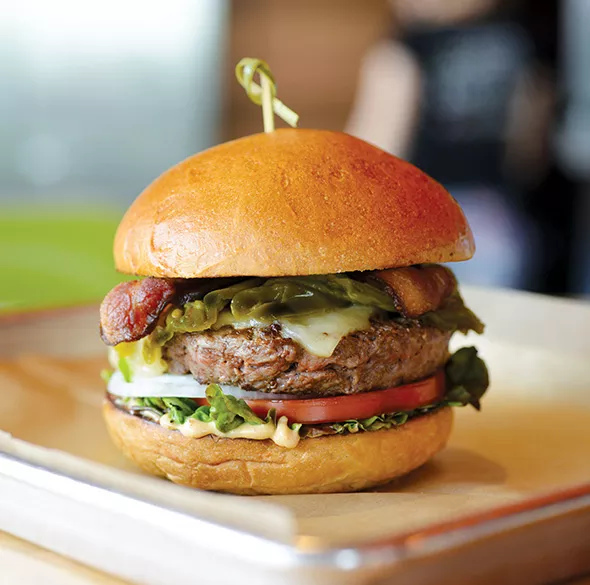 Alexa Ace
Goodnight for a Good Cause burger
As regional director of operations in charge of new restaurant openings for Austin-based Hopdoddy Burger Bar, Damon Biggins has had a very busy 2018 as the gourmet burger purveyor continues its fast-paced expansion.
Biggins helped open the Nichols Hills location at 1125 NW 63rd St. in June and returned for the new Chisholm Creek location, which officially opened Monday at 1316 W. Memorial Road, Suite 100, in between opening two locations in Memphis, two in Dallas and one in Houston this year alone.
Hopdoddy has expanded to 28 locations in six states (16 in its native Texas) since it was launched in 2010.
Locations open with much fanfare, as openings in Arizona were met with long lines reminiscent of a nightclub atmosphere, complete with employees to manage the lines.
With a unique service that requires customers to order and pay with a cashier but gives them full service with an assigned seat and a server designated to refill drinks and accommodate menu add-ons, Hopdoddy embraces the nightclublike lines.
"While they're waiting in line, the open kitchen concept shows that we have nothing to hide and speaks to the freshness and that everything is cooked to-order," Biggins said, noting that there are dedicated line servers that hand out free samples of drinks and french fries while people wait. "We want to celebrate the line. We're not afraid of it. It's a fact of business. Instead of saying, 'So sorry for your wait,' we're going to make the most of it to educate."
Biggins said that he has 25 years of experience in the restaurant industry and was attracted to working for Hopdoddy because of its commitment to fresh ingredients in an inviting location.
"With Hopdoddy specifically, what attracted me was that the food was fantastic, super-delicious and well-presented in a super-cool and hip space with great music," Biggins said. "It's got individual people; not everyone is wearing polyester pants in a cookie-cutter setting. There is a lot of room to be an individual."
The chain uses a proprietary blend of chuck and brisket that is butchered and grinded in-house. It also offers burgers made with bison, American grass-fed Kobe beef, chicken, turkey, sushi-grade ahi tuna, and two plant-based burgers (Impossible meat and a gluten-free black bean and corn patty), which can be paired with in-house baked brioche, whole wheat and gluten-free buns.
Hopdoddy's shareable french fries are available in five flavors: Parmesan truffle, green chile queso, chili cheese, Buffalo fries with Buffalo hot sauce, blue cheese and hot honey and sage sweet potato fries. Biggins said that the Parmesan truffle fries are "far and away" the most popular, and it's a result of Hopdoddy's preparation of the Kennebec potatoes, which arrive whole and are cut in-house. The potatoes go through three blanching processes; they are soaked in hot water twice to remove starch and then in hot oil to begin the cooking process. The french fries are fried twice for optimum crispiness.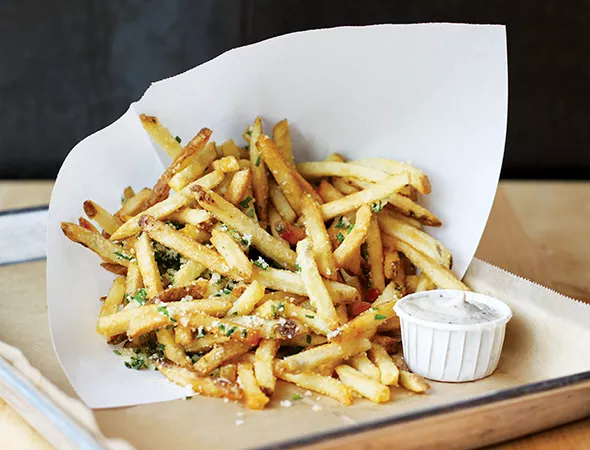 Alexa Ace
Parmesan and truffle oil Kennebec fries
"I never knew that much about fries until I got to Hopdoddy. We're in relentless pursuit of the perfect fry. Things like time, temperature and humidity all factor into a french fry," Biggins said, adding that the staff does a test every morning and adjusts cooking temperature based on the day's weather.
As Hopdoddy grows, it's looking for the same beef supplier across all locations to ensure consistency, Biggins said, but they do work with local farmers and purveyors when working on a test of menu specials. When season dictates, he said that they will bring in local fruit for the use in milkshakes, and Hopdoddy offers Oklahoma City-based COOP Ale Works on tap and Big Oak Kombucha.
The triple berry cobbler milkshake is one of eight varieties, which also include Oreo cookies and cream, Nutella chocolate pretzel, s'mores, strawberry shortbread, bananas foster, vanilla birthday cake and malted root beer.
Biggins said that the Nichols Hills location has been well received, noting that he was impressed with Oklahoma City's food culture.
"There is a lot of great food in Oklahoma City and a lot of well-educated folks in a culinary sense and being hyper-aware [of new concepts]. They were waiting for us," he said. "They told me Nic's [Grill] has been an institution and some of them were putting us in the same category, which I was honored [to hear]."
The Hopdoddy location in The Pointe at Chisholm Creek overlooks a lake and is situated near other new concepts Uncle Julio's and Firebirds.
"The setting is wonderful with the pond and the fountains," Biggins said. "I've seen sunsets out of the windows that face west, and they're really beautiful with the sky lit up over the pond. It's a really neat area."
Visit hopdoddy.com.