Alexa Ace
Burgers and sides at Right-A-Way Burger Joint
Equipment failure forced popular Right-A-Way Burgers to close its original location on the border of Guthrie and Edmond almost two years ago, but chef Jimmy Johnson is back with a new location serving inventive burgers in a nostalgia-laced restaurant.
Right-A-Way Burger Joint is located at 1333 N. Santa Fe Ave., Suite 118, in Edmond. Johnson is relying on his background in corporate and high-end dining to bring exciting flavors to the most blue-collar meal, the good-ol' American burger.
Native Edmondite Johnson's career has taken him to work at the governor's mansion, overseeing catering for arenas and at Guthrie's Dominion House, but he is most comfortable taking fine dining flavors to a wider audience.
"I was raised in Oklahoma, and I want to bring the experience from higher end eating and bring it to a modern level where everyone is able to enjoy what I've experienced and added to my tool belt," Johnson said.
Right-A-Way is the only restaurant in the state serving Iowa Premium ground beef. Johnson said the product is normally used for steakhouses, and it is the basis for one of the base entrée options. Beef, pork and one-pound baked potatoes can be topped with 11 popular combinations or built to the customer's liking at 75 cents per topping.
The eponymous Right-A-Way burger has honey bacon, cheddar, fried onions, coleslaw and a house sauce with blonde barbecue sauce that's made with house seasoning in a barbecue sauce mixed with mayonnaise, mustard and brown sugar.
Tables have a shaker of the house seasoning Johnson lovingly refers to as "magic dust."
"People are always tasting and trying to figure out what's in it," he said. "I was raised around chefs, and we were trained to entice tastebuds."
The Zen Burger is crafted to release flavors and create an experience that is like eating a spring roll on a burger. A layer of Sriracha is on the bottom bun while the burger is topped with a Thai slaw made with shaved Brussels sprouts, daikon, carrots and sweet a chili sauce. Crunchy peanut butter slathered on the top bun adds richness and texture to the burger.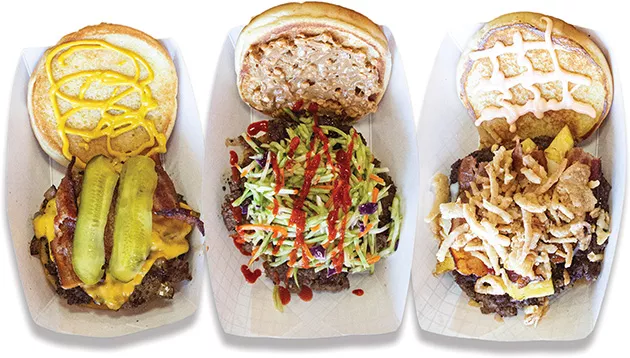 Alexa Ace
from left Working Man, The Zen, and The Island burgers at Right-A-Way Burger Joint
"I'm all about texture; I don't want anything soggy," Johnson said.
The Zen Burger is the product of a customer creation that made its way to the permanent menu after receiving the most votes during online polling. Johnson said they will continue the tradition of having customers vote to add burgers and toppings to the menu.
The new Right-A-Way Burger Joint debuts with a new full-time burger option, the Flamango, which has grilled mango, jalapeño, honey bacon, red onion, sweet chili slaw and cilantro. Mango will be added to the list of available toppings for its build-your-own burger that includes nontraditional items like roasted red peppers, grilled green chili, fresh avocado, smoked provolone and many more.
There is no vegetarian patty available at open, but Right-A-Way does offer what Johnson terms a "veggie stacker" that includes a double portion of vegetable toppings cooked in a separate sauté pan to prevent cross-contamination with meat.
"We're more than a burger joint and a place to bring friends where you're excitedly becoming an advocate," he said. "People are planning their next burger while they're still full. That's the ultimate compliment."
Sides include home fries, traditional fries, curly fries, onion rings, baked beans with crumbled bacon and burger meat and either regular or green chili mac and cheese. Dessert options include a variety of cinnamon rolls that range from traditional to s'mores and cherry cheesecake.
New Beginning
The original Right-A-Way was located at the intersection of E. Waterloo Road and N. Coltrane Road, at the border between Edmond and Logan County leading into Guthrie. Johnson said the restaurant was popular and did well for four years until November 2017, when the hood motor in the vent went out and sent the fan blade spinning, cutting through the air duct and destroying the grill top below. It forced the restaurant to close during its four busiest days.
Alexa Ace
Right-A-Way chef and founder Jimmy Johnson
"After the repairs and everything, I didn't have enough to open the doors again," Johnson said.
After nearly two full years, Right-A-Way reopened thanks to Johnson's business partner Trevor Chapman, who combined with fellow partner Nathan Howard to turn the former Papa Dino's location into a family-friendly restaurant chock-full of memorabilia and nostalgia.
Johnson said Chapman was instrumental in securing memorabilia like signed Indiana Jones, Wonder Woman, Tombstone and Young Frankenstein images and a Daniel Radcliffe-signed copy of the screenplay for Harry Potter and the Philosopher's Stone. Howard helped build out the space, installing phone-charging stations across bar seating and a table-top arcade system featuring 60 vintage games like Pac-Man and Galaga.
"If the games are popular, we're going to add two more," Johnson said. "I'm not trying to kick people out the door like most places."
Johnson wants friends and families feel like it's a place they can spend some time, which is why he decided not to serve alcohol.
"I'd rather have a family come in here and enjoy it," Johnson said. "We're not a sports bar. We'll have sports on, but if there's not a game, we'll mostly be showing Food Network and Me TV with shows like Bonanza."
The original location had an oil and gas theme, but Johnson is laying on the nostalgia and family atmosphere to create a space people want to spend time, almost like a museum of memorabilia. He's turning it into a family restaurant, as his wife Keisha will be at the restaurant along with his two older sons who will work with a trained staff.
"Coming back to it after we closed comes with apprehension, but you have to ignore the nerves," Johnson said. "The idea of failure makes you watch your p's and q's; I know what I did wrong last time, and I know what I need to do right this time. I sat down with my wife and sons and asked if it's something they wanted to do too. … It's not part of a big corporation, and I can leave them something that my kids can watch grow."
Visit right-a-wayburgerjoint.com.