provided
Tariq (Kamron McClure), Sunni (Regina J. Banks) and Kirk (Rod Porter) form a troubled love triangle in The Life Cycle of a Butterfly.
Regina J. Banks admitted she "didn't think that through."
Banks, a business owner and mother of three teenage girls, founded The Vanguart theater company earlier this year — something the 2002 University of Oklahoma musical theater graduate said she had been planning for years — but she did not originally intend to also star in the company's first production, The Life Cycle of a Butterfly, debuting July 18-20 at Howard Theatre at Heritage Hall, 1800 NW 122nd St.
The play, written and directed by La'Charles Purvey, stars Banks as Sunni, a recovering alcoholic and survivor of sexual abuse.
"I struggled when La'Charles said, 'Hey, I want you to play Sunni,'" Banks said. "Then I thought about it; you know, movie stars do this all the time. When they believe in a project, they put their money where their mouth is and many times produce or executive produce. It's been a slow journey, but I'm learning to be OK with producing and starring. … I love being pushed and challenged, especially artistically."
Purvey said he originally wrote the role of Sunni with Banks in mind.
"Regina is a really creative and vivid actress," Purvey said. "She's very imaginative. She thinks on her feet, and she kind of has that vulnerability that you look for in a performer. You know the audience is really going to root for her."
He originally intended Sunni's character to have more of a supporting role, but the impact of the #MeToo movement inspired him to make her the lead, though it required the playwright to look beyond his own perspective.
"It started off as something totally, totally different," Purvey said. "It was going to center around another character, but as I started writing, I started seeing people making posts on Facebook about some of the sexual trauma that they had had in their past. … Then all of a sudden, Regina's character Sunni kind of took over and said, 'Hey, let me tell my story.' … I had to do a bit of research. I had to talk to some people because, having a female lead, you want to be sure that you get some things right. As a guy, there's some things that you don't experience that a woman might experience. Of course, I talked to Regina along the way. I talked to a couple of close women friends of mine. If I was ever stumped about anything, I would just reach out to the women in my life."
The Life Cycle of a Butterfly also stars Rod Porter as Sunni's husband Kirk, a musician who is often away from home, touring or at the studio recording a new album, and Kamron McClure plays Tariq, a 20-year-old artist who begins a relationship with Sunni while Kirk is gone. Derrick Sier stars as Sunni's younger brother, Boonie, who suffers from guilt related to his sister's trauma. Deonna Cattledge plays Sunni's best friend and Boonie's on-again, off-again girlfriend Kalista, who Purvey described as "really fun character" and a "cougar." Glen Whitaker plays Kalista's "boy toy" Justin, who she attempts to use to make Boonie jealous. Purvey said their relationship provides comic relief from the intensity of the main plot.
"With such a serious topic, I like to balance that out with a little humor so the audience won't feel so drained by the end of the show," Purvey said.
As director, Purvey also tries to "keep the mood as light as possible" during rehearsals. Lyric Theatre of Oklahoma instructor Ronn Burton serves as the play's intimacy consultant to help ensure the actors are comfortable during the more intense scenes.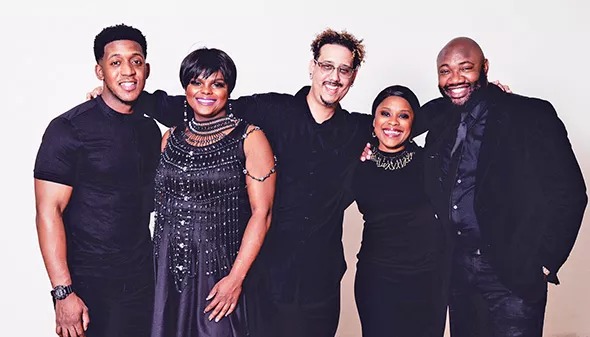 provided
Writer-director La'Charles Purvey center with the cast of The Life Cycle of a Butterfly: Kamron McClure, Deonna Cattledge, Regina J. Banks and Rod Porter.
"I always want to make sure that the actors feel safe," Purvey said. "It could be traumatizing to some people because you don't know what somebody's past is. That might have actually happened to one of your actors. … We have all hands on deck, and we're trying to keep it as professional as possible. We're trying to keep our actors physically and mentally safe while they're telling this story. … The one thing I do as a director is I always keep the lines of communication open. After every rehearsal, I'm always talking to each actor, asking them, 'How are you feeling? Are you OK?' and if I ever come to a point that might be a little bit above my expertise, I might call somebody else in. … I'm not going to sacrifice my actors' safety and wellbeing for the sake of the story. The actors come first for me."
Banks said at least one of the play's scenes, simulating a sexual assault, is intended to be unsettling for viewers.
"The audience should feel very uncomfortable, and we've certainly as actors had to approach this professionally with care and consideration," Banks said. "We see things like this happen all the time on television, but when it's live theater, it hits a little differently."
Creating opportunity
Rickelle Williams serves as the play's stage manager and Steven Gillmore will be running tech and sound with sets built by Robert Rickner at factor 110. Banks said the diverse cast and crew fulfills The Vanguart's purpose as a theatrical company. Performances will be preceded by a "black carpet" event with live music by Cooper Shelton and an art exhibition.
"The entire mission is to create more opportunities for people of color," Banks said. "I think sometimes people get afraid of that language. We're not trying to exclude anyone … but we just want to create more opportunities for African American artists here in Oklahoma."
Purvey said his belief in The Vanguart's mission provides extra motivation to ensure a high quality play.
"I want to see the Vanguart go on and do other shows and be prosperous, so the pressure is kind of there because the first one out the gate has to be really good," Purvey said.
Though Banks is still adjusting to the pressures of founding a theater company and starring in its debut production, she said playing the role is helping her cope with struggles in her personal life.
"Sunni has been through a lot of pain in her life, and she is finally ready to live by the end of the show," Banks said. "She's finally ready to live her life at the fullest, and these recent events for her really push her into that space. And in a lot of ways, that's been the case for Regina. I haven't gone through a sexual assault, but I'm currently going through a divorce, and when it's someone you've been with for 22 years, that's a big life change. So in a lot of ways, I'm being pushed into a new life, a new normal, and even the theater production company, this is something we always wanted to do together, and now it's just me by myself doing it, but I feel so free. I feel free, and I feel like I'm living a new life. And I'm able to kind of tap into a space that I wasn't able to before, so I bring that to Sunni's character. … I am growing, and I am emerging out of my own chrysalis."
Tickets are $30-$35. Visit thevanguart.com.