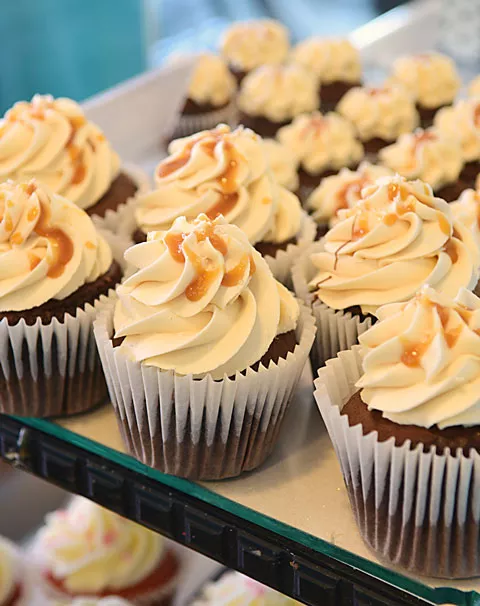 Gazette / file
The salted caramel cupcake is among the top sellers at ButterSweet Cupcakes.
The concept of a cupcake-only bakery was essentially unheard of in American culture until an episode of Sex and the City featured sweet treats from New York's trendy Magnolia Bakery in 2000.
The line around the block at the Greenwich Village location grew as it earned a spot on the Sex and the City tour. In the following decade, bakeries dedicated to cupcakes began popping up from coast to coast, and in 2010, Food Network debuted the competition reality show Cupcake Wars.
Around the same time the show debuted, Yukon's Tiffany McBride was between jobs, and she began to rely on experience of baking with her grandmother while growing up. McBride made an elaborate custom cake for a friend, and the encouragement began.
"You should open a store," became a common refrain from McBride's friends.
Making a baker
What started as a hobby turned into a full-time cake enterprise for the McBrides — husband Matt included — as ButterSweet Cupcakes opened locations in Yukon, 817 S. Mustang Road, and Edmond, 16708 N. Pennsylvania Ave., and a standalone cake store, Tiffany's Cake Atelier, 501 S. Mustang Road, in Yukon.
Five years after the first ButterSweet Cupcakes opened in Yukon, it's still surprising for Matt McBride to be in the bakery business. McBride cashed out his 401K as a paralegal and the family maxed out credit cards and used a family loan of $10,000 to get their first storefront open in 2012.
"I never imagined in a million years that I'd be a baker," Matt McBride said, noting that he had to first learn how to make frosting as his wife embarked on the journey to a cake empire. "We only had the store open for two months before I quit my day job [to] do cake full-time."
The McBrides have watched as other bakeries and cupcake-themed stores — including a competitor in Yukon — have closed over the years. The McBrides opened Tiffany's Cake Atelier, which focuses on wedding and birthday cakes, in the vacant Yukon competitor's store within the last year.
Commitment to fresh
McBride said ButterSweet's commitment to baking fresh — each store puts out new product six days a week — and high-quality ingredients like real vanilla extract have set its product apart.
"We try not to be over-the-top crazy with stuff," McBride said. "People like familiar stuff, so we don't have weird flavors. It's a homemade style that'd you enjoy, like peanut butter and chocolate."
ButterSweet has fun with designs: superhero themes like blueberry pie cupcakes with Spider-Man images, apple pie cupcakes with a Captain America shield, Wonder Woman blue coconut cream or Halloween cupcakes featuring characters from cult classic Hocus Pocus.
Those daily specials join menu fixtures like the Vanilla Thrilla, a classic white wedding cake with a vanilla buttercream; cookie dough, a cookie cupcake topped with a egg-free cookie dough frosting; and crème brûlée, a yellow cake with vanilla cream filling and vanilla buttercream with a sugar topping that has been torched brown and bubbly.
ButterSweet also sells specialty items like cake truffles, cake parfaits (layers of cake, frosting and filing in a cup) and Doozies, cookie sandwiches with buttercream filling.
For the holidays, ButterSweet also produces pies for pre-order in five flavors: pecan, pumpkin, chocolate cream, coconut cream and apple crumble (each available with meringue or whipped cream topping).
"The idea of people all over the metro having our baked goods at their family Thanksgiving is a very cool thing," McBride said.
The success of ButterSweet allowed the McBrides to expand the original location to include the retail space next door and open an Edmond location in 2015. Matt said he has an itch to expand again, possibly at the beginning of 2018, with a food truck.
"You're limited with your reach with a brick-and-mortar to get people to drive too far just for cupcakes," McBride said. "Since we've got two facilities baking every day, we've got more than enough inventory to supply a food truck."
McBride said there is a hole in the local market for a food truck focused solely on desserts, with only Holey Rollers doughnuts coming to mind. He said the potential food truck could focus on catering or going to schools and weddings.
"I think there is a hole in the market that we could fill nicely," McBride said. "I think that could certainly help us accelerate into opening a third [brick-and-mortar] location."
Visit buttersweetcupcakes.com.
Print headline: Trendy bakes; ButterSweet Cupcakes started in a Yukon kitchen and has turned into an empire.