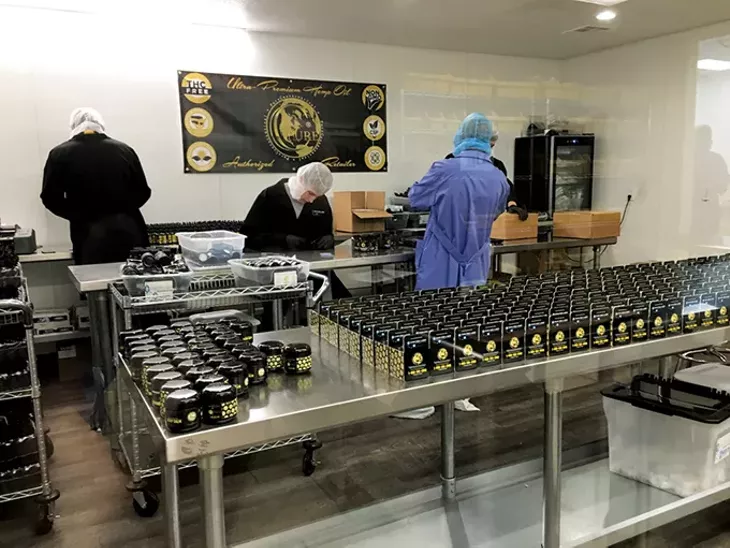 Nazarene Harris
Can-Tek Labs laboratory employees create CBD products from hemp.
Medical marijuana regulations rolled out by the state health department in July were met with heavy pushback from the community at large and caused Gov. Mary Fallin to call for revisions and set forth emergency rules on Aug. 1. The new regulations govern the growth, sale and purchase of medical marijuana but don't address testing, labeling and possible recall needs. That lack of testing, business insiders said, is cause for worry.
"There certainly exists the chance that marijuana containing mold, pesticides and harmful toxins could be sold to Oklahomans," said Hector Najar, owner of cannabidiol (CBD) and hemp supply store Herban Mother.
Because marijuana is still federally illegal, federal authorities like the Food and Drug Administration (FDA) do not offer consumers any legal protection in the event that they are sold a bad product. Safety is, therefore, maintained either by state mandate or by retailers, should they choose to provide it.
The CBD business is a good example of how federally unregulated goods can have beneficial, harmful or neutral effects on consumers, CBD Plus franchisee Wendy Hampton said.
"Just because something is labeled as safe doesn't mean that's the case," Hampton said. "There's no telling what's in some of the stuff out there."
Consumers should also know, Hampton said, that a doctor's go-ahead to use medical marijuana is not a guarantee that the marijuana they buy is safe.
Under current law, a doctor needs only to fill out a form with reasons medical marijuana would be beneficial for the patient. The patient would then use the form to apply for a medical marijuana card they could use at the dispensary of their choice.
Last month, Oklahoma health commissioner Tom Bates voiced his concerns over the lack of testing requirements to the legislative Medical Marijuana Working Group, which is co-chaired by Sen. Greg McCortney (R-Ada) and Rep. Jon Echols (R-Oklahoma City).
Nazarene Harris
Third-party laboratory test results show buyers that CBD products at Herban Mother in Oklahoma City are safe to use.
"I think it's important to remember these are things that people will be ingesting into their body," Bates said. "We want to do all we can to make sure that product is safe for human consumption and that its not adulterated or contaminated in any way. The only way to do that is to have some kind of testing structure."
Adding a mandate that medical marijuana sold in Oklahoma be tested to ensure purity could mean another round of regulations set forth to Oklahomans who have already seen their share of back-and-forth by state government on the issue.
Other states have considered such mandates with mixed results. In May, the Arizona Legislature voted on Senate Bill 1420, which would have required safety testing for both mold and pesticides, but it failed to meet a required three-fourths majority. Michigan currently has testing for both types of contaminants, but Massachusetts is currently embroiled in a dispute over cannabis providers "shopping" between the state's four testing facilities for the most favorable results.
According to FDA guidelines, foods sold in grocery stores across the nation can contain minimal amounts of pesticides as long as labeling conveys such content to the consumer. Medications sold to consumers must also reveal ingredients and possible side effects.
"We get this long list of possible side effects when we get our medicine from the pharmacy," Najar said. "Right now, with medical marijuana, there's no long list of side effects, there's no labeling requirements, no testing guarantee."
Najar said consumers of medical marijuana who seek pain relief associated with illnesses like multiple sclerosis, fibromyalgia and cancer have compromised immune systems that will not tolerate pesticides, mold or harmful chemicals.
"Introducing a potentially harmful substance to a person with a weak immune system would be disastrous," Najar said.
Bates said lawmakers might incorporate testing and labeling requirements into the already-existing regulations when the Legislature returns to session in January.
While medical marijuana is currently legal in Oklahoma, experts estimate that it will not be introduced into the market until early 2019 since all marijuana must be grown within the state and farming cannot technically begin until licensing is underway.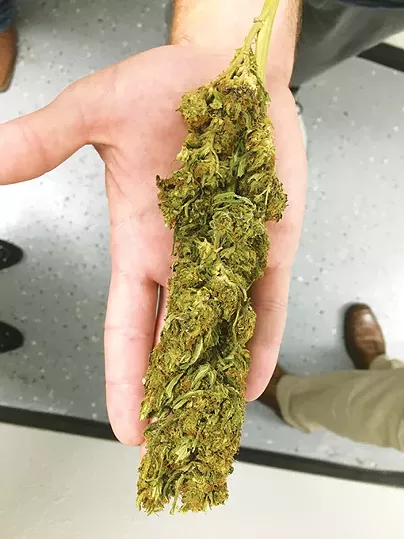 Nazarene Harris
Hemp is used to create CBD products at Can-Tek Labs in Oklahoma City. CBD supplier Herban Mother uses Can-Tek labs to create CBD products.
According to Oklahoma Medical Marijuana Authority, as of Sept. 7, a total of 4,717 applications have been received from patients, caregivers, dispensaries, growers and processors and licenses are currently being mailed to successful applicants.
Marijuana growth, Najar said, takes at least 90 days.
Should medical marijuana become available to consumers before testing and labeling requirements are mandated, Najar said consumers should use the same discretion they use when buying CBD products today.
Questions consumers should ask retailers or dispensaries, Najar said, include whether or not the product is full-spectrum and the company uses a third-party laboratory to ensure that there are no traces of mold, yeast, pesticides or harmful chemicals.
"If they say they test their products, ask to see the results, " Najar said. "If they don't take the time to educate you about the product, don't take a chance in buying anything from them."