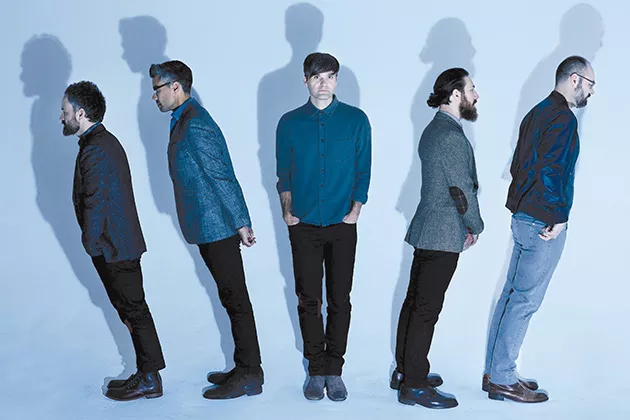 Eliot Lee Hazel / provided
Death Cab for Cutie plays Saturday at The Criterion. Tickets are sold out.
Death Cab for Cutie
7 p.m. Saturday
The Criterion
500 E. Sheridan Ave.
criterionokc.com
405-840-5500
Sold out
Death Cab for Cutie released Thank You for Today, its ninth studio album, in August, but bassist Nick Harmer said he likes it more now. After living and touring with the album for several months, Harmer said he has also gotten better at playing it.
"I'm continually finding I'm sincerely loving it and finding more to uncover and unpack in it," Harmer said. "It's kind of an odd thing, making records, I think. … You record the songs, and then you spend the next year playing them and sort of figuring out how to play them and uncover what the songs really are about and what they do and all that stuff."
The band is scheduled to play Saturday at The Criterion, 500 E. Sheridan Ave. Tickets are sold out. Thank You for Today is the first album Harmer, drummer Jason McGerr and frontman Ben Gibbard have recorded with new members Dave Depper and Zac Rae, who both play guitar and keyboard and joined as touring members after founding member Chris Walla left the band in 2014. Harmer said Depper and Rae have brought a new energy to 22-year-old Death Cab.
"We are definitely now settled in with our two new members of the band, Zac and Dave," Harmer said, "and the last new thing that we had to do with them was make a record, and that process was really fulfilling and really, I think, creatively invigorating for us. … Hearing them play the songs that they were a part of writing and recording, it really keeps things exciting on the road for us and really fun."
Harmer, McGerr, Depper and Rae, along with producer Rich Costey, helped choose the 10 songs for the album from the more than 30 rough demos Gibbard recorded.
"When it comes to sort of weeding those demos down ... it kind of starts and stops with the lyrics and the melody," Harmer said. "We listen to what Ben's singing about and we kind of just allow ourselves to be affected emotionally by it, and then I don't know how it happened, but that's that kind of unknown magic that happens in bands where musicians get together, and as soon as we start playing music together, it just sounds like us. That's just what happens when we all play music together. We try not to force that too much or think too much about that. We're not like, 'Does this sound enough like us, or does this sound not enough like us?' We just sort of play what we're feeling and hearing in our heads and what makes us excited in the room."
Album closer "60 & Punk" has become a staple in the band's live set, Harmer said — a pleasant surprise considering the band was unsure about "exactly how it was going to come across live" even though he "thought of it as a really cool moment on the record."
"Every night we play it, I'm really, really happy and also kind of blown away at how effective that song really is and how it really connects with people," Harmer said. "That's a song that's got a lot of space in it, and it's really quiet. When you're playing a lot of more up-tempo, real sonically dense songs around it, you always wonder in your mind as a performer, when we go down to a piano and a single vocal and a little bit of drums and a little bit of bass and bring the tempo way down, you always hope people are captivated by this so they don't think of it like, 'Oh, this is the time where I can talk to my friends,' but it's kind of gone the opposite way. It's really been able to hold people's attention, and you can feel the emotion in the room, and it feels really powerful. I hoped that the song would do that. It's nice to see it do that actually."
In the song, Gibbard sings about "a superhero growing bored with no one to save anymore," and asks, "When you're looking in the mirror, do you see / the kid that you used to be / broke and working in a record store / daydreaming about the upcoming tour?"
Cab ride
Provided
The band released Thank You For Today, its ninth album, in 2018.
More than two decades after Gibbard and Walla recorded Death Cab's 1997 cassette debut
You Can Play These Songs With Chords
, Harmer said the band is still having fun together.
"It doesn't take much effort," he said. "It always starts and ends with the people that you're in the band with. We're all really good friends outside of playing music together. I think of Ben and Jason and Zac and Dave as extensions of my family now. And as long as we have that connection and that friendship and that respect for one another, I think that the music kind of flows out of that, and being on the road kind of becomes easy. It doesn't really feel like it takes much effort to stay engaged and stay excited because we're very lucky to be able to play music together and to be able to live our dream together. … I think we just try to take care of one another, check in, be friends."
Finding that excitement and trying to translate it to audiences is one of Death Cab's driving motivators, Harmer said.
"We always feel like if the five of us finish something and we look up at each other and think, 'Man, that's really fun, and that's really exciting and we feel really good about that,' then we can only hope that someone else will think that too," he said. "So that's kind of been our sort of guiding light the whole time. It's just making music with each other that we're happy with and proud of and just hoping that when we're done with it and put out in the world that other people will feel that way too. Sometimes that works great; sometimes it doesn't, but we just keep pushing ahead."
Tickets might still be available through resell sites such as stubhub.com. As of Monday, prices ranged from $40 for balcony general admission to $173.25 for premium pit access near the stage.