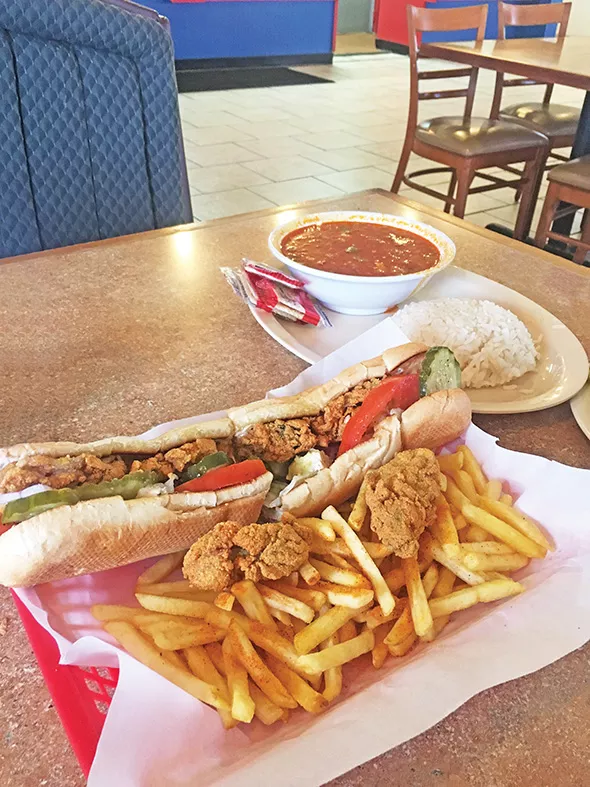 Jacob Threadgill
The oyster po'boy is huge and served with two additional oysters.
When in doubt, follow the crowd of customers.
I've driven past the Sam's Southern Eatery at 2336 NW 23rd St. many times, but it wasn't until I went past it midweek around lunch and noticed its parking lot was nearly full that it registered on my radar.
A few weeks ago, a reader asked my thoughts on the restaurant, which is one of four metro area locations of the Shreveport, Louisiana, founded chain. The operation has expanded quickly since the first location opened in 2008 and now boasts 51 total locations in nine states, according to the company website.
I couldn't find much information on the company's main website, and messages were not returned to Oklahoma Gazette by time of publication, but the Midwest City Sam's location website says that every location is independently owned and operated.
The 23rd Street location across the street from Shepherd Center opened a few years ago and appears to have attracted quite a loyal following for its jumbo shrimp, fish, sandwiches and chicken.
On my first trip to the restaurant, I ordered the oyster po'boy with a bowl of Sam's gumbo ($6.99) and a green salad because I recently stumbled across a University of Maryland study that found that eating a salad along with a high-fat meal mitigates a decline in artery function. Cardiologist Joel Kahn has even stated that an avocado on a hamburger can reverse the burger's negative heart effects, based on a 2012 study from UCLA. I'm certainly not a doctor, but when I eat fried food or a meal with trans fats, I try to include salad or fiber to help balance things out.
When the server brought the food to my table, she said, "Wow! All of this for you?" I wasn't anticipating the serving sizes to be so big, but they certainly don't skimp on quantity for the price at Sam's. The po'boy was nearly a foot long and split into two. In total, there were six fried oysters — four in the sandwich and two more piled outside, calling your name like Timothée Chalamet.
The fried oysters were the absolute stars and much better than ones I tried in a po'boy at Cajun Corner last year. They're huge — more than an inch in diameter — and taste fresh, like the ocean. The sandwich was piled high with tomato, pickles, lettuce and what I assume is its spicy tartar sauce, which is available in pump-action dispensers, along with cocktail sauce at the edge of the restaurant. I would have preferred a crustier roll for the po'boy, but the bun more than sufficed for the excellent oysters and tartar sauce. I noticed that the restaurant is serving La Baguette desserts. I think La Baguette's baguettes would make a better sandwich, but I realize there is a cost for the owners to think about. I would rather have six good fried oysters on a solid but unspectacular bun than only four on a better roll.
Jacob Threadgill
Shrimp lives up to the restaurant's claim of "home of the jumbo shrimp," along with fish and sides of green beans and red beans and rice.
The accompanying fries seemed covered in an Old Bay-style rather than a Cajun seasoning and were solid but not my favorite side item during two trips. The green salad was mostly iceberg lettuce, so I didn't get much in the way of nutrition, but it was colorful with other ingredients. It could be a decent foundation for fried or grilled shrimp.
The gumbo was served in a huge bowl with rice on the side. It is loaded with chicken and shrimp, and at $6.99, I've paid more for a cup of gumbo at other locations. It was light red, which indicated to me that it wasn't cooked with a dark roux, even though the film of grease on the gumbo said otherwise. It tasted well enough, but it was lukewarm at best and downright cold in some areas. It certainly wasn't enough to make me stop thinking about those fantastic oysters.
I kept thinking about those oysters and returned a few days later to try more of Sam's seafood. The restaurant advertises itself as home of the jumbo shrimp, so I ordered the five shrimp and one fish fried ($9.99). The shrimp delivered on its boast. The coating was spicy and adhered to the shrimp well, which indicated that it was done without freezing. Each shrimp was huge, nearly the size of a coaster, but the fish left something to be desired. It is advertised on the menu as catfish, but I was told by my server that it is Swai, which comes by way of Asia. U.S. catfish has better flavor. Like the rolls, I understand there is a business perspective at play with the fish. The plate also comes with two hushpuppies that tasted fresh and not like something out of a freezer.
My seafood platter came with two sides, and I ordered the green beans and red beans and rice after being told that fried okra had been removed from the menu. The red beans and rice was my favorite side item of the two visits. Popeye's is the only quick-service restaurant I know of that serves red beans and rice, and Sam's is far superior. It tasted like the beans and gravy were cooked with meat, and there was a good bean-to-rice ratio.
Sam's offers grilled varieties of all of its seafood and chicken, so you can enjoy it without the added calories. It has now been elevated into my rotation for delivering plenty of food at an affordable price. The next time I go, I'd like to try its chicken wings and would recommend ordering a seafood plate with oysters and shrimp.
Visit samssoutherneatery-okc.com.