Penn Henthorn, camp director at Camp Dakani envites kids to come enjoy nature at Camp Dakani. mh
Camp memories for many of us include mosquitoes, friendships, musty tents, outdoor skills and lifelong bonds. It's where limits are tested, creativity is developed and a deep respect for nature and others is honed.
Camp Fire (formerly Camp Fire USA and originally Camp Fire Girls) is a multicultural program that holds indoor and outdoor creative activities for youth year-round.
Historically, Camp Fire was the first multicultural, nonsectarian organization for girls in the US, started in 1910 as a response to Boy Scouts. The Camp Fire Heart of Oklahoma branch started in 1956. In 1975, the organization became co-ed, allowing girls and boys to work and play alongside each other, according to its website.
Most people know about Boy Scouts and Girl Scouts, but less is known about Camp Fire.
"Our Camp Fire program is all-inclusive, diverse, with ages 5-18," said Herb Gilkey, CEO of Camp Fire Heart of Oklahoma. "The summer day camp is broken up in age-appropriate activities. In public schools, the classes participate in outdoor field trips and activities during the year."
Camp DaKaNi (meaning "a day in the out-of-doors") is designed for youth ages 5 to 13. The counselor in training program focuses on older youth who have an interest in being camp counselors, with a residence camp for teens in tent camping in late June and early July.
"We try to give children important life skills through the Three C's: character, confidence and connection," said Penn Henthorn, camp director at Camp DaKaNi.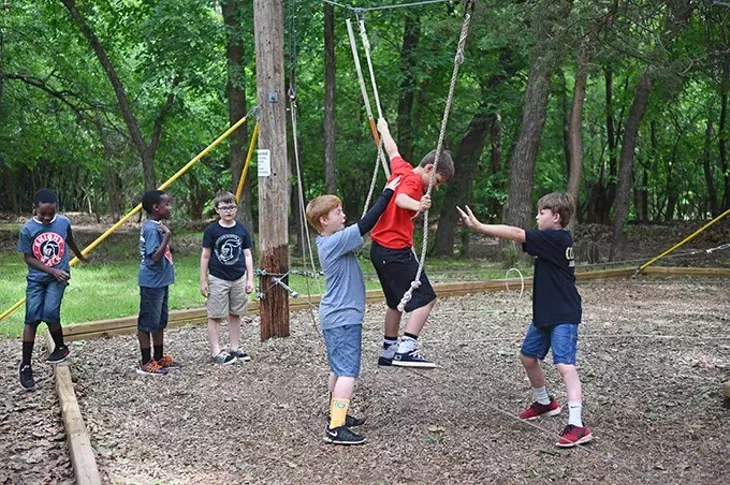 Kids from Crossings Christian School play on a ropes course at Camp Dakani recently. mh
Nestled on 33 acres of woods in Oklahoma City, Camp DaKaNi offers an array of activities to engage in: rock wall climbing, zip line, archery, boating, fishing and an impressive selection of games.
Henthorn grew up with Camp Fire in the early '80s and has come back as a director of the camp.
"We lead these activities as not just fun things to do, but as teaching moments. For example, with archery, the campers learn patience; they don't get a bull's-eye every time, so they learn goal setting and camaraderie," Henthorn said.
There's an art area where campers can create canvas art hangings between trees, nature weaving on a loom and a game area where they can play checkers. A music area displays traditional and created musical instruments to try.
"We love the activities the camp offers our two sons," said Gina Hambleton, the parent of a camp attendee. "All of the counselors are excellent. They teach kids about friendship and to be considerate of others."
Almost as popular as Lady Gaga, the game Gaga is a favorite at camp.
"I love the Gaga game. We get to hit the ball with our hand, and it's fun," said 7-year-old Gabriel Hambleton.
Gaga translates to "touch-touch" in Hebrew and is a type of dodge ball played in an octagonal, fenced-in area.
"I like gaga so much," said Alex Hambleton, age 10. "It's basically a free-for-all. It's social and very competitive."
See campfireusa-ok.org for information.
---
Print headline: Brain kindling, Camp Fire Heart of Oklahoma inspires kids and teens with fun and imagination.