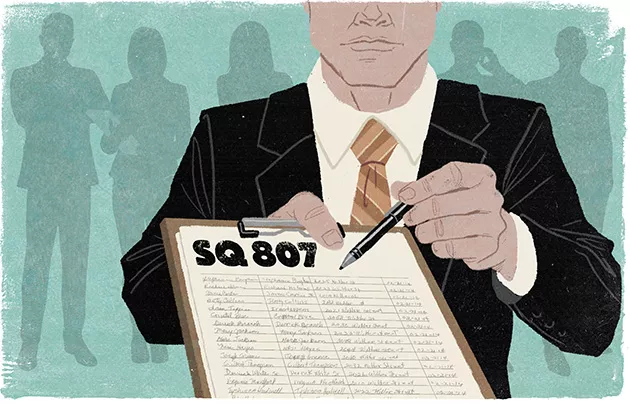 Ingvard Ashby
Signature collections for SQ807 could begin as soon as later this month.
Before the authors of State Question 807, previously filed as State Question 806, signed their names to the initiative petition, rumors and speculation ran rampant about who authored the proposed constitutional amendment.
Some of the earliest names thrown around were those of the members of Oklahoma Cannabis Liberty Alliance, which is comprised of Chris "Uncle Grumpy" Moe, Norma Sapp and Lawrence Pasternack.
"We were shown an early draft. We were asked to give our opinion and to show it to a few people but not to share it publicly. We did that. We gave our opinion," Moe said.
Moe was made aware of the upcoming ballot petition initiative by Ryan Kiesel in October. They were given a draft and asked to offer their opinions on it in a 72-hour window about a week before the filing.
"It didn't protect all of the main priorities for the [Oklahoma Cannabis Liberty Alliance], and it didn't address the priorities of the cannabis community, but we do see a lot of good in this bill. Our overall goal here is not ownership of the bill, but the end result, which is the war on drugs, and this takes us a great deal closer to the end of the war on drugs. This really does a lot of good for the state," Moe said. "So, again, while it doesn't address everything that we would have addressed had we written one, we didn't write it. We can see plenty of positive in this one, and that's where we're at with it. We think at the current time, it's the right way to move the state forward. But November is a long time away, so don't forget that. If the people were to come up with a petition that addressed those things that we would have addressed in the petition we had written, we would have no issue; we would be supportive of that. We would be pleased with that."
The secrecy was not intended as a slight to the cannabis community.
"The reason for not making the draft public was that they didn't want the anti-cannabis forces to know it was going to be filed. In retrospect, they should have had a more open process. We told Ryan Kiesel that it doesn't address patient concerns, employment concerns and so forth. He told us they agree these are important, but they could not include them because of the single subject rule," Moe said. "When [State Question] 806 was filed, we went on Facebook to go over the bill. We discussed its pros and cons. We discussed what it omits. We affirmed in our videos that it does not reflect our priorities as the OCLA, nor those of the community. Nevertheless, we saw it and continue to see it as a middle-of-the-road recreational petition, styled very closely to that of Colorado. [SQ]807 was written not for this community, but for the average Oklahoman at the November general election."
Protectionist concerns
Another rumor was that J. Blake Johnson, founding partner of Climb Collective and Overman Legal Group, is one of the authors of SQ806. While Crowe & Dunlevy was the firm that was behind the ballot initiative, Johnson left the firm in May.
Did Johnson draft any of the language?
"I did not," Johnson said. "Not even a letter of it, nor did I otherwise advise the campaign with respect to its drafting, when or how it was filed or rolled out. I've not had any formal relationship to the campaign whatsoever, notwithstanding the fact that I do know some of the attorneys involved."
He did, however, review a draft of it prior to publication.
"In late November, a few weeks before it was filed, I read a draft of it. I thought it was extremely ambitious criminal justice reform proposal, so I was generally very supportive, for sure, and I would be supportive of any proposal that decriminalized cannabis, established a responsible system to regulate it and a procedure to release those folks who have been swept up into the criminal justice system by virtue of outdated criminal prohibitions on cannabis."
Johnson disagrees with the assertions from those opposed to the language of the proposed article, which would amend the state constitution.
"Broadly speaking, people think that it either is designed to or otherwise inadvertently will destroy the medical cannabis program in Oklahoma, and I don't agree with that. The language of the proposal itself includes a provision that expressly says that nothing in this proposed article is meant to limit or otherwise affect the rights of those who have either patient licenses or medical cannabis business licenses," Johnson said. "I think everybody appreciates that out-of-state businesses are already here in the medical market; whether you think that's OK or not I suppose is sort of a philosophical question. What I'd say is that protectionist laws, those that are designed to benefit the residents of one state at the expense of others, are generally disapproved of by federal courts and so if we're looking down the road toward an era after prohibition, I'm not sure that protectionism really holds constitutional muster. Beyond that, I think there's some tension between the idea of protectionism and the philosophy of 'patients over profits.' The purpose of protectionist laws is obviously to create a stable and controlled economy and to protect prices for businesses. The reason that people don't want to compete with out-of-state interests is because they don't want that kind of competition to drive down prices to a point that shoves them out of the market."
Bud Scott, executive director of Oklahoma Cannabis Industry Association, was also named as a potential author. While he also did not write the ballot initiative, he threw his support behind it, should the voters decide to adopt it.
"As demonstrated by our members and leadership providing the lion's share of financial and logistical support for the State Question 788 campaign legalizing medical cannabis in Oklahoma, our respect for the initiative petition and state question process is unwavering," Scott said. "If the citizens of Oklahoma decide to legalize adult use of cannabis, our industry stands prepared to serve the demand of our customers and patients and will embrace additional new market opportunities; however, our focus will remain focused on our continuous education and advocacy efforts at the legislature, agencies and cities to improve our existing medical cannabis program for the more than 200,000 patients and thousands of Oklahoma businesses across the state benefiting from the state's fastest growing economic sector."
If the State Question 807 ballot language is not challenged, signature collections could begin as soon as later this month.