Phillip Danner
from left Traci Stone, Tami Stone-Lake, and Sheli Stenseth are owners of Stone Sisters Pizza Bar and Stone Edibles.
Sometimes the most obvious joke is the one you should make. When the sisters behind Stone Sisters Pizza Bar thought about joining the medical cannabis field, they couldn't resist.
"With the last name Stone, how can you not get involved?" said co-owner Traci Stone.
"In high school, their nickname was the Stoner Sisters," said younger sister Sheli Stenseth.
The jokes came easy, but entering the field turned out to be a much tougher process. Stenseth said that even before the medical cannabis referendum was passed, they wanted to enter the edible field.
"A good friend of mine approached me and said they had some people who needed a processor kitchen and it morphed into gummies or something," Stenseth said. "Everyone does a gummy. We do pizzas already; why couldn't we do pizzas? We were kind of stuck because we didn't know how to measure the THC."
The hurdle needed to clear the way to the creations of the Stone Edibles company and its signature product the Happie Flower Pizza came by chance. Jonna Nowakowski is a trained chef and helped get Nature's Key Edibles off the ground, but when the company unexpectedly let her go while retaining her recipes, she found herself delivering food through Postmates for some extra cash.
During a Postmates pick-up at Stone Sisters Pizza Bar, 2121 N. Broadway Ave., Nowakowski overheard Traci Stone talking about having problems with creating a gummy.
"I wasn't even thinking about a job when I said I'd help with conversions," Nowakowski said. "I didn't know they were hiring a cannabis chef. I followed up two weeks later. Three weeks later, Sheli called and asked to meet, and the rest is history."
After getting a processor's license and securing a separate kitchen for cooking with cannabis, Nowakowski got to work creating pizza edibles made with Stone Sisters Pizza Bar's unique "miracle" crust made from sprouted spelt, which is a low-carb, low-glycemic product that increases the body's ability to absorb nutrients.
Soaking spelt, which remains in its ancient form, is untouched by modern processing methods, creating the sprouting process, which changes its biochemical form and the body processes it like a vegetable carbohydrate instead of a bread carb.
Through Stone Edibles, the Happie Flower Pizza edible — in dosages of 24, 48, 100, 250, 500 and 1,000 milligrams — began being distributed to participating dispensaries throughout the state in January. The two varieties of pizza edible are a Happie Flower vegan pizza featuring vegan cheese made from cashews, cannellini beans and nutritional yeast and a vegan beef pizza made from pea protein isolate and other ingredients.
It also offers a Happie Flower three-cheese pizza that features both spicy and smoked cheeses on the sprouted spelt crust. Like all of the ingredients at Stone Sisters Pizza Bar, all ingredients are certified organic.
"The smoked cheese [on the pizza] is like eating a piece of bacon," Stenseth said. "We've had vegetarians get mad because we thought we snuck bacon in there, but it was just the smoked cheese."
Cannabis cooking
The sisters refer to Nowakowski as their "weed wonder woman," and the feelings are reciprocated.
"Had I not done Postmates, I would've never had this chance," Nowakowski said. "It's been amazing. The minute I walked in, it felt completely different. My trust and faith had been thrown in the dirt."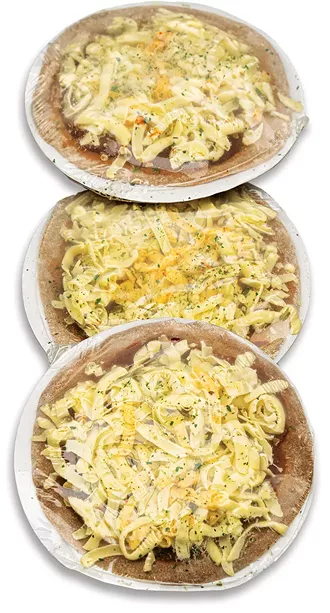 Phillip Danner
Three-cheese THC-infused Happie Flower edible pizzas
Nowakowski infused the sauce, which makes for better medicinal application than trying to infuse the crust because the crust rises with yeast and must be punched down, which she said would create THC pockets and less consistent product.
"Pizza is universal, but the exciting part is the quality," Nowakowski said. "I've never worked in a restaurant where people have cared so much about the quality of the product. Not only does the pizza taste amazing, but diabetics and people who normally can't have edibles because they're so sugar-laden are going to have the opportunity, and that is exciting."
Nowakowski prefers working with cannabis that is full-spectrum, full of THC, CBD and retaining all of its terpenes and cannabinoids for what she refers to as the "entourage effect."
"It's still going to give you a head high, but it benefits so many different ailments," she said, "people after chemo replenishing their system, anxiety, depression, insomnia, but every terpene has a different job. I can pick certain terpenes and introduce them back into the oil for specific ailments. When we start getting feedback from the pizzas, we can have people specify what they're looking for. Our goal is to help patients that really want to benefit from everything THC."
She said most edible companies use distillate for their products, which strips terpenes and cannabinoids from the cannabis because they want to remove cannabis after-taste. By cooking in a savory setting, she's able to use herbs and spices to cover up the cannabis after-taste.
"Some people like to taste it just because they want to know the THC is in there," Nowakowski said. "When you strip out the terpenes and cannabinoids, you're losing the good stuff and left with the THC. We have both. Why can't we reach those people that truly want the health benefits?"
Stone Edibles is already available at dispensaries throughout the state. Stenseth said they want to market the edible product to other states with legal cannabis laws.
"We've been trying to distribute the [non-infused sprouted spelt] crust and the pizza nationally, but we've just hit so many roadblocks," Stenseth said. "This has fast-tracked us."
Visit stoneedibles.com for a list of dispensaries carrying Happie Flower pizzas.
Correction: In the Jan. 1 issue of Gazette, the Gazedibles section mentioning Stone Sister Pizza Bar mistakenly referred to "sprouted wheat" instead of its sprouted spelt crust. Stone Sisters provides gluten-friendly spelt crust, in addition to an organic unbleanched white crust. Cauliflower and gluten-free crusts are available on 10-inch medium pizzas only.