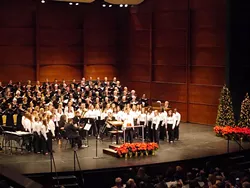 This holiday season, take a break from the frenetic pace of shopping to celebrate the season with Canterbury Voices' annual holiday concert, Canterbury Christmas.
Canterbury Voices has bestowed the gift of music upon the community since 1969. This year's event is 7 p.m. Dec. 4 at Civic Center Music Hall, 201 N. Walker Ave., and showcases an eclectic variety of seasonal music.
"Our Christmas concert has been a tradition for so many people," said Pam Mowry, Canterbury Voices executive director. "Whether it's church hymns, holiday songs or children's music, people associate Christmas music with choral performances. We're excited to continue that this year."
Special holiday
Mowry said this year's concert practically has its own holiday.
"We're sandwiched in between the Oklahoma City Philharmonic show closing, and [Oklahoma City Ballet's] The Nutcracker opening," Mowry told Oklahoma Gazette. "Canterbury Voices gets its own day among all the Christmas events in town."
Featuring award-winning vocals and inspired orchestrations, Canterbury Voices creates anticipated, interactive concerts each holiday season. Artistic director Randi Von Ellefson's work is evident in the group's range of performances and events.
"We plan Christmas concerts three years in advance," Von Ellefson said. "We always keep the fan favorites but also create a completely new experience each year."
The 2016 concert features its largest repertoire to date. Preserving the well-known classics, Canterbury Voices' adult choir and Canterbury Youth Voices choir (directed by Stephen Ziegler) perform favorites like "Carol of the Bells" and "Silent Night." Von Ellefson said audiences with a penchant for classical music will be satisfied with an extended orchestral ensemble.
"Along with performing music everyone knows and loves, we also try to include a longer, classical piece each year,"he said. "This year, we'll perform a three-movement work called 'Christmas Cantata,' which highlights organ and brass."
Oklahoma City Philharmonic and Oklahoma City University's brass band accompany multiple pieces, and the Canticle Ringers from St. Paul's Lutheran Church contribute a mystical tone. Von Ellefson's repertoire also adds global flare.
"We're performing a Venezuelan Christmas song that features a marimba, which I think will be new to most people," Von Ellefson said. "Our audience will also get to hear an Appalachian folk tune accompanied by a vibraphone."
To perform the broad variety of Christmas fare, Von Ellefson said the concert brings together a high volume of musical talent.
"While there are a few solo performances, I really try to have every performance group contribute to each piece in the show," Von Ellefson said. "Incorporating everyone onstage creates a really positive, unique concert."
Holiday tradition
As a long-standing tradition, toward the concert's end, Von Ellefson turns around on his conductor's stand and faces the audience. Inviting concert guests to sing with the choir has been a customary interactive opportunity for Canterbury Voices' audiences for decades.
"This year, we will invite the audience to sing 'Joy to the World' with us," Von Ellefson said. "A lot of people enjoy this part ... the most because they get to sing familiar songs on a large scale with everyone in the audience and onstage."
Canterbury Voices generates Christmas cheer outside the main event. Oklahoma City University Flute Choir welcomes Civic Center Music Hall audiences before the event, and Santa and Mrs. Claus will be available for photos. Canterbury Voices singers have also ensured audiences will receive a treat following the performance.
"All of our singers bake homemade cookies for guests each year," Mowry said. "You can expect tables and tables full of cookies at the reception after the show."
Canterbury Voices' Christmas concert will spread joy to all those who hear it.
"It's touching to know we create a happy experience for more and more people every year," Mowry said.
Print Headline: Choral Christmas, Canterbury Voices' annual holiday show promises longtime favorites and international variety.