Jacob Threadgill
Shrimp and scallops in a wonton bowl
Driving along Memorial Road, locally owned restaurants are few and far between the ubiquitous corporate eateries designed to provide a familiar meal at the expense of attentive care.
Chef Pak Kwan (Fung's Kitchen) often drove along Memorial Road when taking his kids to the mall and would scan the roadside for a "for lease" sign because he felt it was the perfect location for his dream concvept: a combination of Cantonese Chinese food with French influence, building off Kwan's time working in Belgium.
Kwan's Kitchen opened at 3031 W. Memorial Drive in the former Fox & Hound location in late February, but if you've been to the building when it was the former establishment, you will not recognize it.
You're not going to find décor that depicts this concept in the metro area more than Kwan's Kitchen, at least not on its grandiose level. The interior was the result of a 14-month renovation process overseen by architect Wister Wu and includes a show-stopping courtyard upon entry complete with a waterfall pouring into an in-ground koi pond by which visitors can stand for their requisite Instagram post.
Ornate light fixtures and blooming cherry blossom trees in the 15,000 square-foot building complete with multiple private dining rooms and an event space surrounding diners as they sit in dark wooden booths.
Fung's Kitchen is in my neighborhood, and it is among the restaurants I frequent when I don't feel like cooking. Its traditional dumplings are some of the best I've ever eaten, and it does a good job turning out Americanized Chinese staples with a few authentic dishes, including its iconic weekend dim sum service.
I was interested to know how Kwan's Kitchen elevated the concept. The French influence can be seen in dishes like seafood bisque, the use of champagne in sweet and sour chicken ($15) and a French-Chinese sous-vide steak ($23). Black truffles are even added to chicken-fried rice ($22).
Kwan's Kitchen recently started a weekend dim sum cart service, but it offers a chef's selection of daily dim sum for $15. The dim sum arrived about 15-20 minutes after being ordered, which makes sense since I'm assuming everything was assembled to order. The selection included four fried varieties and four steamed siu mai, all of it filled with the same pork-and-shrimp mixture. It was so fresh that my excitement got the best of me, and I bit into a hot fried dumpling that overwhelmed the palate. I preferred the steamed variety, but the half-moon-shaped dumplings had a sweet coating that activated a sensory memory of Sonic's onion rings.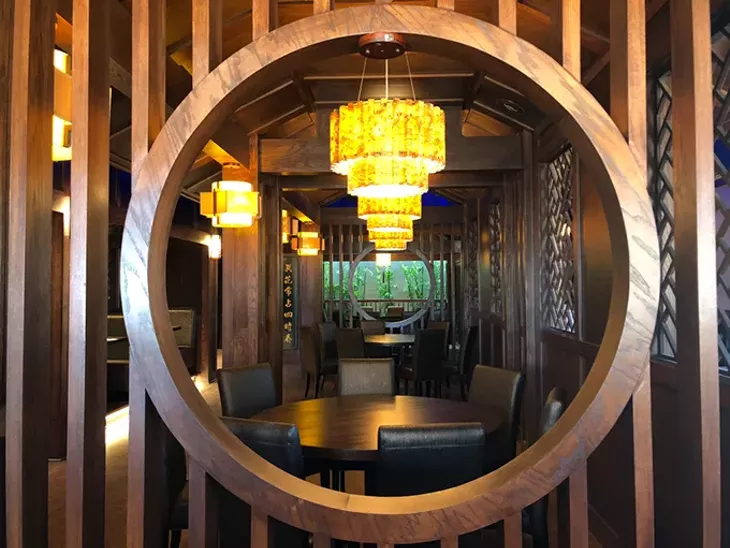 Jacob Threadgill
Architect Wister Wu designed Kwan's Kitchen's interior.
I sat near the bar and enjoyed hearing the knowledgeable staff members speak with customers. I overheard the bartender mention that local brewery Vanessa House brews a special lager with ginger and lemongrass for Kwan's Kitchen, and it piqued my interest. The pint only cost $4, which I found to be a good deal. The beer wasn't overpowered by either the ginger or lemongrass, and spicy and floral notes subtly finished the light lager that was refreshing but might fall out of favor as the months grow cold.
For the entrees, I set my sights on a pair of dishes that would showcase European influence on the Cantonese tradition of chef Kwan's lineage. I ordered the white wine curry baked salmon with caviar ($18) and the wok-fried sea scallops and shrimp with macadamia nuts ($22).
Chinese curry is much less spicy than its Thai and Indian counterparts and was introduced to China through the Cantonese, by way of Malaysia. The salmon was placed atop a pool of white wine curry sauce and topped with masago caviar (the stuff you often see on sushi). I told the waiter that I wanted to bathe in the curry sauce because it was rich and had a deep, complex flavor that started with the white wine, contained notes of soy sauce and finished with the unique curry spice blend. The salmon was a tad overdone for my taste — the thin side of the filet bordered on tough, but the skin was nice and crispy.
The shrimp and scallops arrived nicely presented in a wonton bowl. A few weeks ago, I said that more food should be served in taco bowls, and it appears as if my wish has been slightly answered. I honestly can't remember the last time I've had a macadamia nut outside of a cookie, but I thought it gave the dish a nice texture contrast, which was bolstered by snap peas, sweet peppers and carrots delicately cut into fun shapes like butterflies. The accompanying sauce wasn't much of a standout, but it let the good seafood shine.
As good as the presentation was on the shrimp and scallops, I would've liked a different construction for the salmon. Although it doesn't impact the overall taste of the dish, the salmon looked kind of haphazardly placed on the dish.
I don't always order dessert, but I couldn't resist a parfait with three layers: chocolate mousse, blood orange sorbet and amaro Montenegro ice cream. A parfait is usually one of my least favorite desserts; layers often blend together without any delineation between flavor and texture. The bar makes all of the layers in-house, and it pays off. The mousse mixed with blood orange sorbet was an amazing bite.
The parfait was an excellent end to a very good meal. The food is a level above what you can find at Fung's, but Kwan's lunch specials are many of the same items for a similar price. I was surprised that they kept the food costs down. It's a reasonably affordable menu in a memorable and fun décor.

Visit www.kwans.kitchen