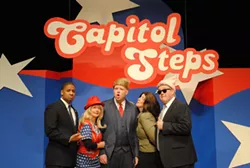 When Elaina Newport of Capitol Steps performed two years ago in Oklahoma City, she never imagined she would later include future President Donald Trump in the group's political satire.
"Let's just say Trump has made our job more challenging," the Capitol Steps co-founder told Oklahoma Gazette. "There's a new story or scandal involving the president every single day. We're moving at a much quicker pace these days."
Newport and her group of musical comedians have been keeping up with political times since the Reagan administration, and 8 p.m. Aug. 19, they're bringing a new era of pop culture, politics and comedy to Oklahoma City Community College's Visual and Performing Arts Center, 7777 S. May Ave., with Orange Is the New Barack.
Since 1981, Capitol Steps has made light of political figures and news through bipartisan parody and music. Now under an unprecedented administration, Newport said the group has a lot of ground to cover.
"Someone said we have more costume changes than a Cher concert," said Newport. "I take that as high praise."
The group of former Washington staffers and current comedians performs a mixture of stand-up and songs with titles like "Small Hands," "Tweet Tweet" (to the tune of "Rockin' Robin") and "Don't Know Much About History." Naturally, the show includes today's most notorious modern figures in politics.
"For the Democrats, we have Nancy Pelosi, Hillary Clinton, Bernie Sanders and, of course, Barack Obama," said Newport. "Our Republican group obviously includes Trump, Melania, Ivanka, Betsy DeVos and Vladimir Putin."
The latter sings "Putin on a Blitz" to the tune of "Puttin' on the Ritz," in which he expresses his dominance as a Russian oligarch.
Newport said she can usually gauge how political figures will react to Capitol Steps.
"There was a time when one senator actually was offended that he wasn't included in our show," she said. "Generally, politicians take great joy in being featured in our satire. Now, I highly doubt Trump would be thrilled at our songs about him."
Each performance is slightly different from the last, due to today's rapid news updates. Much like journalists, Capitol Steps stays current with all the news cycles, even adding updates to its gigs right before taking the stage.
With never-ending breaking news of racial violence, class struggles, potential nuclear threats and presidential antics, this year has inflicted a stressful overtone to our daily lives. Despite the extremely partisan state of 2017 politics, however, Capitol Steps performs to unite citizens with a healthy dose of parody.
"Because this country is so divided, we're really trying to create a middle road with our comedy," said Newport. "If we can make people laugh about the crazy state of this country right now, then we've succeeded."
Capitol Steps' shows are appropriate for ages 13 and up. Tickets are $35-$45. Visit capsteps.com.
Print headline: Orange Steps, Capitol Steps brings its newest show to OCCC's Visual and Performing Arts Center.