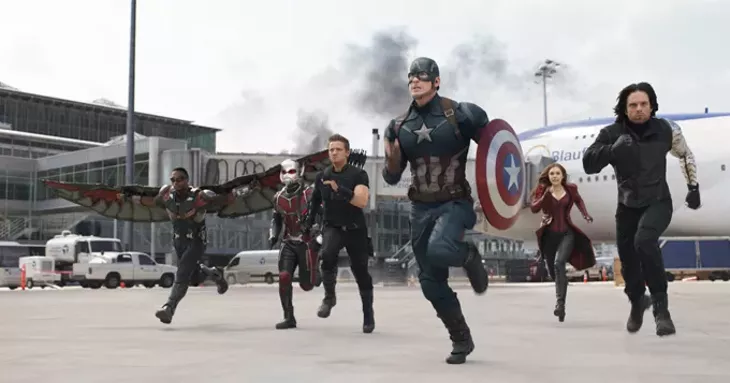 Marvel's Captain America: Civil War L to R: Falcon/Sam Wilson (Anthony Mackie), Ant-Man/Scott Lang (Paul Rudd), Hawkeye/Clint Barton (Jeremy Renner), Captain America/Steve Rogers (Chris Evans), Scarlet Witch/Wanda Maximoff (Elizabeth Olsen), and Winter Soldier/Bucky Barnes (Sebastian Stan) Photo Credit: Film Frame © Marvel 2016
In the aftermath of Batman v Superman: Dawn of Justice and its dismal 28 percent rating on Rotten Tomatoes, many superhero fans clamoring for the brightly colored fun of a comic adaptation turned their hopes and dreams toward Marvel's Captain America: Civil War.
The DC/Marvel rivalry has morphed into dour night brawling from one company and relatively upbeat camaraderie on the other.
The often happy-go-lucky Marvel flicks take a bit of a somber, self-serious spin here, but thankfully, it's not afraid to get a little silly.
Much of the film's pleasures come from dorky pipsqueak Peter Parker (Tom Holland) taking up the mantle of Spider-Man and joining the fight between Avengers factions.
His antics are just as exciting as the debut of digital web-slinging effects in Sam Raimi's Spider-Man while his boyish nervousness perfectly splits the difference between Andrew Garfield's arrogant skateboarder and Tobey Maguire's quiet romantic.
The snot-nosed kid's filled with effervescent one-liners and a need to impress, which makes his recruitment both revitalizing and uncharacteristic.
This movie is the farthest Marvel has tonally strayed from its happy-go-lucky, jokes-and-punching formula.
The film is long (two and a half hours), stark and brutal. The focus — an inter-super conflict spurred by the very collateral damage many of us chide in superhero films — preaches about consequences and choice.
When the Avengers have the incidental deaths they've caused brought before them, they divide in a politically charged schism: Captain America (Chris Evans) and his crew on one side, Iron Man (Robert Downey, Jr.) and his on the other.
Despite the involvement of the United Nations and the introduction of king/superhero Black Panther (magnetic Chadwick Boseman) from the African nation of Wakanda, Civil War pooh-poohs politics in favor of friendship, namely that between Bucky the Winter Soldier (Sebastian Stan) and Captain America.
While the moral debate between checks on power and the benefits of an unrestrained force for good should be the burning heart of the film, especially because of the thematic and plot centered on the effects of the super crew's actions, Civil War is pithy right when it gets interesting.
Much of the film involves chasing Bucky, who was implicated in various murders and acts of terrorism, but whose best buddy Cap fights to avoid his prosecution. That doesn't sound like patriotic faith in the justice system, or even like a rational disillusionment with fighting crime.
Honestly, that sounds pretty American to me, however much I dislike it.
The battle itself contains many of the film's funny moments, making the chaotic fight one of the more enjoyable moments of the film despite it making little to no sense.
Viewers' favorite heroes (sans Thor and Hulk) make appearances and strut their superhuman stuff, despite some being much more godlike than others. The avenues gone down to explain why seemingly omnipotent Scarlet Witch and Vision don't simply restrain all their cohorts until everyone's calm enough to talk things through fall mostly in the "ignore them; they're not the focus of this movie" category.
It's not that the movie doesn't have fun moments, but the film's overall potential here feels much greater than in the past group movies.
https://youtu.be/uVdV-lxRPFo
Print headline: Civil arguments, The newest Marvel film pooh-poohs politics in favor of camaraderie.