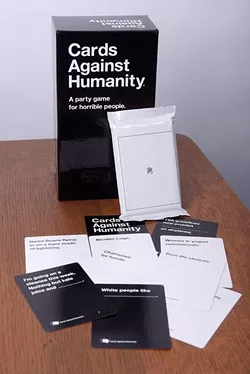 Garett Fisbeck
Cards Against Humanity.
Great design is full of contradictions. It needs to be bold enough to tell a story but subtle enough not to overwhelm the message it sends. It must look amazing while enhancing the content. That's the message Cards Against Humanity design director Amy Schwartz brings to Oklahoma City 7-8:30 p.m. Feb. 23 at Dunlap Codding, 609 W. Sheridan Ave.
AIGA OK Presents: Stories with Amy Schwartz is a chance for local designers to learn from a young star in the field and for everyone else to hear about the making of Cards Against Humanity and its litany of over-the-top projects.
Cards Against Humanity is a frequently profane card game in which players choose from a hand of answer cards for fill-in-the-blank and open-ended question cards. Whichever card is most apt, or often most hilarious, wins the round.
But while there are technically rules to the "party game for horrible people," it's mostly about making friends laugh, which is how the game was created.
"Cards Against Humanity was created by eight longtime friends as an activity to bring to a New Year's Eve party," Schwartz said.
In 2010, the company used a Kickstarter crowdfunding campaign to raise $4,000 and ended up raising $15,570, going on to create one of this generation's most iconic games.
Part of its draw is its simplicity. Question cards are black, and answer cards are white. That puts the humor front and center. Schwartz came into the company after the original design was decided but now works on expansion packs and on a team that creates new products and out-there events.
"All of our products, stunts and antics are a collaboration between the original creators of the game and our team of designers, writers, events coordinators and community managers," she said.
Schwartz said her favorite card says "Jason, the teen mayor."
"I prefer the wholesome, goofy jokes," she said.
Schwartz also likes helping other independent creators, which led to the creation of Blackbox, a new shipping company, in 2015.
"We've learned a lot about warehousing and shipping and packaging — the things that are the hardest obstacles for Kickstarter creators or people selling products online," she said. "Blackbox takes care of these tricky parts for independent artists for the same cost of doing it on their own."
Schwartz said her advice to designers is to try a little of everything.
"You won't know what you truly love until you've had a few jobs you don't love," she said. "I also recommend staying active in your local design communities. AIGA chapters are an amazing way to meet great people, learn new skills and share ideas."
AIGA OK is the local chapter of American Institute of Graphic Arts.
The group routinely brings in speakers from across the country to talk to local designers and acts as a networking tool for creatives.
Bringing Schwartz to Oklahoma City is a big achievement but also personally exciting for board president Kelly Curtis, a longtime Cards Against Humanity fan.
"I donated to their Kickstarter," she said.
Curtis hopes to hear behind-the-scenes stories about the company, like when the company delivered boxed orders of feces to people or asked customers to donate money on Black Friday to fund a giant "holiday hole." The latter stunt raised more than $100,000.
She also wants to learn more about telling a client's story.
"Projects are multifaceted and need to use several different languages," she said. "Design is a visual language, but it must collaborate with a great copy writer."
Visit oklahoma.aiga.org.
Print Headline: Card tricks; A local club brings Cards Against Humanity designer Amy Schwartz to OKC.