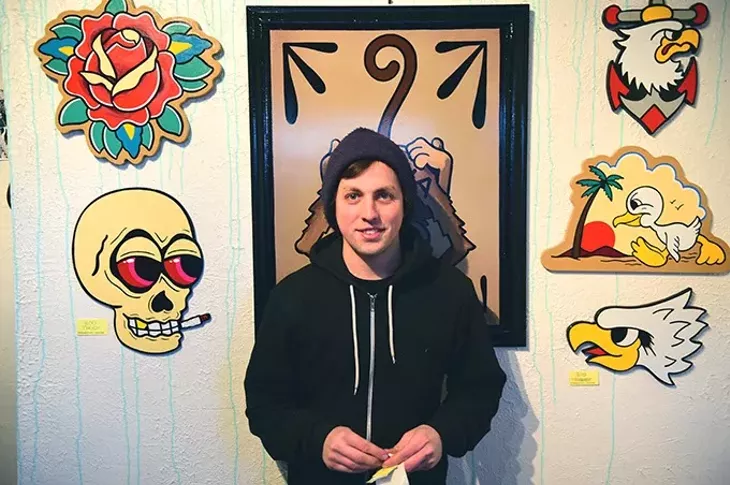 Tanner Frady in front of his art during the opening at Tall Hill Creative gallery on 2-1-15. mh
When local artist Tanner Frady sees a duck get hit in the face with a frying pan or a rabbit drop an anvil on a lisping hunter, he sees art. And thanks to his unique take on the animated style of cartoons and cartoon characters, so are many more art-lovers in the metro.
Even though Frady said he has always been drawn to all kinds of art and has made it his own for as long as he can remember, it has actually only been within the past two years that he took that scary leap to full-time artist, quitting both school and a screen-printing job in the process.
Luckily, his highly stylized work quickly set him apart from the pack and he has kept a steady stream of both commissioned work and sign painting going ever since.
Classic characters like Secret Squirrel and the Smurfs and Frady's own original cartoon creations line walls, murals and storefront windows.
Even though it's the medium that he has become most popular around town for, to him, it's just another example of the many different art forms he bounces back and forth between every day.
"There is a certain genuineness that comes with classic cartoons," Frady said. "The humor of old cartoons was aimed at an adult audience, I feel like. To think that every frame of old cartoons was drawn by hand is almost hard to believe nowadays. Just like any art form done by hand, that is a huge interest point for me. Classic cartoons have a bouncy, wiggly, slippery, goofy quality that I'm drawn to."
But far be it from him to merely copy another's style or work; Frady believes he puts his artistic imprint on the characters by adding his own humor into their faces or movements or changing the proportions to make them shorter, skinnier or fatter.
Emphasizing each character's look with bold outlines, he also turns these works into "cutout paintings," something that he said "eliminates the background for people to hang whatever they might want for their background," just like old-school animators once did.
In addition to his cartoon work, Frady has garnered notice for work like traditional tattoo flash and working on custom signage for tattoo shops and other local businesses. He believes that signage and lettering is an unrecognized art by people who aren't familiar with it.
"I am a sign painter, which includes painting lettering and imagery on different surfaces, so I do see it as an art form," Frady stated. "It is a brush with paint applied to a surface. A lot of people may overlook the art of sign painting because they are probably more familiar with digital or vinyl signs. I say that, but I have been busier with painting signs lately than anything else, so I feel like it is catching on and coming back around as people are enjoying it more."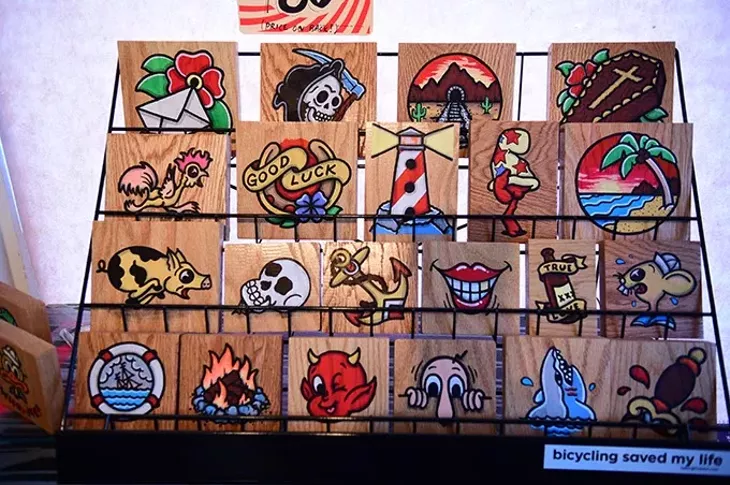 Tanner Frady artwork during the opening at Tall Hill Creative gallery on 2-1-15. mh
Frady has also been busy with his various mural painting projects located throughout Oklahoma.
He has teamed up with other noted artists like Bob Palmer and Rick Sinnet to craft works of art in Moore, Okeene, Anadarko, Norman, Mustang and Oklahoma City. When he's commissioned to do his own murals, however, he tends to lean toward a street-graffiti style. Painting kids' rooms is his favorite type of commissioned work.
It's this constant stream of commissions that led Frady, along with his partner, local tattoo artist Ashley Smith, to found Brass Bell Studios in 2011. With a mission to "provide a space for artists and art seekers in a more laid-back, lowbrow setting," it has become one of the most talked-about places to showcase art in the OKC area.
"Brass Bell Studios features local artists and is open to anyone wanting to participate in group shows that happen semiannually," Frady said. "We also host a local Drink and Draw program every second Thursday of the month from 8 to 11 p.m. where anyone is welcome to come and casually hang out, draw, doodle and communicate and network with other artists."
While currently working on such diverse projects as traditional tattoo flash and preparing to paint a 30-foot mural for the Kiddie Park in Bartlesville, Smith and Frady set a separate goal for the year: to open up their own sign shop where "people can come in and see samples of [their] work and talk to [them] face to face about signs."
"I consider myself pretty well involved in the art scene, both publicly with signs and murals and also in the galleries," Frady said. "I find it hard to say no to any kind of opportunity to submit artwork to projects or gallery shows. I would like to continue doing what I'm doing now, painting signs, murals, running a gallery with my girlfriend, doing more art shows. Any support for local art and artists is good. Art brings color and variety to our city. Those colors and variety bring people into our city."
---
Print headline: Cartoon cutouts, Local artist Tanner Frady animates the Oklahoma City art scene.