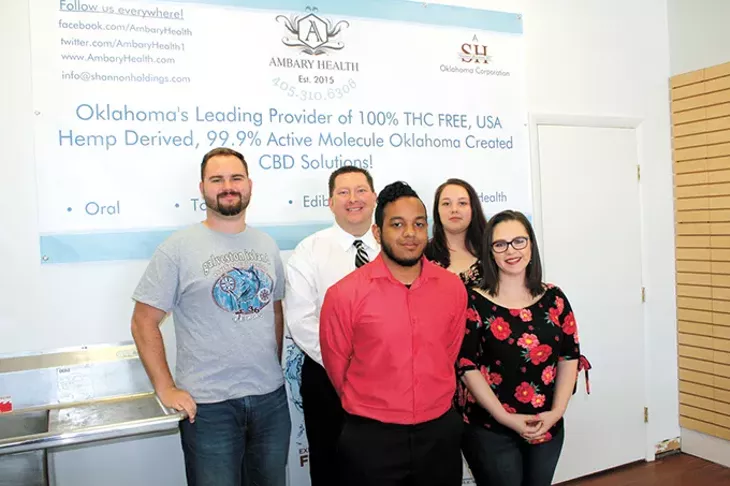 Laura Eastes
The Ambary Health team from its Norman headquarters: from left Ryan Curtis, Jimmy Shannon, Justice Williamson, Odaira Arens and Shelly Lovelis
Editor's note: This article is part of a series examining cannabis and cannabinoids in Oklahoma leading up to the June 26 medical marijuana referendum.

Three years ago, when House Bill 2154, a piece of legislation known as "Katie and Cayman's Law" allowing children with severe epilepsy to take cannabinoids as treatment through a medical trial, was moving through the Oklahoma Capitol with backing from the governor and members of both parties, Jimmy Shannon got to work.

Shannon, a Colorado native who came to the Oklahoma City area in 2011 for a software position but later left to open Vapour Kingdom, a Norman vape shop, was a believer in the medical benefits of cannabidiol (CBD). The substance is derived from hemp and contains only trace amounts of the psychoactive ingredient found in marijuana. Shannon's revelation came after experiencing months of intense pain and worsening panic attacks that came following an elbow injury. With a diagnosis of anxiety and a prescription for Xanax, he believed there had to be another way to ease his pain than an opioid with serious side effects.

When a friend from Colorado suggested CBD oil, Shannon's only regret was not thinking about the cannabis extract earlier.

"I've known about this my entire life — medical cannabidiol," Shannon said. "I knew what they can do and what they could do."

Shannon followed HB2154 as it made its way through the legislative process and traveled to Denver for the High Times U.S. Cannabis Cup to learn more about CBD and how to bring the industry to Oklahoma.

"I knew that anybody who was worth talking to about CBD would be there," Shannon said. "I went up there … specifically to find a CBD manufacturer and distributor where I would be able to get it from the manufacturer and deliver it to the people of Oklahoma."

In 2015, Shannon registered his company, Ambary Health, with the Oklahoma Secretary of State's office to manufacture and distribute CBD products. Katie and Cayman's Law kick-started CBD policy discussions, as Shannon predicted. Now, under Oklahoma law, certain CBD products are available for retail sale.

Almost three years after Shannon attended the Cannabis Cup, Ambary Health's product line contains more than 50 zero-THC CBD products. Those products are available in 37 Oklahoma retail shops as well as stores in California, Texas and Florida.

The business' bottom line is not what drives Shannon. CBD appeals to people who want to ease aches and pains, just like he once did. A major part of his business is CBD education. His advocacy efforts expanded from future customers to lawmakers and law enforcement officials.

"I can confidently say that without the work of Ambary Health, we wouldn't be having this conversation in Oklahoma today," Shannon said from inside Ambary Health's headquarters off Main Street in Norman. "I am very, very pleased by the efforts we put in to get us to this point. Not us as a company, but for us as a people, as a state."


Laura Eastes
Norman's Ambary Health produces and distributes more than 50 zero-THC CBD products.
Relaxation of laws
Revision of Oklahoma laws moved CBD from clinical trials to retail stores, where CBD products not exceeding .03 percent tetrahydrocannabinol (THC), the main psychoactive substance in marijuana, are for sale.
The popularity of CBD products, which come in a variety of forms, from capsules and sprays to tinctures and vapes, revolves around the medical benefits. CBD contains the chemical compound in cannabis that can cause relief from issues such as chronic pain, anxiety, muscle aches and spasms. CBD does not get users high.
When Oklahoma City Rep. Jon Echols began eyeing legalization of cannabidiol, the state was in a league of its own. Few states had such policies. The Republican representative was introduced to the issue by his niece Katie who suffers from Dravet syndrome, a form of epilepsy. He wrote the legislation, which found favor in both houses and earned Gov. Mary Fallin's signature, as a unique policy solution for Oklahoma.
In 2016, Echols authored the second piece of legislation that lifted age restrictions and opened up CBD oil to patients with spasticity due to multiple sclerosis, paraplegia, intractable nausea and vomiting and appetite stimulation with chronic wasting diseases.
Sen. Ervin Yen, an anesthesiologist, served as House Bill 2835's Senate author.
"When we expanded it to adults and other diagnoses, what I did … was research into what diagnoses marijuana had been helpful with that we had at least some data that it worked," said Yen, R-Oklahoma City. "That's what we included in the bill."
In 2017, Yen and Echols carried legislation that amended Oklahoma's definition of marijuana and further pushed for the relaxation of laws restricting the use of CBD oil. House Bill 1559 exempted cannabidiol products with Food and Drug Administration (FDA) approval from Oklahoma's definition of marijuana. On Nov. 1, 2017, licensed health care practitioners began to administer CDB treatments as long as treatments received federal approval.
Under Oklahoma law, Oklahomans can legally buy, sell or use cannabidiol as long as it has minimal THC — no more than .03 percent — or is THC-free. Yen said patients should consult a physician before pursuing CBD products.
"I've talked to law enforcement in the state, and they've told me that if a patient is on CBD oil they should probably — just to be safe — get a note or a letter from a physician that the physician is recommending it," Yen said. "I've also spoken with two people at the DEA who say technically, it is still illegal. But if someone is buying, selling or using cannabidiol in Oklahoma, is that a priority for the DEA to go after them? The answer is no."
Oklahoma is now one of 16 states allowing CBD use. Earlier this month, a bill expanding Oklahoma's agricultural options to include hemp passed both chambers with only one "no" vote. House Bill 2913, which establishes an industrial hemp pilot program, awaits the governor's signature.