Myriad Botanical Gardens celebrates summer with a lineup of adventures to satisfy just about any curiosity.
New events have been added to the venue's lineup of seasonal favorites, such as moonlit bike rides, dance classes, live roots music concerts and stargazing.
A new addition this year is Dancing in the Gardens 7-10 p.m. Friday at Seasonal Plaza by Ice House and Park House. This free, all-ages class showcases salsa dance. DJ Red Handed will play popular music of the genre as instructor Marti Rickman leads demonstrations.
"I think what makes it interesting to people is that we will have instructors earlier in the evening that will be teaching you moves," said Maureen Heffernan, Myriad Gardens executive director. "Everyone is learning, so you don't feel out of the loop."
Instruction begins at 7 p.m., and dancing commences at 8 p.m. All ages and experience levels are welcome.
If you'd rather listen to music than learn how to make your feet move in time to it, Myriad Gardens introduced its Deep Roots Music Series so guests can explore Americana, honky-tonk, music improv and "antique pop" in an outdoor setting at Meinders Garden and Terrace.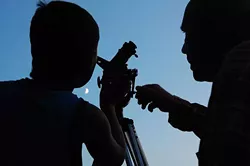 Heffernan described the space as "a lovely, semiprivate area."
"We'll have seating, including couches and chairs, so you can relax and be comfortable while you hear the music," she said.
The series kicks off 8 p.m. Saturday with roaring '20s-inspired music from Kansas City's Victor & Penny and their Loose Change Orchestra and Western swing and country-influenced folk and blues from Tulsa trio Jacob Tovar and the Saddle Tramps. Admission is $20-$25, and tickets are available at myriadgardens.org.
Guest favorites include the Full Moon Bike Ride and Sundown Run, which happens — you guessed it — during full moons and includes a leisurely, scenic course.
"It's a fun event; it's not a race. It's really neat to see the city in the evening by bicycle," she said. "We usually go along the river and through parts of downtown."
Suggested entry is a $5 donation to Myriad Gardens, which is a nonprofit organization. Guidelines and entry details are available on its website.
Tried-and-true fitness fun is offered at 5:45 p.m. each Tuesday through KIND Yoga Series. The all-levels workout is recommended for ages 16 and older and takes place at Crystal Bridge Tropical Conservatory.
However, there are no age restrictions for Astronomy Nights in the Gardens. Oklahoma City Astronomy Club sets up its telescopes to peer into the darkness as they examine the Milky Way. The free viewing is 8:30 p.m. July 23 on the Great Lawn.
Print headline: Summer Gardens, Myriad Botanical Gardens adds new events to its seasonal lineup.