Korbel — Brut
Perhaps the most universally-known champagne of all time, the budget-friendly Korbel Brut still tastes like New Year's Eve today as it did when you first snuck those first sips when your parents' backs were turned. Light yet crisp with subtle fruity undertones, this is a solid pick if your Christmas budget has been chipped away by inflation this year.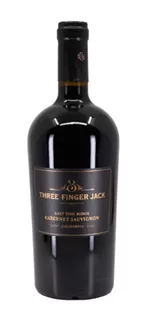 Three Finger Jack — Cabernet Sauvignon
Cabernet sauvignon vintages can vary wildly in flavor and this one falls on the fruitier side. Named after the notorious Gold Rush-era California outlaw, which belies the sweetness of this wine, it pairs well with red meat, which is more of what you'd come to expect for a wine named after a train robber. Don't let the squat bottle fool you — it contains the same amount of wine as the taller bottles.

Substance — Cabernet Sauvignon
Intentionally designed by the Washington vintner to be the best value-priced bottle of cabernet, this one definitely succeeds in providing a robust and flavorful taste bouquet that provides a balance of rich earthy and floral notes, this one is a little less fruit-forward than many wines produced in the Columbia Valley. Instead, expect some flavors that are a little more reminiscent of your grandfather's study.