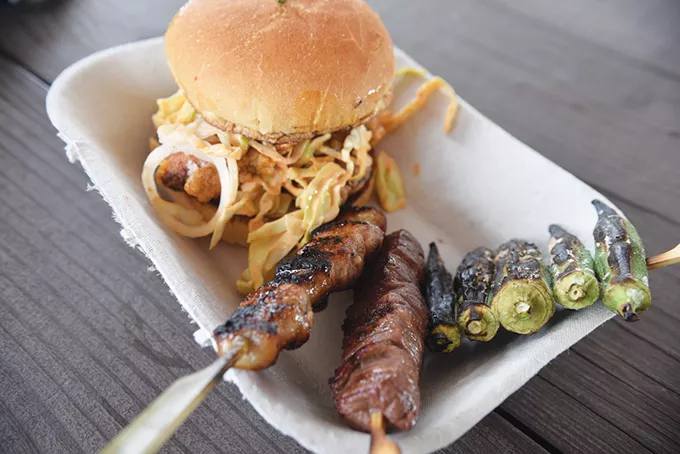 Jacob Threadgill
Ok-Yaki karage "slider" with skewers of pork belly, flank steak and okra.
Early in his career, chef Jonathon Stranger admits that he was caught up in the quest for accolades. He certainly received them while developing fine dining concepts Ludivine and The R&J Lounge and Supper Club before branching out with new ventures En Croûte and St. Mark's Chop Room & Bar.
As he has gotten older, Stranger, 36, repeats the mantra, "I want to create a positive moment in someone's day." For Stranger, there is no better way to someone's heart that the combination of grilled meats and cold beer, which can be seen in his newest concept Ok-Yaki, located in a converted garage shed at The Patriarch, 9 E. Edwards St., in Edmond.
"My aim when I was younger was to be the best chef ever," Stranger said. "You might get awards going after that, but human beings are human beings; everyone likes something different. One person might say it's the best thing they ever had; the next person might say it is the worst. [Now I] aim to make people happy with food, beverage and service."
The Japanese concept of yakitori — marinated meats grilled over high-temperature charcoal — is something Stranger's brother-in-law, who is half Japanese, introduced to him years ago when Stranger was working in New York City.
It's something he has always wanted to introduce to Oklahoma City, but he had trouble explaining the concept to potential investors without an analogue. Yakitori allows diners to try a lot of different proteins without breaking the bank. Ok-Yaki skewers range from $2 for vegetables like okra and shishito peppers to $5 for baby back ribs and $5.50 for sea scallops.
"To me, it was a shock that it hasn't gotten big in the U.S. Like a lot of things that I do, they tend to be different, which means it is hard to get investment money," he said.
Finding home
After nearly taking the concept downtown, he heard from the owners of The Patriarch and asked if they had plans for the shed that they only occasionally used to serve beer from when the weather was warm.
The partnership has been a win-win for Stranger and The Patriarch. Stranger gets a built-in clientele that is coming for The Patriarch's craft beer selection, and the establishment gets full-time food service without having to partner with an outside food truck.
"I like to use local food at a price point that works," Stranger said. "Past restaurants I've done are more expensive, so it alienates part of the population. I set out to make you have a meal fast that is good food. It goes perfect with drinking beer, and Patriarch is known for craft beer. Food that is $50 an entrée and $5 an entrée can be just as satisfying. It was my challenge to myself. I want to make this as satisfying as St. Mark's or En Croûte."
Ok-Yaki offers a variety of draft beer from The Patriarch's local brewery selection in addition to mixed drinks made with liquor from Prairie Wolf Spirits. (Stranger is a partner in its new ownership group.)
Ok-Yaki also offers what Stranger begrudgingly refers to as sliders, even though they are much larger than an average slider.
"There is a Japanese word that I could've used, but it is a mouthful, and I didn't want to confuse anyone," he said.
His favorite sandwich is the karage, which is essentially a Japanese chicken nugget. Chicken thighs are diced, battered in potato starch and spices and fried. They are gluten-free and topped with white onion, cabbage and spicy mayonnaise on a sweet roll.
Ok-Yaki also offers a chicken-and-bacon burger, flank steak, baby back ribs, tuna and avocado sandwich varieties with the option of adding wasabi french fries.
Jacob Threadgill
The charcoal grill at Ok-Yaki reaches temperatures up to 900 degrees Fahrenheit.
Secret sauce
The key to yakitori marinade is the tare sauce, an aged soy sauce with additives like dashi, vinegar or fermented soybeans. Stranger barrel-aged the tare for six months before OK-Yaki opened in late March.
"A tare can make or break a yakitori place in Tokyo if you have a young or bad tare," he said. "Some of them are 70 years old. Think of it like a mother [sourdough bread starter]. You boil it to pasteurize it at the end of the night, but that's it. As it hits the grill, it adds smoke and all these flavors keep getting deeper and deeper."
The other secret to good yakitori is the type of charcoal used: binchōtan. The Japanese variety of hardwood charcoal typically made from oak burns odorless and stays hot for long periods.
The grill reaches temperatures of 900 degrees Fahrenheit, which allows the protein to char quickly and melt off unwanted fat. The pork belly arrives without any gristle, and the flank steak gets enhanced with sanshō, a Japanese berry that is often apocryphally referred to as a pepper. The sanshō provides a fruity and floral finish to the meat.
Steak used at Ok-Yaki is the same Oklahoma wagyu beef served at En Croûte and St. Mark's. 2018 has been a busy year for Stranger with the purchase of Prairie Wolf, the opening of Ok-Yaki and the planned Osteria Italian kitchen that will open in Nichols Hills later this year. Stranger still finds time to work the line at Ok-Yaki a few times a week.
"The response [for Ok-Yaki] has been really good. The quality for the price point we are putting it out at complements the beer. It's one of the first times where I've yet to see a negative review," he said as he knocked on wood for good luck.