As she organizes each year's Charlie Christian International Music Festival, Anita Arnold considers herself a front-line fighter in an ongoing effort to preserve the late legend's musical and cultural legacy.
Born in Bonham, Texas, and raised in Oklahoma City, Christian is most associated with three things. First, he is widely recognized as one of the world's greatest improvisational jazz and guitar talents. Second, he often is credited as the first major electric guitar soloists. Third, he accomplished these feats before dying at age 25 from tuberculosis (TB).
Arnold, executive director of Black Liberated Arts Center (BLAC, Inc.), has spent much of her life's work learning, chronicling and promoting Christian's history and legacy.
Her office at 4500 N. Lincoln Blvd. is a shrine to the Rock and Roll Hall of Famer, and portraits, photographs and posters hang everywhere. Books on Christian, swing-era jazz and music history line the shelves and are stuffed into drawers.
"If they have anything about Charlie Christian, I'll buy it," she said.
This year's music festival celebrates Christian's 100th birthday and runs June 2-6 at multiple Deep Deuce venues. In addition to a variety of musical talent, the event brings in one of Christian's guitars and will re-enact the jazz icon's funeral procession.
Christian's impact is so profound that traces of his legacy are seen everywhere in music, Arnold said. His influence spans Miles Davis to Prince.
"Even though he's been dead 75 years, he's still very much alive and well in the minds of a lot of people," she said.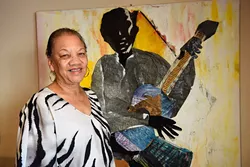 Anita Arnold's life mission is to preserve Charlie Christian's legacy. | Photo Garett Fisbeck
The festival
The event's 31st year features a lineup of performing acts that illustrate Christian's expansive influence.
Everything begins 7 p.m. Thursday with a jam session at Slaughter's Hall, 221 N. Central Ave.
Activities Friday and throughout the weekend are centered on the lot across from the Edward L. Gaylord Downtown YMCA near NW Fourth Street and N. Broadway Avenue.
Friday welcomes the rising vocal talent of Iesha Thomas at 7 p.m. Country and western act The Joe Settlemeirs Band performs at 8:30 p.m. All Funk Radio Show, a Texas-based jazz and funk band that has headlined the festival in the past, plays at 10 p.m.
Saturday is the event's longest day. A guitar music symposium is 11 a.m. at Calvary Baptist Church, 300 N. Walnut Ave. Kansas State University professor Wayne Goins, who wrote a comprehensive book on Christian, and Lynn Wheelwright, owner of the last Gibson guitar Christian bought, are on the panel. Goins, who headlines the festival later that night, will play that guitar a little bit.
Saturday also features the return of the festival parade. In 1942, a brass band-led funeral procession delivered Christian to Calvary Baptist Church for his funeral. More than 20 years ago, Arnold said a large memorial parade included horses and clowns, but this year's version is much smaller.
"People loved it, they really loved it, but this is Charlie Christian's time," she said. "We're going to do it in a way similar to how they did it at his death."
This year's procession also will be led by a New Orleans brass band to the steps of the church, where a memorial service will follow.
A gospel concert — the first in the festival's history — happens Sunday. Music starts at 4 p.m. with violinist JoAnna Johnson, followed by Dallas artist VirLinda Stanton and smooth jazz musician Grady Nichols.
The festival concludes 8:30 p.m. Sunday with a battle of the bands pitting Texas-based Landon Torbett against Oklahoma's Robert Banks Band.
Legacy building
Christian, a Frederick A. Douglass High School graduate, mostly made his name as a member of the nationally touring Benny Goodman Sextet and Orchestra. Arnold said Goodman, "The King of Swing," at first doubted Christian's ability because of his underprivileged upbringing. That changed once he saw Christian perform.
The guitarist toured with Goodman and developed national acclaim as a mainstay in one of the era's most popular bands. That intense touring lifestyle, however, might have contributed to his early death.
"He ran him from coast to coast, from New York to California and anything in between," Arnold said. "It was that hectic schedule, bad food on the road, not getting enough rest, all of that. A lot of people got TB during that time, not just musicians but a lot of people."
Arnold wrote four books on Christian. She said she regularly receives phone calls and emails from people all over the world seeking more information about the musician.
Looking around an office dedicated to the man, it is hard to believe that his history was once hard to come by.
"When I first started, I couldn't find two good paragraphs about Charlie Christian," Arnold said.
Over time, she and others pieced together his story. While his accomplishments are remarkable, Arnold said Christian's brief life makes his tale all the more captivating.
"How many people at age 25 do you know that even have a clue which way they're going in life? Most people are trying to figure it out," she said. "It's like he'd sought out his mission on this Earth and he completed it."
For the full event schedule and tickets, visit charliechristianmusicfestival.com.
Print headline: Electric legend, A music festival celebrates the 100th birthday of jazz legend and guitar pioneer Charlie Christian.