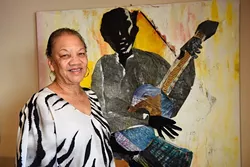 Garett Fisbeck
Anita Arnold poses for a photo at Black Liberated Arts Center, Friday, May 13, 2016.
Charlie Christian International Music Festival guests can step back in time and relive one of jazz music's most pivotal moments: the night legendary bandleader Benny Goodman discovered the pioneering Oklahoma guitar soloist.
The festival, organized by Black Liberated Arts Center (BLAC, Inc.) is entering its 32nd year. Last year, the event celebrated Christian's 100th birthday. This year's theme, Play It Forward, honors the many significant artists Christian has influenced.
The event moves indoors this year to recreate Victor Hugo, the Los Angeles supper club where Goodman first saw Christian perform in 1939. Goodman was one of the biggest bandleaders of the time and hired Christian immediately after his performance.
"As they say, the rest is history," said Anita Arnold, BLAC, Inc. executive director. Christian toured the country with Goodman and built some national fame before Christian's untimely 1942 death from tuberculosis. The musician was just 25.
The first part of the event, which begins 6 p.m. June 3 at Embassy Suites, 741 N. Phillips Ave., recreates the classic supper club environment. Dinner is included in the $45 admission. A jazz dance presentation by Metropolitan School of Dance begins the entertainment at 6:30 p.m.
The musical presentation starts at 7 p.m. and will be presented in two parts. First, Wayne Goins, a Kansas State University professor and one of the world's foremost Charlie Christian writers and historians, performs music from Christian and the time of Benny Goodman. Arnold said Goins' skill on the guitar is hard to replicate.
"He can play like Charlie Christian," she said. "Not too many people can play like Charlie Christian, but Wayne Goins is wonderful."
The second half features the band TaylorMadeJazz and music made famous by the many major figures who have said Christian greatly impacted their careers, including B.B. King, Chuck Berry and George Benson.
"This will be more danceable type music for today's listeners and people who really feel like getting up and doing the electric slide or any other popular dance," Arnold said.
The main event is preceded by a jam session 7 p.m. June 2 at [Artspace] at Untitled, 1 NE Third St. TaylorMadeJazz is the house band for an open-mic night open to all vocalists and musicians. The featured performer is Tulsa saxophonist Eldredge Jackson. A $10 wristband is required for entry, but open-mic performers get in for free.
Christian's era was at the very forefront of the electric guitar, and the Oklahoma City musician is widely credited with being one of the instrument's first great soloists. Arnold said she hopes young people will be inspired by Christian's story and the breadth of his impact despite his short life.
"He basically perfected his playing as a teenager, because he died at the young age of 25," Arnold said. "Most people, they don't even know what path they're going to go down at 25."
As Christian proved, it is never too early for someone to make a significant impact. Visit charliechristianmusicfestival.com.
Print headline: History retold, The 32nd Charlie Christian International Music Festival takes guests back to the OKC guitarist's big break.