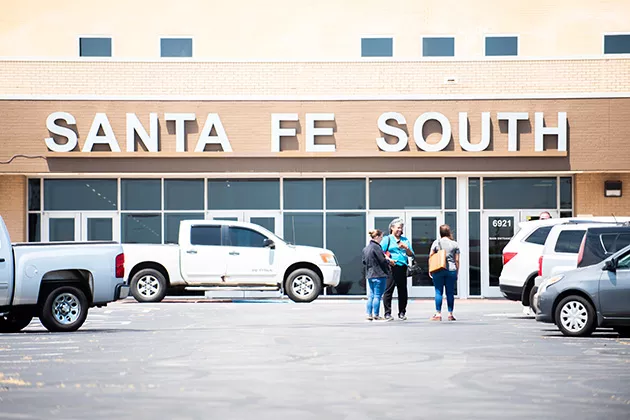 Miguel Rios
Santa Fe South High School, located at Plaza Mayor, is one of about 32 charter schools in the state.
Charter schools were envisioned as institutions of innovation where teachers could have freedom to test new ways of educating students. However, many contend that the vision was lost when charter school proponents started promoting them as competitors for traditional public schools.
As of May 2019, more than 7,000 charter schools existed across 44 states and the District of Columbia.
"Originally, charter schools were supposed to have a charter with the local public school, and the charter school was to practice out innovations that would then eventually — ones that were really good and worked well — would then move into the public school system. That was the original intent," said Alicia Priest, president of Oklahoma Education Association. "People thought they could make profit off of public schools, so it quickly became something that it wasn't intended to be."
They are considered public schools and cannot charge tuition or teach religion. Charter schools must also comply with the Oklahoma Open Meetings Act and Oklahoma Open Records Act.
Oklahoma Charter Schools Act (OCSA) was passed in 1997 to improve learning and opportunities, encourage innovative teaching methods and provide academic choices. There are about 32 charter schools in the state with a combined enrollment of 38,425 students across virtual charters and brick-and-mortars.
"Charter schools automatically, when they set up their school, deregulate from different laws and requirements that public schools have," Priest said. "They don't have to hire certified teachers. They don't have to follow the state minimum salary schedule and they don't have to pay into teacher retirement. They don't have to follow — depending on how they set up the charter — the general standard that public schools follow."
OCSA requires charter schools to comply with "federal regulations and state and local rules and statutes relating to health, safety, civil rights and insurance." But they are "exempt from all statutes and rules relating to schools, boards of education and school districts."
Pros and cons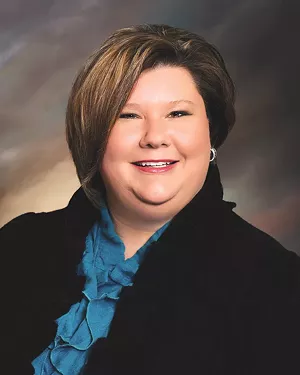 Provided
Alicia Priest, Oklahoma Education Association president, said if traditional public schools were funded more adequately, there would be no need for charter schools.
Charter schools are not allowed to levy taxes or issue bonds, which means they are not as funded as traditional public schools. However, they are still funded through the state, which Priest said hurts traditional schools.
"They siphon money away from the entirety of public schools," Priest said. "If we focused our attention on making sure our public schools were funded appropriately, making sure that our public schools had the stuff they need to reach, teach and inspire all children, then there wouldn't be a need for a charter school. But with funding cuts to public education, it incentivizes sometimes people to say, 'Hey, my public schools have class sizes of 45 and this charter over here has a maximum class size of 17, so I'm going to do what I see or what I think is best for my student.'"
Chris Brewster, superintendent of Santa Fe South Schools — a charter school with a predominantly Hispanic student population — said the pressure charter schools can put on traditional schools is a positive for education. Brewster, who also serves as Oklahoma Public Charter Schools Association president, made the analogy of fast-food places or churches chastising competitors for stealing their customers.
"It's odd to me that in our society, we sort of said, 'You have choice in all these areas, but you shouldn't be allowed to have choices in public schools,'" he said. "If I was a superintendent of a district where charter schools were operating, I would focus on making certain that the students I was serving were pleased with the traditional public school that they were in so that there would be no need for them to consider going anywhere else."
Brewster said one of the main benefits of a charter school is that it allows low-income and underserved communities to have a choice.
"I'm pro-charter, but more than that, I'm pro-opportunity for kids to have a great school to go to," he said. "Everyone who either works here or is a parent or a student has chosen to be here. So from the outset, there's a dynamic that we don't see in schools that are mandatory attendance zones. The power of being able to choose where your child goes to school usually resides with those of means who can afford to live in a particular district or afford to go to a private school. … Charter schools exist to shift the equation in favor of the family from the institution."
However, Priest argues many traditional schools already provide choice and charter schools tend to be more selective with students and can expel them for minor infractions.
"There's open transfers. Most every public school has an opportunity for virtual or blended learning, so public schools offer choice. What public schools don't offer is a big advertising budget and things like that," Priest said. "School choice is a great buzzword, but we have choice. We have school choice in Oklahoma. Charter schools can say, 'We'll only allow students who make this grade on the test to be a part of our school. We're not going to offer transportation, so, parents, you have to be able to afford and have time to take your child to school. Or you're expected to donate 20 hours a month in service to the school.' The parents don't necessarily have the choice; it's the charter that has the choice because the charter can accept or decline or send back an enrollment of a student."
Priest said when students move away from traditional schools to charters, it creates a cycle that leads to budget cuts that can make more parents transfer students to charter schools, which can result in even more budget cuts.
"The reality is if we're funding our public schools and allowing those teachers to teach the way they know is needed, then our public schools hands-down win," Priest said. "Among virtual schools with blended models, district-operated schools perform better than charter operated."
Provided
Chris Brewster, Santa Fe South Schools superintendent, said charter schools give underserved populations school choice.
A cost-effectiveness study conducted by CF Educational Solutions between 2014 and 2016 contends that charter schools are more cost-effective than traditional public schools. However, the data also shows that the percentage of students passing academic tests at traditional schools has remained steady while charter schools saw a decline.
"We receive significantly less dollars and do more with less dollars," Brewster said. "By recent studies, we're somewhere close to 67 cents on the dollar compared to a traditional public school, so they already receive more money."
News outlets have recently reported scandals surrounding Epic Charter Schools, mainly dealing with potentially falsified enrollment records and embezzlement, which are being investigated by Oklahoma State Bureau of Investigation. Gov. Kevin Stitt and state superintendent Joy Hofmeister are also calling for an investigative audit of Epic.
However, Brewster maintained that the school is "innocent until proven guilty." He said he extends an open invitation to anyone interested in seeing the work educators are doing at Santa Fe South Schools.
Despite having different opinions on charter schools, both Priest and Brewster assert that the bottom line is giving children a good, well-rounded education.
"The Oklahoma Education Association believes in having the best public schools for our kids taught by highly qualified teachers with high-quality support staff there to make the whole education process beneficial for every child in the state of Oklahoma," Priest said. "We believe in making sure that the funding is there for those students, that we offer professional development and support to teacher ands support professionals so they can create those great public schools for kids."