provided
Chefs onstage at Will Rogers Theater Event Center for the John Bennett memorial
The oak that is Oklahoma City's dining scene and has sprouted and grown sturdy over recent decades lost its roots on July 22 with the passing of chef John Bennett at the age of 77.
Bennett, who counted culinary luminaries James Beard and Julia Child as lifelong friends, helped push Oklahoma City out of the stigma of being the "cafeteria capital of the world" when he took over at The Cellar in the basement of the Hightower Building and used his training at Culinary Institute of America (CIA) and traveling across France after encouragement from Child to make it the city's first true fine-dining destination in 1964.
More than 20 of the city's most acclaimed chefs gathered in packed Will Rogers Theatre Aug. 19 with friends and family to honor Bennett's unique personality and contributions to the city's dining scene, but to also make sure his legacy continues.
Bennett was born in Ardmore in 1941 and grew up in Healdton and Norman, where he graduated high school and attended the University of Oklahoma but spent more time at Bizzell Memorial Library reading gourmet magazines than textbooks.
His sister Dr. Kaye Sears said that he developed a love for cooking while in school and called the results of his efforts "creations."
"He would grocery shop and bring food to our house for his creations," Sears said during the memorial service. "We were glad to have food, and he would cook for several hours. Many of you know what the kitchen looked like when he finished. He said, 'Don't worry. I'll be back to finish cleaning up when I'm done with class.' I should've asked which day."
Bennett left OU for CIA in New Haven, Connecticut, where he began working at Mermaid Tavern in nearby Stratford. Beard worked for the restaurant as a consultant and struck up a friendship with Bennett as he worked on the line.
Bennett invited Beard to speak to his CIA class. Beard agreed, but under the condition that he could invite his friends, Julia and Paul Child. Following their meeting, Beard earned an invitation to the Child home, where he read galley copies of Child's Mastering the Art of French Cooking, which launched Child's career as the country's first celebrity chef.
Letters from Child written in French allowed Bennett to tour some of the top restaurants in France and expand his culinary learning experience beyond the classroom. Upon graduation from CIA, Bennett returned to Oklahoma, which surprised even him.
Frank Hightower installed The Cellar in the basement of his family's building downtown and wanted to create it as a fine-dining experience. He enlisted Beard, with whom he had taken cooking classes, to find him a chef, and Beard recommended Bennett.
"When Jim Beard asked him to come [to The Cellar] in Oklahoma City, he said, 'Why are you there? No one there knows how to eat,' said The Oklahoman's Dave Cathey, who was one of Bennett's closest friends.
The dining experience at The Cellar was unlike anything Oklahoma City has ever seen. Black-and-white marble floors led to a dining room with red carpet that matched upholstered chairs that sat next to and under crystal chandeliers and under ornate tabletop candelabras.
The menu was the best of French fine dining with plenty of flair, which exemplified two of Bennett's lifelong mantras: "Everything worth doing is worth overdoing" and "You don't sell the steak; you sell the sizzle."
"He had influence on Oklahoma City, and some other instances were felt around the nation. For instance, I know of several hotel companies who undoubtedly changed their standard operating procedure after he managed to bring a live, uncaged elephant into a ballroom at a major hotel," said Kyle Anderson, of Kyle's 1025 catering, referencing a stunt that Bennett pulled at The Biltmore Hotel. "Who else but John Bennett could pull that off?"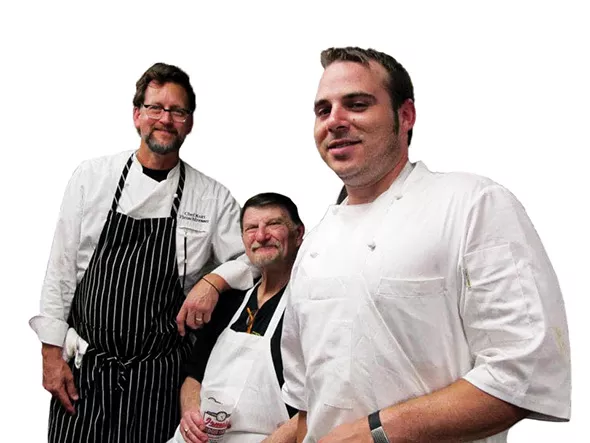 provided
Chefs Kurt Fleischfresser, John Bennett and David Henry
Bennett left The Cellar in 1969 and briefly worked in San Francisco before returning to Oklahoma City to open The Grand Boulevard restaurant in 1975. He also served as chef at Nonna's Ristorante & Bar and Christopher's. He continued to travel around the country and frequently served as head chef for James Beard Award ceremonies and events at the James Beard House, entertaining and delighting the world's preeminent cooking talents.
"All of these people around the country that know John know him as Oklahoma too," said Kurt Fleischfresser, who said one of his career highlights was having Jacques Pepin introduce him as one of Bennett's friends at a Beard Award ceremony. "He helped put Oklahoma on the map, so I think you'd have to call him the patriarch of our culinary world here."
Chef Rick Bayless has built a culinary empire in Chicago, and it's a journey that started in Oklahoma City with Bennett's cooking. Bayless saved up money and traveled to The Cellar by himself when he was a preteen.
"There is a good chance that I would not be in the chef world today if were not for John Bennett," Bayless said in a video message at the memorial. "I had read about this incredible restaurant, and I wanted that experience. In so many ways, I have taken that first experience that John Bennett offered me and turned it into the whole world of great dining that I've developed here in Chicago. I can't say enough about John Bennett and that incredible chocolate mousse that I tasted when I was 12."
Living legacy
At the memorial service, which included a spread of food with contributions from many of the city's chefs like foie gras-stuffed prunes and crab cakes with honey Dijon and blue agave, Cathey laid out plans to make sure Bennett's legacy continues.
He will publish Bennett's memoirs on an independent blog and wants to work with the city's chefs to document and keep Bennett's recipes alive. Cathey also said a fundraising campaign will be started in the coming months to build a rotating scholarship in Bennett's name for University of Central Oklahoma.
"We can build something together that raises up the entire hospitality industry, that raises awareness to the 405 as a food destination because at the end of the day, that's what JB wanted," Cathey said. "He realized that to be the great chef that he wanted to be, he had to come from a better place culinarily, and [Oklahoma City] reflected on him, and he never did anything except try to make the place that he came from a more delicious place."