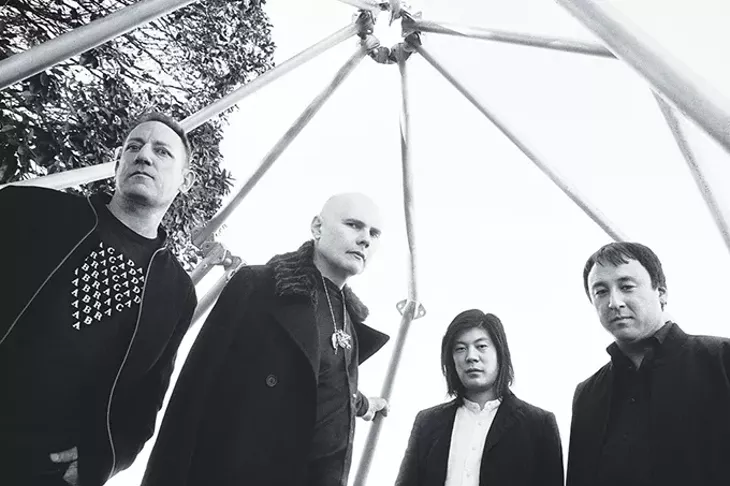 Olivia Bee / provided
The Smashing Pumpkins, 2018 edition: left to right Jimmy Chamberlin, Billy Corgan, James Iha and Jeff Schroeder.
The sound system crashed, the lights went out and fans sweltered in the middle of December, but the show went on.
The Smashing Pumpkins, now 75 percent reunited and celebrating the 25th anniversary of their breakthrough album Siamese Dream, will present a slick multimedia rock show for thousands of fans July 14 at Chesapeake Energy Arena, 100 W. Reno Ave., a stark contrast to what happened nearly 27 years ago in a small movie theater in Norman.
On Dec. 12, 1991, singer/guitarist Billy Corgan, guitarist James Iha, drummer Jimmy Chamberlin and bassist D'arcy Wretsky arrived at Norman's Hollywood Theatre, 1210 McGee Drive, on a one-day break from their tour with Red Hot Chili Peppers and Pearl Jam. Trent Bell, guitarist for opening act Chainsaw Kittens, had never promoted a show before, but he took on the task after the band's agent at Creative Artists Agency, Kevin Gasser, encouraged him to jump into the fray.
"I had never booked a show; I had never done anything like that, you know what I mean?" said Bell, now an in-demand producer and owner of Bell Labs Recording in Norman. "I was in a band. I played shows, but I never booked a show."
When he wasn't playing with the Kittens, who were preparing to release the follow-up to their 1990 debut album, Violent Religion, Bell worked at the Hollywood, which is now a Koda CrossFit gym. He was able to get the owner to let him book the Pumpkins and Kittens into the theater, but logistical concerns came fast and furiously that day.
"The [sound] company that was traveling with the Red Hot Chili Peppers said they could take the console they were using for the tour for that day," Bell said. "At the time, in 1991, I didn't know what kind of PAs to get or anything like that. Then they bring in this gigantic console."
It was a console fit for an arena, but it was going into a relatively small, late-1960s movie house with an electrical output perfectly suited for projection systems, house lights and concession stands of that era. But that afternoon, Bell could not even get it into the theater.
"They want to set that up, but the guy who owns the movie theater at the time is, like, adamant he was going to show his matinee movies," Bell said, laughing. "So basically, we're all there with the Pumpkins and everybody, and we can't get set up because the owner is like, 'I'm showing my matinee movies.'"
Crush and suffer
Bell said he could not recall how many people attended the Pumpkins/Kittens show, but it was easily at capacity or beyond. The Kittens performed without a hitch, playing songs from Violent Religion and their upcoming album Flipped Out in Singapore as well as a double-speed version of Journey's "Any Way You Want It." This reporter went down in the mosh pit and was pulled up before any Doc Martens landed on his face.
Then came the breakers. After the Pumpkins' set started with "Rocket," which would appear nearly two years later on Siamese Dream, the board and amps immediately overloaded the theater's electrical system.
"I just remember the electric breakers being overloaded with the amps to the sound system and the amps to the band gear, which stopped the show multiple times," said Daryle Bascom of Mind Candy Productions, who helped Bell promote the show. "I think [engineer] Bill Nunez was doing the sound, and I believe that they had to separate band gear from sound gear in order to stop popping circuits and continue the show."
A YouTube-preserved VHS recording of one song, "Bury Me," from 1991's Gish, proves the band got through at least one complete song before the power blew again. While Nunez worked to get things on track, Bascom huddled with Wretsky.
"Of course, having a crush on the cool band chick, I gravitated towards hanging out with D'arcy side stage while the others were scrambling to sort out the electric," said Bascom, now director of operations for The Food Bank for Central & Northeast Missouri in Columbia, Missouri. "I offered D'arcy some pot while we waited. She was very sweet and very humble. Fun memory, but the rest of the night was hazy."
Barb Hendrickson Vest, who records and performs with husband Allan Vest in doubleVee, was 16 years old when she attended the show and brought her father's camera.
"It was a school night," she said. "I was very excited to get to go, but with so many years passing between now and then, my memories are pretty hazy. I'd bought both Gish and Violent Religion on cassette at Rainbow Records and loved getting to hear the songs performed live. Both of those albums still strike a very specific nostalgic chord with me."
Barb Hendrickson Vest / provided
In a Dec. 12, 1991 photo, Billy Corgan of The Smashing Pumpkins smiles at the audience in Norman's Hollywood Theatre.
Tonight, tonight
Accumulated body heat and bad ventilation in the theater forced many concertgoers to strip away flannel or flee outside into the cool December night. Eventually, the power was a lost cause and after the band attempted a few more Gish songs like "Window Paine," "Siva" and "Snail" acoustically, The Smashing Pumpkins gave up and called it a night after a six-song set. But in the YouTube video, Corgan did not seem upset during the performance.
"It's shows like this that bring people together who don't know each other, maybe for some fondling and latent homosexual tendencies," Corgan said, "and get together as one."
Bell said that after the show, the Kittens and Pumpkins laughed about the experience.
"We were just kind of embracing the craziness of it all and just sort of going with it," Bell said. "No one was stressed or worried about it or anything like that. I think they knew coming in that this wasn't a real concert promotion kind of thing, you know what I mean? No one was kidding themselves. They definitely knew it wasn't LiveNation promoting the show coming into it. I think everybody just kind of had a good sense of humor about it."
It took awhile before Bell tried his hand at concert promotion again. On April 17, 1993, he and Bascom brought the legendary Washington, D.C. punk band Fugazi to the Hollywood, which went much smoother.
"We learned a lot, so the next time we did Fugazi there, we definitely had things figured out," Bell said. "And after Fugazi, I retired."
In the minds of the people who attended the Smashing Pumpkins/Chainsaw Kittens show, the night has taken on mythical status, a kind of symbol of the Norman music scene when bands were noisy and Kittens lead singer Tyson Todd Meade was a long way off from running for Congress. Some remember the dark side of the night, when drunk teenagers were pulled out of the theater by Norman police officers, and others just remember it as symbolic of a different time and way of life.
"Was there," wrote John Smith, a former Oklahoma Gazette account executive in a Facebook post. "$5 general admission, and am I dreaming that you were allowed to BYOB into the theater?"