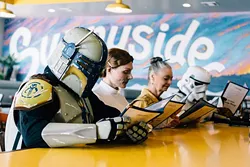 Study Farmers Public Market from the right angle, with its sandy hues and rugged exteriors, and it can start to resemble the Mos Eisley spaceport on Tatooine. For Tobi Coleman, a lifelong
Star Wars
fan, the district provided the perfect backdrop for her dream project, Center of the Galaxy Festival, a three-day
Star Wars
convention featuring actors and artists from
Star Wars Episode IV - A New Hope
,
Star Wars: Episode V - The Empire Strikes Back
and
Return of the Jedi
.
The event, held Friday-Sunday at Farmers Public Market, 311 S. Klein Ave., came about as a response to the scarcity of Star Wars conventions in the region. Coleman and her event company, Revolve Productions, saw a genuine opportunity to bring "a galaxy far, far away" a little closer.
Frenzied fandom
"Well, there was a group of us at the production company that were wanting to put on a very cool, unique event here in Oklahoma City that hasn't happened here before," she said. "We started trying to find out where the closest Star Wars event was, and it's really the one in Orlando, Florida. We knew there were a ton of Star Wars fans here and in Texas, so we just decided we would put it together. It's taken off — it's nuts, but that's how Star Wars fans are."
Coleman said the intensity of Star Wars mania in 2017 becomes apparent once you start looking for it. Beyond the popularity of 2015's Star Wars: The Force Awakens and last year's Rogue One: A Star Wars Story, she said the sheer number of original Star Wars trilogy T-shirts she sees worn by people around her is a testament to the enduring popularity of the earliest films in the epic space opera franchise, which first launched in 1977. She decided the original film's 40th anniversary was a perfect time to launch Center of the Galaxy Festival.
Celestial lineup
While larger conventions are more likely to get marquee names, the inaugural Center of the Galaxy will focus on behind-the-scenes creative workers and small-part actors who made a significant impact on the series. The topliner, Colin Cantwell, designed the Death Star, Millennium Falcon, X-wing Fighters, TIE Fighters and Imperial Cruiser. Cantwell is not a household name, but for millions of people, he is a creator of worlds, and his creations extend beyond Star Wars.
"We contacted him through Instagram," Coleman said. "For me, he's like my whole youth. Between WarGames and Close Encounters of the Third Kind and Star Wars and 2001: A Space Odyssey, for anyone who's cared about sci-fi in the last 40 years, he's the one who created it."
Actors attending the conference played smaller roles but all share valuable stories about the creation of the legendary film franchise. Mike Quinn, a master puppeteer who worked with The Jim Henson Company on The Dark Crystal, Labyrinth and five Muppets films, portrayed smuggler and pilot Nien Nunb and helped operate other characters like Jabba the Hutt. Keith De'Winter plays Goss Toowers, the Resistance's technician in Star Wars: The Force Awakens, and Debbie Lee Carrington and Kendra Wall Dahl both portrayed Ewoks in Return of the Jedi.
Coleman said that many of Center of the Galaxy's participating actors live in England — much of the production on the first trilogy took place at Elstree Studios near London. For avid autograph collectors with a specific interest in Star Wars, names such as Carrington and Dahl will fill major blanks in their books.
The Force unleashed
Much like the Tatooine scenes involved shooting in Tunisia, Farmers Public Market will undergo some stagecraft for this three-day event. Power House will become Mos Eisley Cantina, and on Friday and Saturday, Star Wars-costumed heavy metal band Galactic Empire will perform thrashed-up versions of composer John Williams' music, including "The Imperial March," on the outdoor stage. The event also includes over 100 exhibitors, food trucks and vendors.
"It's become a real community effort for the entire Farmers Market District," Coleman said. "It's like its own little compound, which makes it kind of like its own universe — our little Tatooine."
Print Headline: Universal appeal, From Chewie to Admiral Ackbar, even nerf herders are welcome at this year's Center of the Galaxy convention.