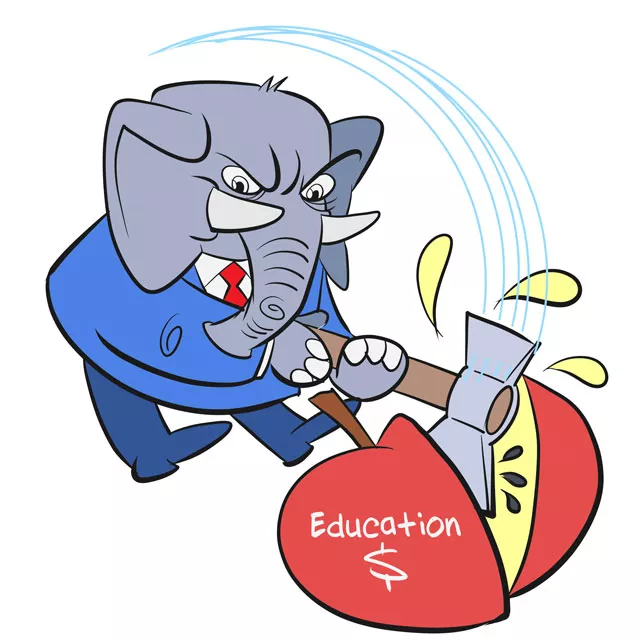 No one likes hearing bad news.
We at Chicken-Fried News imagine bad news just kept coming from the mouths of lawmakers at the 2017 legislative forum hosted by Oklahoma State Regents for Higher Education.
This forum happened to be scheduled during week eight of the Oklahoma Legislature's Special Session, where lawmakers have been struggling to fill a $215 million budget hole. At the time, the most current proposal to fix the budget called for cuts to agencies, including higher education. If lawmakers approve that proposal, higher education stands to lose another $17.3 million, according to NewsOK.com.
Chancellor Glen Johnson reports Oklahoma's higher education system hasn't been funded at that level since 1999.
One of the lawmakers to address the crowd of college presidents and higher education leaders was Rep. John Echols, R-Oklahoma City, who also serves as majority floor leader.
"I'm going to vote yes on a bill — on a budget — that cuts you by 2.5 percent. I hate it. I don't want to do it," he said, according to NewsOK.com. "But I feel like I have a gun to my head at this point. If this budget doesn't pass, then health care in the state of Oklahoma is decimated and there's nothing we can do about it."
More brutal honesty was shared by Sen. Greg Treat, R-Oklahoma City.
"If this bill goes down, the situation gets worse, not better," Treat said.
We imagine that someone in the crowd raised their hand and asked how the state could reverse the trends of budget cuts. What advice did the lawmaker give?
"We have a lot of people who are thinking about next year's election in both parties," Echols said.
That just might have been the only good news delivered throughout the forum.