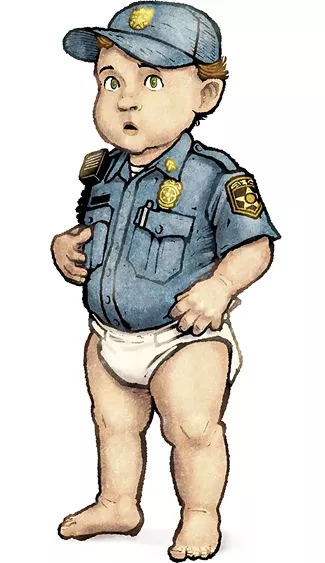 Remember your first job out of high school and how bad you probably sucked at it? With that in mind, let's take a look at this Nov. 30 Oklahoma Watch story about Oklahoma Department of Corrections' latest idea to recruit more officers for its understaffed prisons.
"In a little-noticed action, the Oklahoma Board of Corrections passed a set of legislative requests earlier this month that include allowing prisons to hire corrections officials as young as 18," reported Trevor Brown.
American Civil Liberties Union (ACLU) of Oklahoma director of advocacy Nicole McAfee told Oklahoma Watch that the idea of "teenagers being in these positions of power in a system where they have limited resources" but "a lot of responsibilities, as well as liabilities, in their hands" is "scary." Bobby Cleveland, executive director of Oklahoma Corrections Professionals, meanwhile, told Oklahoma Watch he hadn't talked to any correctional officers who were in favor of having 18-year-old co-workers at their "hard … stressful … dangerous" job.
To that may we add this sentence from a story titled "Gang dispute leads to statewide prison lockdown" published Sept. 16 by the Department of Corrections' own newsroom: "Fights broke out at a half dozen facilities over the weekend, sending dozens of inmates to hospitals and leaving one inmate dead." Imagine clocking out of a workday that involved coordinated statewide gang violence and not being old enough to unwind with a nice, cold wine cooler.
The current minimum age for corrections officers is 20, but department spokeswoman Jessica Brown said that restriction often means losing potential candidates to police departments, many of which begin hiring at age 19, and the military, which allows 17-year-olds to enlist with parental consent. We agree there's a lot wrong with that previous sentence, but "make the prison guards younger" is not the first solution that comes to mind.