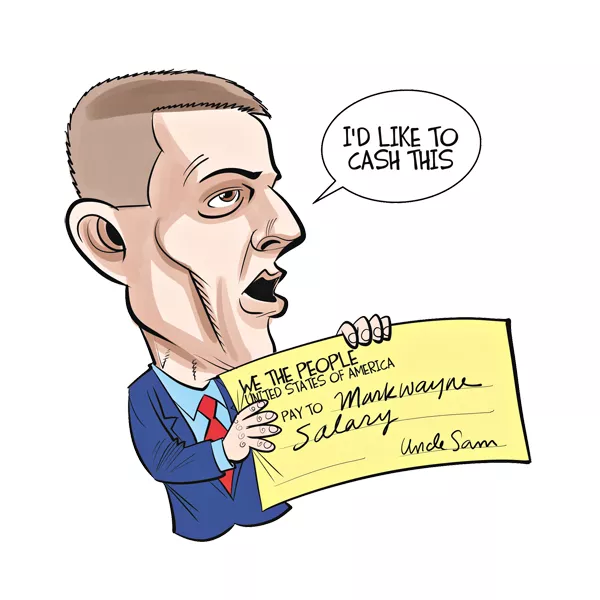 Esteemed U.S. lawmaker for the state of Oklahoma Markwayne Mullin (whom many will recognize from his vehemently folksy "fix-it family" Mullin Plumbing TV commercials-slash-campaign ads) derisively called "bullcrap" on any claim that taxpayers fund his congressional salary. "You say you pay for me to do this? That's bullcrap. I pay for myself," he said to his constituents during a March town hall meeting in Jay. He pulled himself up by the bootstraps and drove one of his "95 red vans helping people all over Oklahoma" (to quote another of his commercials) into Washington D.C., and the people who elected him have nothing to do with how he earns his congressional paycheck! Mullin's spokeswoman later clarified the lawmaker's statements, saying, "Like all business owners, Congressman Mullin pays his taxes, which contribute to congressional salaries,"
Tulsa World
reported. As he serves the American people on committees and subcommittees dealing with Native American affairs, water and power, transportation and infrastructure and the environment, among others, he reminded constituents, "This is a service. No one here pays me to go," a video of the town hall meeting (which has since gone viral) shows. "Pays you to go where?" one guest retorted. Mullin continued: "I do it as an honor and service. This is a service for me, not a career, and I thank God this is not how I make my living," the video shows. Public clapback was so swift and vociferous that Mullin canceled another town hall weeks later, claiming "safety concerns" and "an escalation of protesters at congressional town halls across the nation.
We have even seen them right here in the Second District!!!!!!!!
" (Emphasis ours.) We at Chicken-Fried News are as confused as Mullin. Maybe we should call "the red rooter" to clear the bullcrap blockage that's hindering the draining of that proverbial swamp everyone keeps talking about.