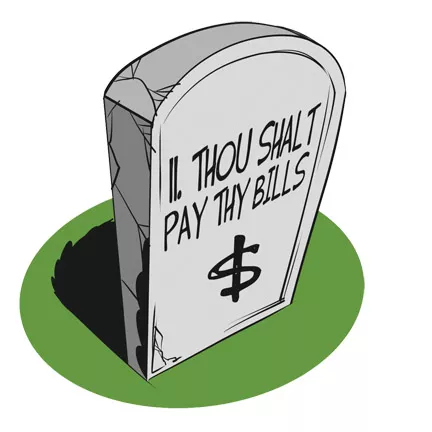 Oklahoma's famous Ten Commandments monument was removed from the capitol grounds around 10:15 p.m. Oct. 5.
The Washington Post reported that Wilbert Memorials was paid about $4,700 to move the granite monument to its new home at Oklahoma Council of Public Affairs, a conservative think tank. It was moved under the safety of darkness to avoid any sort of trouble.
"We wanted it removed as quickly and safely as possible with little interruption as we could," John Estus, a spokesman for the Office of Management and Enterprise Services, told the Post.
We don't have to look at it anymore, but it just won't stay out of the news.
Now, Wilbert Memorials, which also replaced the monument after it was damaged last year, says it still hasn't been paid for rebuilding it. Rep. Mike Ritze, whose family paid for the original, "vowed to spearhead a fundraising effort for the second monument" but hasn't returned calls for comment on the issue of payment, according to U.S. News & World Report.
"We have not received anything on the monument," Gary Mosier, Wilbert Memorials sales manager, wrote in an email to The Associated Press.
Even so, Gov. Mary Fallin wants the monument returned to capitol grounds. U.S. News reported that Fallin is seeking a constitutional amendment "to remove the section that prohibits the use of public property to support 'any sect, church, denomination or system of religion.'"
Print Headline: Commanding payment