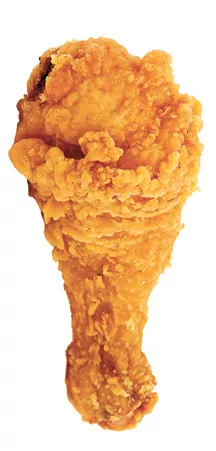 Bigstock
Fried chicken drumstick in isolated white background
If your friends tell you your open mic night Christopher Walken impersonation is killer, then congratulations! You might just be the sort of lethal performer the Craigslist world is looking for!
A Ponca City woman caused a stir earlier this month after it was discovered that an ad she posted on the online classified service recruiting a performer for a "10-day gig overseas" was actually a veiled murder-for-hire plot.
According to KFOR, 37-year-old Danielle Dana Layman's Craigslist post sought a 30-45-year-old "talent" with experience in acting, magic or casino dealing for an unspecified job overseas.
Hmm … that's pretty broad. We assumed maybe she was casting a new Martin Scorsese movie about a birthday-party Houdini indebted to the mob.
An applicant who met with Layman later told police the woman revealed the true purpose of the murderous gig through a slideshow presentation. She suggested he travel to Tel Aviv, Israel, to kill her taxi driver ex-husband by dumping ricin into his coffee and monitoring his health by taking his cab every day until he was "hospitalized (or) eliminated."
Voila! And to all our great amusement, the contents of that presentation were included in the police report. (Annnd … scene.)