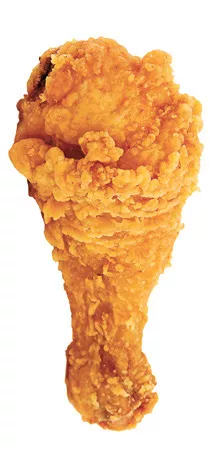 Bigstock
Fried chicken drumstick in isolated white background
Don't you hate it when you go to paste a link into a word document, but you forgot that you couldn't remember how to spell "yarmulke," so you end up with a word on the page when you're expecting a link? We hate it when that happens.
Well, keeping track of what's pasted to your computer's clipboard can be difficult when you're multi-tasking. Such was the case for an accountant hired for Oklahoma House of Representatives candidate Jason Reese while preparing a campaign finance report.
The finance report was submitted to state ethics commission with the title of a pornographic video in the description of credit card processing fees. Uh oh.
The mishap was reported first by The Lost Ogle blog, who correctly predicted that Reese would "pull a Ted Cruz" and blame the mistake on a staffer.
Reese responded on Facebook to say that no campaign funds were used on pornography and that the accountant accepted responsibility for copying the link.
Reese is running for House District 83 seat in northwest Oklahoma City, a position currently held by Randy McDaniel, who is running for state treasurer and has no public record of Pornhub visits.